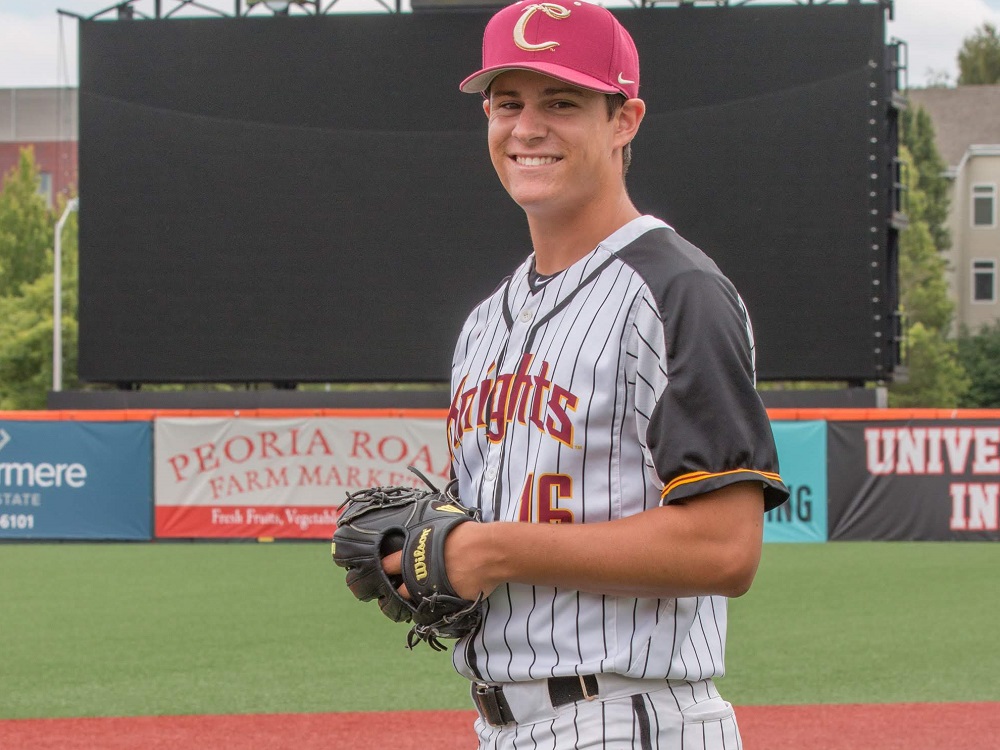 Beck, Bullpen Handcuff Lefties 7-1 as Knights Sweep Series
The Knights stayed as hot as the weather with a 7-1 victory over Port Angeles at Goss Stadium in the finale of their West Coast League series.
The Knights (24-15-1, 21-13 WCL, 5-2 second half) thus swept the series and finished 2018 with a 5-1 edge over Port Angeles. Corvallis remained in first place in the second-half South Division pennant race.
Starter Brendan Beck of Stanford (pictured, above) – who ended Saturday night's 9-8 win with a walkoff single – went 5.1 innings on a blistering 98-degree afternoon and stymied the Lefties on one run and five hits, with five strikeouts. He threw 49 strikes on 72 pitches.
It was his longest outing of the summer, supplanting a 3.2-inning start vs. Victoria on July 8, and lowered his ERA from 3.50 to 2.76.
Jacob Fricke (Western Oregon), Louis Crow (Cal Poly-Pomona in 2018-19) and Kolby Somers (Portland) finished up with 3.2 innings of scoreless relief. They combined for four strikeouts and one hit allowed.
Catcher Zak Taylor (Oregon State) doubled, singled twice and scored twice to lead an 11-hit attack. Shortstop Beau Philip (OSU in 2018-19), shortstop Chad Stevens (Portland) and left fielder Cole Cabrera (Cal Poly) had two hits.
Cabrera and first baseman Trace Tammaro (UP in 2018-19) had two RBIs each.
Sunday's crowd of 1,850 raised the season attendance to 31,036 in 21 dates, an average of 1,478 per opening.
The Knights are idle Monday. Outfielder Cody Hawken (Portland) will represent the Knights at the WCL All-Star Game Saltwater Splashdown Home Run Derby at Port Angeles.
On Tuesday, Hawken, Portland teammates Hawken and Chad Stevens, Utah outfielder Chandler Anderson, Linn-Benton CC catcher Cole Hamilton and San Francisco pitchers Landen Bourassa and Daniel Slominski will play for the South Division in the WCL All-Star Game.
Bourassa (4-1, 2.58) is the scheduled starter; he and five others are tied for the WCL lead in victories. Game time is 6:35 p.m. at Civic Field in Port Angeles.
The Knights resume WCL action at Victoria on Wednesday. Their next home game is July 24 vs. Kelowna.
Also, the Knights have signed infielder Ben McKay, a 5-foot-11, 190-pound sophomore from Wenatchee Valley College in Wenatchee, Wash., his hometown. He will join the team in Victoria.
McKay hit .328 (64-195) in 46 games for WVC this spring, with 13 doubles, nine triples, two homers, 35 RBIs and 12 steals in 13 attempts. He was an Eastern Region all-star.
He hit .059 (1-17) in six games with Bellingham earlier this summer as a 10-day signee.