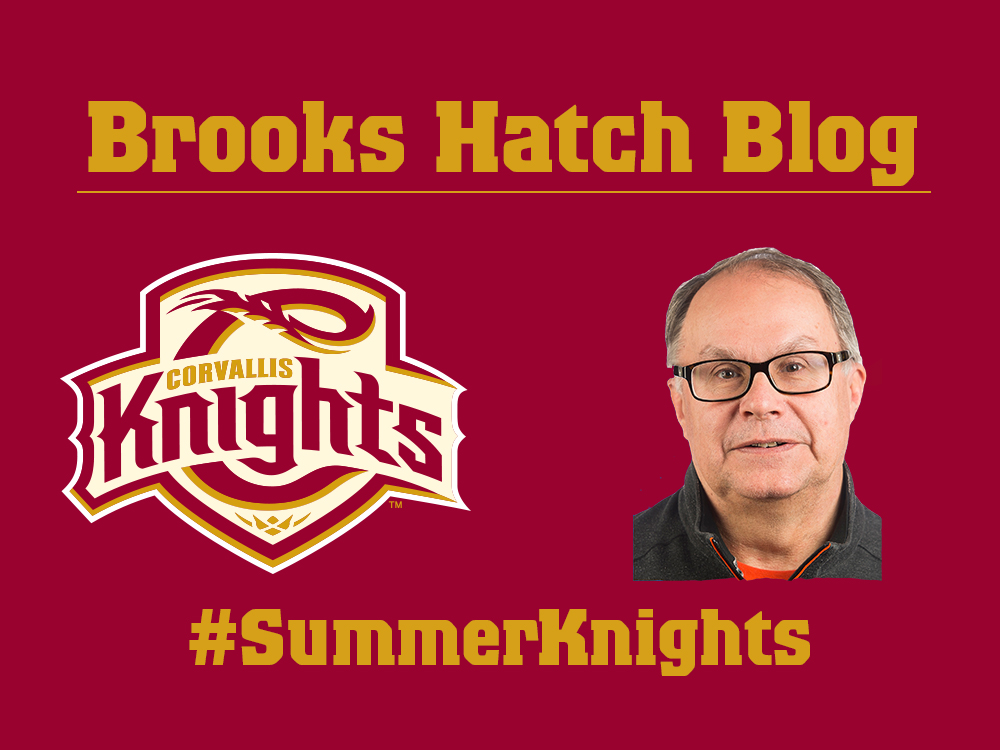 Brooks Hatch Blog: Knights 18-Game Win Streak Ties Mark with 2009 Club
Happy Wednesday, everyone, from the world-wide headquarters (WWHQ) of the Corvallis Knights, your 2016-2017 and 2018 West Coast League champions!
————–
Our six-game road trip to Washington concludes at 5:05 p.m. today with the finale of our series at Port Angeles. We are 4-1 on the trip and can win our sixth-straight West Coast League series by defeating the Lefties tonight.
Port Angeles beat us 6-3 on Tuesday night, ending our 16-game WCL and 18-game overall winning streaks. The 18-game tear tied the franchise record, first set in 2009.
We open a four-game homestand at 6:30 p.m. Thursday against the Hayesville Hammers in a nonleague contest. We then host the Kelowna Falcons in a rematch of last year's WCL Championship Series, which we won 2-0.
Thursday night is Capes & Crowns Law Enforcement Night presented by All Pro Property Services and the Best Western Corvallis. Starting at 5 p.m., the CPD takes on the Corvallis Fire Department in our annual Police vs. Firemen softball game.
Friday night is Xtreme Grafx T-Shirt Giveaway Night presented by Servpro. The first 250 fans through the gates get a Knights' tee shirt.
Saturday night is our 30th Season Celebration and 90's Night. The first 250 fans get a Knights' slap bracelet.
Sunday afternoon is the $1,000 Kids Dash for Cash presented by State Farm Insurance. Bring the entire family, and children under 12 can join the mad dash for dollar bills on the Goss Stadium infield during the game.
The first three games start at 6:30 p.m.; Sunday's game starts at 3:05 p.m. See you at Goss!
————–
Future Cal Poly infielder Brooks Lee was named the West Coast League Player of the Week for July 1-7 on Monday. Brooks hit .522 (12-23) with four doubles, a homer and 11 RBIs as Corvallis went 6-0. Please click here for more details, from our website.
————–
Our attendance through 17 home dates is 26,711, an average 1,571 per opening. We are 1,443 fans ahead of last year's pace through a corresponding number of openings.
————–
We clinched the first-half South Division title on July 6, earning an automatic playoff berth and home-field advantage in the best-of-3 divisional round, which begins on Aug. 13. The best-of-3 Championship Series begins on Aug. 17.
Our first home playoff game will be Wednesday, Aug. 14. We will host Game 3 on Aug. 15, if necessary. The Championship Series runs Aug. 17, 19-20; the team with the best regular-season record will earn home-field advantage.
The Knights have qualified for the playoffs ever season since the current divisional postseason format began in 2007. We have won six championships, the last three in a row.
————–
Some alumni news:
Infielder Nick Madrigal (2015) went 0-for-2 on June 8 at the MLB Futures Game in Cleveland. He played for the American League as he is in the Chicago White Sox organization, playing at Birmingham in the double-A Southern League. He played at Oregon State.
The Tampa Bay Rays have sent infielder Matt Duffy (2010) to the Gulf Coast League Rays on a rehab assignment. He is recovering from a leg injury. He played at Long Beach State.
————–
Amarillo (AA Texas, Padres) second baseman Peter Van Gansen (2013) was 1-for-4 with a run and two RBIs in a 7-5 win over Midland on Tuesday night to earn Corvallis Knights Minor League Player of the Day honors. He played at Cal Poly.
Honorable mention goes to:
Frederick (A Carolina, Orioles) pitcher Cameron Bishop (2015-16) allowed no earned runs and had four strikeouts in a 2-0 loss to Winston-Salem. He played at UC Irvine.
Lynchburg (A Carolina, Indians) outfielder Steven Kwan (2015) was 2-for-5 in a 13-2 loss to Carolina. He played at Oregon State.
————–
Our 2019 regular season is half-completed but there are still 14 more home games! Our next home game is Thursday against the Hayesville Hammers.
The starting time for Monday-Saturday games is 6:30 p.m. Sunday games will start at 3 pm. Fireworks games will have special start times, either 7:15 p.m. or 7:05 p.m.
Reserve the best seats in the house for the 2019 season now by emailing [email protected] or by calling (541) 752-5656. Our entertainment schedule is available by clicking here.
Here's the remainder of the 2019 schedule:
JULY: 10, at Port Angeles. 11, Haysville Hammers. 12-14, Kelowna. 18, Chaffey Baseball. 19-21, Walla Walla. 22-23, All-Star Game, at Bend. 24, at Portland. 25, Portland. 26, at Portland. 27-29, at Bend. 30-31, Bend.
AUGUST: 1, Bend. 2-4, at Cowlitz. 6-8, at Bellingham. 9-11: Wenatchee.
————–
Some news from elsewhere in the West Coast League:
Former Cowlitz Black Bears pitcher Shane Bieber of the Cleveland Indians made history on Tuesday night, becoming the first WCL alum to be selected as the MVP of the Major League Baseball All-Star Game. At Cowlitz that summer, Bieber posted a 1.44 ERA in six starts, including a seven-inning no-decision against the Knights in Cowlitz on June 19. He was named to the WCL All-Star Game, and earned first-team all-WCL honors. For more details, please click here.
The West Coast League's Moss Adams Pitcher of the Week for July 1-7 was Incarnate Word pitcher Aaron Celestino of the Victoria HarbourCats. Celestino was masterful over two outings. The junior-to-be tossed 10 scoreless innings, allowing just one six hits while striking out 14 batters. This spring for Incarnate Word he went 6-4 with a 4.31 ERA in 15 appearances.
————–
That's all for today. No Blog next week; see you again on July 24.