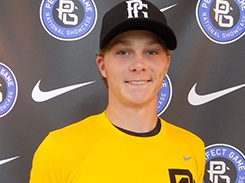 Brooks Hatch Blog: Knights sign two future Toreros for 2018
Happy Tuesday, everyone, from the world-wide headquarters (WWHQ) of the Corvallis Knights, your 2016-2017 West Coast League champions!
————–
We have signed incoming University of San Diego outfielder Kingston Liniak and pitcher Jake Miller for the 2018 season.
Liniak (pictured, above) is a 6-2, 170-pounder from Mission Hills High School in San Marcos, Calif. He is the son of Cole Liniak, a former major-leaguer for the Chicago Cubs. The younger Liniak sat out the 2017 high school season with a leg injury after earning Perfect Game Underclass recognition in 2016 and 2017.
Miller is a 6-2, 190-pound right-hander from Newbury Park High School in Newbury Park, Calif. He was 7-1, 1.20 in 13 games as a pitcher in 2017, with two saves and 50 strikeouts in 52.1 innings. He also hit .382 (29-76), with a homer and 17 RBIs.
Miller was the Marmonte League MVP in 2017. In two seasons as a varsity player, he's hitting .352 (58-190) in 56 games, with a homer and 30 RBIs. He also earned Perfect Game Underclass recognition in 2017.
We open the 2018 season on May 30 with the seventh-annual Science, Engineering & Arts Day game against the Portland Sea Dogs. We begin WCL play at Kelowna on June 6; our WCL home opener is June 12, against Wenatchee.
————–
Abbott Haffar, a freshman pitcher-outfielder at UC-Riverside, has signed with the Knights for the 2018 season. He is a 6-foot-1, 185-pound right-hander from Simi Valley High School in Simi Valley, Calif.
He was a key member of a UCR recruiting class that was ranked 35th nationally by Baseball America and earned 2017 California Region honorable-mention honors from Perfect Game.
Haffar was a 2017 Los Angeles Daily News preseason all-area selection as an outfielder. Another 2018 signee, UC Santa Barbara freshman pitcher-outfielder Ben Fariss, was also an all-area selection. Haffar and Fariss were also named as "2017 players to watch" by the Los Angeles Times.
————–
Knights' Chief Operating Officer Holly Jones was named the Eugene Register-Guard's Volunteer of the Month for November. The award recognizes her efforts with the 2017 Coats for Kids drive, an annual event managed by the Eugene Active 20-30 Club. For more details, please click here.
————–
We released our 2018 schedule on Nov. 13. It features 32 home dates at Goss Stadium.
We open the season with our seventh annual Science, Engineering & Art Day game against the Portland Sea Dogs at Goss Stadium at 10 a.m. Wednesday, May 30. We then hit the road for Kelowna, B.C., to open WCL play against the Falcons on June 6.
We start the WCL home schedule on Tuesday, June 12, against the Wenatchee AppleSox.
For more on the schedule, and a complete list of home games, please click here. For a story from the WCL, and a spreadsheet showing the entire league schedule, please click here.
See you at Goss! Opening day is just 188 days away!
————–
Our 2018 season tickets are now on sale! You can save $10 when you renew or purchase new tickets by Dec. 31. For more details or to order your tickets online, please click here.
Tickets may also be purchased by calling us at 541-752-5656 or by visiting our office at 4th Street and Jefferson Avenue in downtown Corvallis. See you at the ballpark in 2018!
—————
Victoria has signed four players for 2018: Infielders and brothers Jaxxon Fagg and Jeddediah (Jedd) Fagg, and right-hander Lawson Humphries of Georgia Southern, and Colorado Mesa pitcher/outfielder Trevin Reynolds for the 2018 season. Please click here for more details, from Our Sports Central.
—————
That's all for today. Have a great week and we will see you again on Friday.