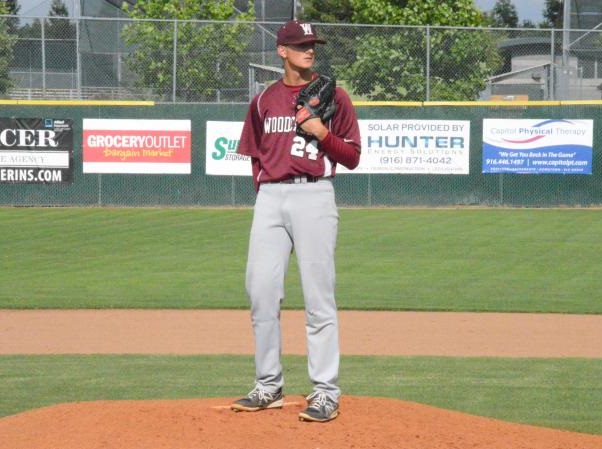 Brooks Hatch Blog: Knights sign first Bruin, RHP Dennis Boatman
Happy Friday, everyone, from the world-wide headquarters (WWHQ) of the Corvallis Knights, your 2016-2017 West Coast League champions!
————–
We have signed pitcher Dennis Boatman (pictured, above) of Woodcreek High School in Roseville, Calif., for the 2018 West Coast League season. He will be a freshman at UCLA in 2018-19. He will be the first Bruin in Knights' history.
A 6-foot-5, 215-pound right-hander, Boatman is a combined 8-3, 1.30 in 22 games in three seasons at Woodcreek, with 80 strikeouts in 102.1 innings. He earned 2017 Underclass High Honorable Mention honors from Perfect Game.
He was ranked No. 48 in the 2018 Perfect Game USA top prep prospects in California and ranks No. 311 in the 2018 Perfect Game's USA top 500 prep prospects. He was 3-2, 1.36 with 50 strikeouts in 56.2 innings as a junior and 5-1, 1.23 with 30 strikeouts in 45.2 innings as a sophomore.
UCLA coach John Savage said Boatman projects well.
"He is another strong right-handed pitcher that is only going to get better as he gets older," Savage said. "He has a very competitive mind and loves to work hard and get better.
"He has a fastball, slider and changeup but we think he will throw very hard down the road. With his athleticism and competitiveness, we think he will be a really good match for our program."
Welcome to the Knights, Dennis!
————–
The Colorado Rockies have added catcher Chris Rabago (2012-13) to their 40-man roster, protecting him from being selected in the Rule 5 draft, set for Dec. 14. The former UC-Irvine standout played at Lancaster in the advanced-A California League in 2017 and hit .272 (83-305) in 89 games, with a homer and 43 RBIs.
He was selected in the 13th round of the 2014 MLB draft by Colorado and has played at every Rookie and Class A level in their organization.
However, the Tampa Bay Rays did not protect outfielder Cade Gotta (2011), who therefore is available for selection. He spent last season with Durham of the triple-A International League and Montgomery of the double-A Southern League and hit a combined .278 (120-431) in 120 games, with five homers and 52 RBIs.
Gotta was selected in the 26th round of the 2014 MLB draft and has steadily moved up through the Rays' organization after leaving San Diego Christian University. He is a career .274 hitter in 350 minor-league games.
The Rule 5 draft prevents teams from stockpiling minor-league talent not on their 40-man MLB roster.
Players first signed at age 18 must be added to 40-man rosters within five seasons or they become eligible to be drafted by other organizations through the Rule 5 process. Players signed at 19 years or older must be protected within four seasons.
Clubs pay $50,000 to select a player in the Major League phase of the Rule 5 Draft. If that player doesn't stay on the 25-man roster for the full season, he must be offered back to his former team for $25,000.
————–
We are thrilled to introduce the perfect gift for the baseball fan in your family, the Knights Holiday Home Run Package. For more information, please click here or call (541) 752-5656.
————–
We released our 2018 schedule on Nov. 13. It features 32 home dates at Goss Stadium.
We open the season with our seventh annual Science, Engineering & Art Day game against the Portland Sea Dogs at Goss Stadium at 10 a.m. Wednesday, May 30. We then hit the road for Kelowna, B.C., to open WCL play against the Falcons on June 6.
We start the WCL home schedule on Tuesday, June 12, against the Wenatchee AppleSox.
For more on the schedule, and a complete list of home games, please click here. For a story from the WCL, and a spreadsheet showing the entire league schedule, please click here.
See you at Goss! Opening day is just 185 days away!
————–
Our 2018 season tickets are now on sale! You can save $10 when you renew or purchase new tickets by Dec. 31. For more details or to order your tickets online, please click here.
Tickets may also be purchased by calling us at 541-752-5656 or by visiting our office at 4th Street and Jefferson Avenue in downtown Corvallis. See you at the ballpark in 2018!
—————
That's all for today. Have a great weekend and we will see you again on Tuesday.