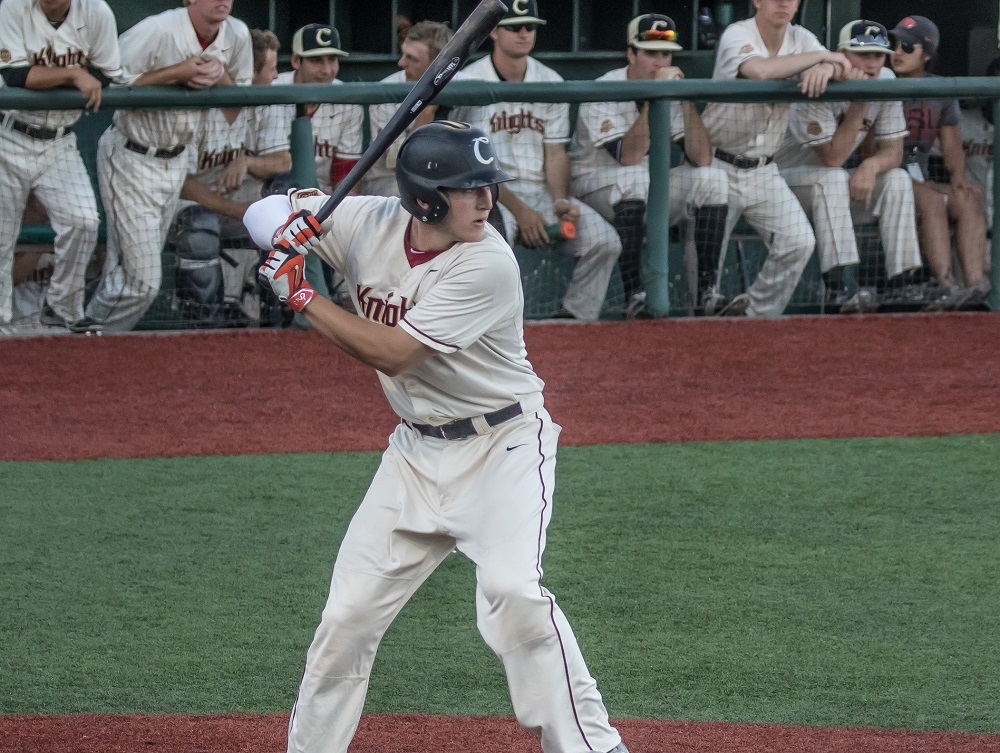 Brooks Hatch Blog: Beavers Zak Taylor, Elliot Willy to Return in 2018
Happy Tuesday, everyone, from the world-wide headquarters (WWHQ) of the Corvallis Knights, your 2016-2017 West Coast League champions!
————–
Oregon State junior Zak Taylor (pictured, above) and redshirt freshman Elliot Willy, key members of our 2017 West Coast League championship team, will return to the club for the 2018 season, head coach Brooke Knight announced Monday.
Taylor is a 6-foot-2, 204-pound catcher/corner infielder from Sherwood High School in Sherwood, Ore. He also played for the Knights in 2016. Willy is a 6-3, 190-pound outfielder from Bend High School in Bend, Ore.
"We're looking forward to Zak and Elliot leading this year's team," Knight said. "Both emerged as leaders last season and were key contributors. We feel fortunate they are returning and are thrilled to be part of their development."
Taylor hit .307 (43-140) in 41 games, with seven doubles, five homers and 25 RBIs in 2017, playing primarily at catcher and third base. He was selected to the South Division All-Star team.
In 2016, Taylor hit .291 (51-175) in 50 games, with 11 doubles, a homer, and 21 RBIs. He earned second-team all-WCL honors.
Willy played left field, center field and third base in 2017 and hit .320 (32-100) in 38 games, with nine doubles, a triple, four homers and 20 RBIs. He hit .500 (9-18) in the playoffs, with a homer, four RBIs and five walks, helping the Knights repeat as champions.
Willy played with the WCL's Bend Elks in 2016 following his senior year at BHS. He hit .246 (14-57) in 24 games, with two doubles, a triple, a homer and five RBIs.
————–
The Arizona Fall League season is over. Glendale left-handed pitcher Jace Fry (2011) was 0-0 in eight games, with 10 strikeouts and a 0.88 WHIP in eight innings. The former Oregon Stater made his major-league debut with the Chicago White Sox this past September after spending the season at Birmingham of the double-A Southern League.
————–
We released our 2018 schedule on Nov. 13. It features 32 home dates at Goss Stadium.
We open the season with our seventh annual Science, Engineering & Art Day game against the Portland Sea Dogs at Goss Stadium at 10 a.m. Wednesday, May 30. We then hit the road for Kelowna, B.C., to open West Coast League  play against the Falcons on June 6.
We start the WCL home schedule on Tuesday, June 12, against the Wenatchee AppleSox.
For more on the schedule, and a complete list of home games, please click here. For a story from the WCL, and a spreadsheet showing the entire league schedule, please click here.
See you at Goss! Opening day is just 191 days away!
————–
Our 2018 season tickets are now on sale! You can save $10 when you renew or purchase new tickets by Dec. 31. For more details or to order your tickets online, please click here.
Tickets may also be purchased by calling us at 541-752-5656 or by visiting our office at 4th Street and Jefferson Avenue in downtown Corvallis. See you at the ballpark in 2018!
—————
Victoria fan favorite Po-Hao Huang has been named to the Taiwan National Team's 60-player initial roster for the 2018 Asian Games, slated for next summer in Jakarta, Indonesia. Please click here for more details, from Our Sports Central.
—————
That's all for today. Have a great week; we're taking Friday off for Thanksgiving so we will see you next Tuesday.