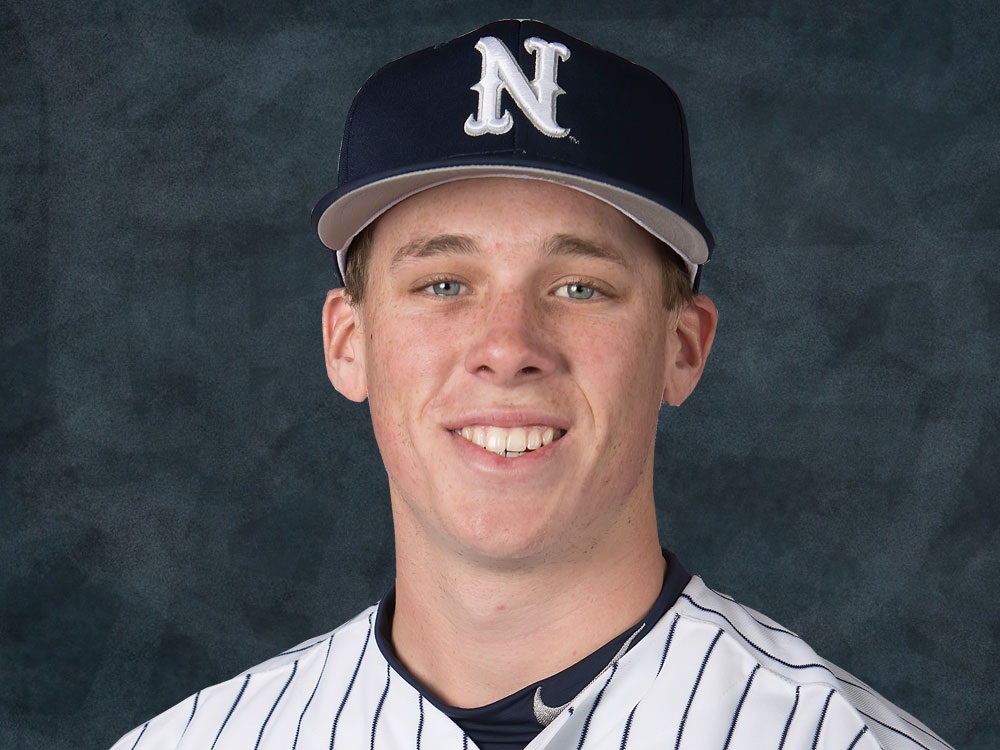 Shrum's Clutch Double Gives Knights 5-3 Win Over Bells
BELLINGHAM, Wash. – Dillan Shrum's first hit as a member of the Corvallis Knights was a big one.
The rising sophomore at Nevada lined a two-strike, two-out, two-run double in the top of the 11th inning to break a 3-3 tie and the Knights remained unbeaten in the West Coast League with a 5-3 victory at Bellingham.
A .317 hitter as a freshman, Shrum was 0-for-10 with the Knights (5-0 overall, 4-0 WCL) when he came to bat in the final inning with two outs and runners at second and third. He quickly fell behind 0-2, but then laced a line drive into the gap to score Jace Duty (Chemeketa) and Tyler Villaroman (San Francisco), who had opened the inning with singles.
The first two Bells reached on a walk and a hit by pitch in the home 11th, but reliever Jordan Horak (Portland) retired the next three batters to earn his first win of the season.
The Knights forced extra innings by throwing out the potential winning run at the plate to end the ninth on a relay from center fielder Villaroman to shortstop Matt Kelly (Portland)  to catcher Duty.
Duty doubled, singled twice and scored the winning run. Villaroman and Tyler Cantwell (Treasure Valley CC) had two hits each and Jordan Qsar (Pepperdine) added a solo homer to lead an 11-hit offensive attack.
Starter Cason Cunningham allowed no runs and had nine strikeouts in 5.1 innings, throwing 61 strikes in 93 pitches. The Linfield lefty has a 0.00 ERA in 11 innings over two starts.
Horak pitched the final three innings, allowed one hit and had two strikeouts. All three Bellingham runs were unearned.
Corvallis took a 2-0 lead in the fourth inning on a single by Kelly, a double by Cantwell, a run-scoring balk and a two-out RBI single by Duty. Qsar added a solo homer in the seventh for a 3-0 lead that evaporated in the home half when Knights' errors and misplays gave the Bells three unearned runs.
The series concludes on Saturday with a 4 p.m. doubleheader. Lefties Austin Crowson (0-0, 9.00) of Lane CC and Ross Massey (0-0, 6.23) of Tulane will start for Corvallis; both games are seven innings.
The Knights then head to Bend for a Sunday-Tuesday series with the Elks, their longtime South Division rival. Sunday's game begins at 5:05 p.m.; Monday and Tuesday's contests start at 6:35 p.m.
They open their home WCL schedule against the Port Angeles Lefties, the WCL's newest franchise, at 6:40 p.m. Wednesday.
It will be 99.9 KRKT Opening Night; the first 500 fans will receive a mini WCL Championship Trophy. General admission tickets for seniors on Wednesdays is $2. Wednesdays are also Spindrift Cellars Wine Nights; fans can enjoy specially priced wine.
The Port Angeles series continues through June 16. The Knights then conclude their opening homestand by hosting Cowlitz on June 17-19.