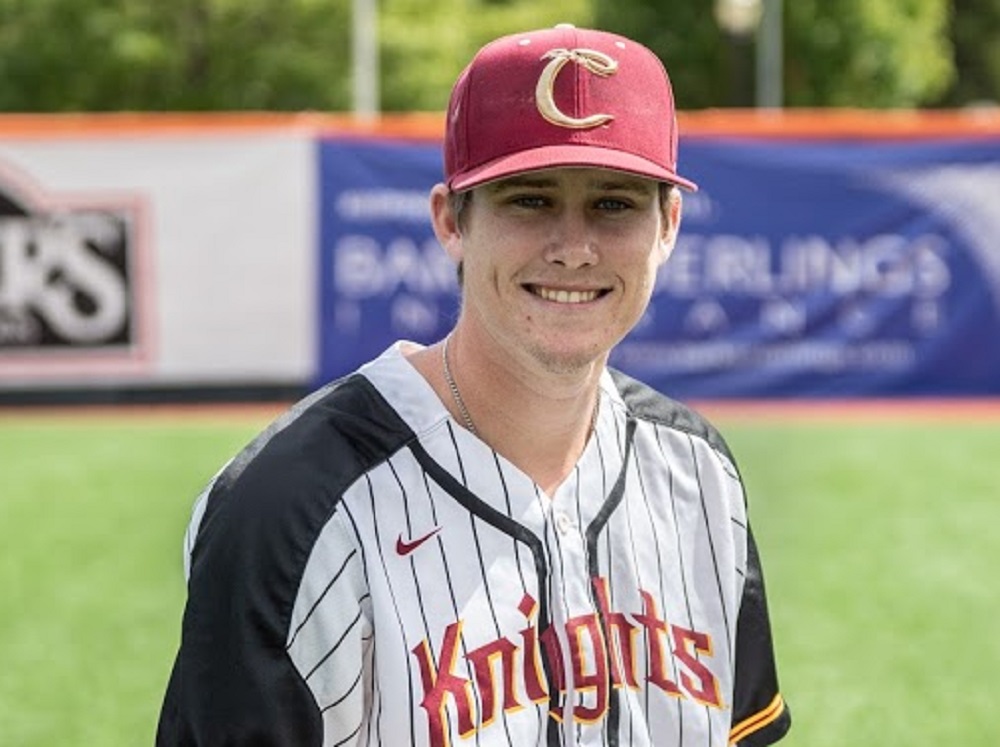 Redmond, Yovetich lead Knights over Sweets 6-2, into WCL finals
Pitcher Connor Redmond (pictured, above) delivered again on the biggest stage to lead the Knights over Walla Walla 6-2 in the decisive third game of the West Coast League South Division playoffs at Goss Stadium.
Redmond, who will pitch at Montana State-Billings in 2020, allowed one unearned run in 6.1 innings and struck out six in a sterling playoff effort for the third year in a row. He is unbeaten in three career playoff starts with the Knights from 2017-19, with a 1.80 ERA and two wins.
It was his second straight series-clinching win. He also got the decision in a 5-1 victory over Kelowna in the 2018 championship game, giving the Knights their third consecutive title.
Designated hitter Nick Yovetich (San Francisco) delivered the clinching blow by crushing a 3-2, two-out pitch well over the right-field fence for a three-run homer in the seventh inning. It expanded a tenuous 3-2 Knights' lead into a comfortable 6-2 cushion that the bullpen protected.
"I was trying to come up big, on a 3-2 count I figured he would throw a strike," Yovetich said. "That's what I was hoping for, it was a big moment came and I was happy to come through.
"[Playing in the finals] is what we've worked for all summer. I can't put it into words how excited we are to be playing for the championship."
The Knights (52-13) will now face North Division regular-season and playoff champion Victoria in the best-of-3 WCL Championship Series. The HarbourCats scored three times in the bottom of the ninth to edge Wenatchee 8-7 in the rubber game of the North Division playoff series.
Game 1 is set for 6:35 p.m. Friday at Royal Athletic Park in Victoria. Game 2 will be at 7:05 p.m. Saturday at Goss Stadium; Game 3 (if necessary) would be at 5:05 p.m. Sunday, also at Goss.
Corvallis defeated the HarbourCats 2-1 in the 2017 Championship Series. Corvallis won the 2019 season series, going 2-1 at Victoria on June 7-9; Victoria did not play at Goss Stadium this summer.
The Knights never trailed in improving to 11-1 in playoff-elimination games at Goss Stadium. Left fielder Jake Holcroft (Portland) drove in a second-inning run with his sixth playoff RBI for a 1-0 advantage. First baseman Tracye Tammaro (Portland) hit an RBI double in the fourth to make it 2-0.
Walla Walla drew within 2-1 on a solo homer in the sixth. The Knights responded with a run in the home half on an RBI ground out by second baseman Jake Harvey (Oregon State) for a 3-1 lead.
Redmond left with one out and one on in the seventh. Reliever Abbott Haffar (UC Riverside) allowed one run to score on a two-out single but got the third out to strand Sweets at the corners.
In the home half, center fielder Briley Knight (Utah) reached on a leadoff bunt single. Right fielder Michael Curialle (UCLA) worked a two-out walk by fouling off two 3-2 pitches after an 0-2 start to his at-bat.
Yovetich then powered a 3-2 pitch well over the right-field fence for his third homer of the summer.
Haffar pitched a perfect eighth inning to bring the Knights to the brink. Reliever William Kempner (Gonzaga) then worked a scoreless ninth, the game ending on an around-the-horn double play that touched off a celebration of an unprecedented fourth consecutive title-series appearance.
Corvallis won the series opener 6-3 at Walla Walla on Aug. 13. The Sweets scored six times in the ninth inning to prevail 9-4 on Aug. 14, forcing the decisive third game.
"Everybody was excited" to play Game 3, Yovetich added. "It was a sour taste after [Aug. 14] so we were excited to get back and get another opportunity to play.
"We have to be ready to go. We can make an excuse that the bus ride will be long,  but we have to get off the bus and be ready to play, first pitch."
The Knights earned home-field advantage for the Championship Series by posting the WCL's best regular-season record (42-12).
The Knights have qualified for the playoffs every season since the current divisional postseason format began in 2007. They have won six championships, the last three in a row.