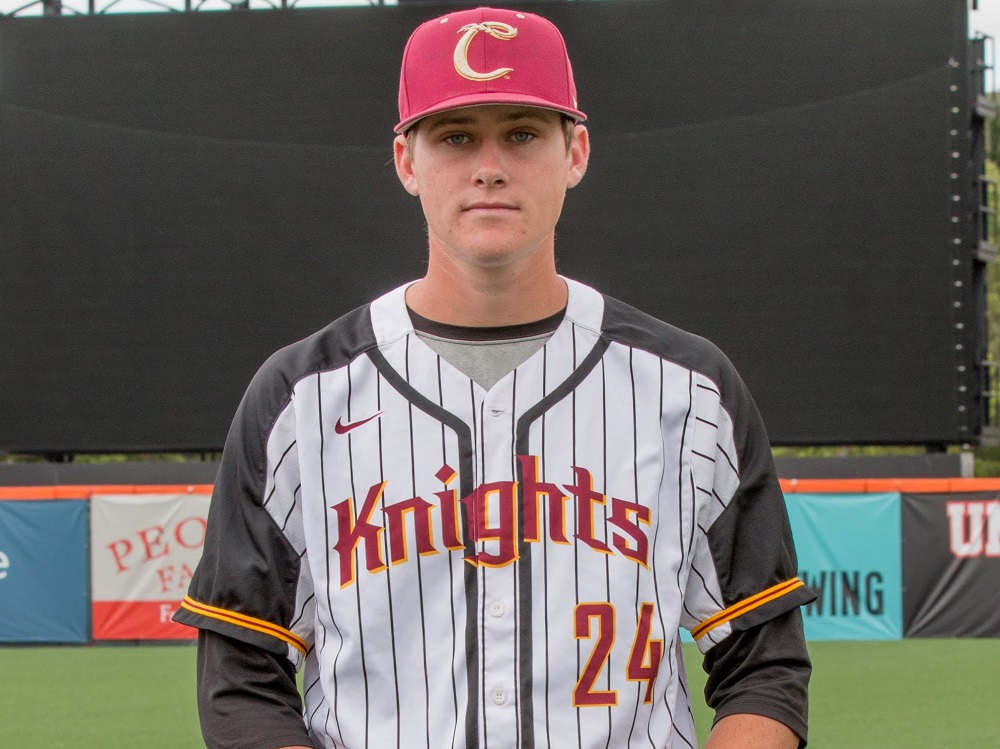 Redmond Shuts Down Falcons 2-1, Knights Capture Series Versus Kelowna
Right-hander Connor Redmond (pictured, above) of Cal Poly stymied Kelowna and the Knights topped the Falcons 2-1 at Goss Stadium to win the West Coast League series.
It was the fourth victory in a row for the Knights (29-18-1, 26-16 WCL, 10-5 second half), who won the opener of the series 8-5 on Tuesday night. They remained one-half game behind leader Portland in the second-half South Division pennant race.
A rising junior at Cal Poly San Luis Obispo, Redmond allowed four hits and one run in 7.2 innings, his longest stint of the summer. He struck out eight, had no walks, threw 74 strikes in 101 pitches, and retired 12 Falcons in a row before allowing a two-out single in the eighth.
He has surrendered just two runs and 11 hits in 13.1 innings over his last two starts, with 13 strikeouts. He has lowered his ERA from 6.00 to 3.55 in that span.
"My fastball, slider and changeup" were all working, said Redmond, a second-year Knight from Danville, Calif. "I had confidence in the guys behind me with helped me keep my composure."
Redmond was 1-2, 3.72 in six games with the Knights in 2017. He also allowed one run in five innings in a 3-2 win over Yakima Valley in the decisive Game 3 of the divisional playoffs.
"The coaches and the team have been great," he said. "I love Corvallis."
Connor Knutson (Portland) went the final 1.1 innings for his first save. The Falcons got the go-ahead run at first in the ninth following a two-out single and a walk, but he retired Lucas Soper on a soft line drive to first to end the game in an efficient two hours, 23 minutes.
After coming up short in two previous scoring opportunities against Kelowna starter Stone Churby, the Knights broke through in the fifth. Chandler Anderson's (Utah) two-out, bases-loaded single drove in two and gave the Knights a 2-1 advantage they would not surrender.
Anderson now has 24 RBIs, tied for second on the team with Cody Hawken (Portland), two behind leader Austin Feist (St. Martin's).
Thursday's series finale starts at 6:30 p.m. The probables are righty Cameron Haskell (2-2, 4.67) of Arizona for Corvallis and righty Trevor Brigden (3-2, 3.08) of Okanagan College for Kelowna.
Corvallis concludes the homestand at 6:30 p.m. Friday with a nonleague game against the Hayesville Hammers, a team primarily comprised of players from Chemeketa CC and Corban University.
Corvallis has added right-handed pitcher Cameron Sommer of Texas-Rio Grande Valley to start on Friday. He is a 6-foot-2, 185-pounder from Emerald Ridge High School in Kent, Wash., who played at Clark College before transferring to UTRGV.
Wednesday's crowd of 900 raised the season attendance to 33,134 in 23 dates, an average of 1,441 per opening.