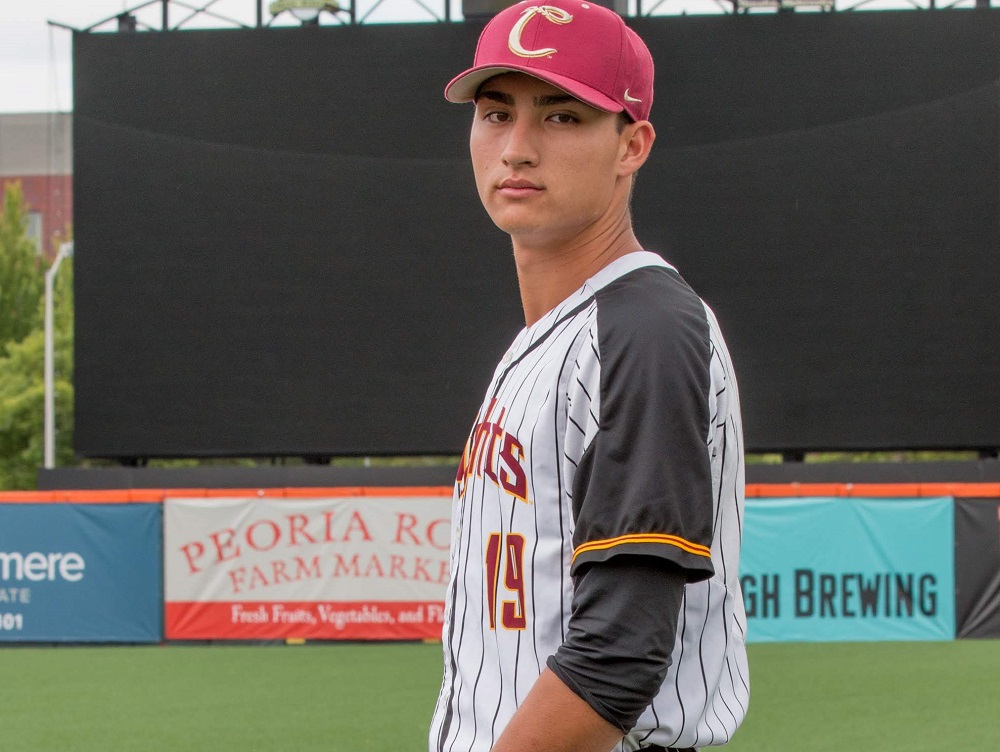 Haskell, Homers Power Knights to 6-4 Win, Series Sweep of Kelowna
Cameron Haskell (pictured) pitched his finest game of the summer and the Knights scored five runs on two homers in a 6-4 victory over Kelowna at Goss Stadium that gave them a series sweep.
The Knights (30-18-1, 27-16 WCL, 11-5 second half) stretched their winning streak to five games in a row with their third straight home series sweep. They moved into first place, .004 percentage points ahead of Portland, and jumped to 3.5 games ahead of third-place Walla Walla in the second-half South Division pennant race.
A rising senior at Arizona, Haskell went 6.2 innings and allowed an unearned run on five hits, had nine strikeouts, and left eight Falcons stranded. It was his longest outing of the season, surpassing a six-inning, one-hit performance in a 5-1 win at Bellingham on July 5.
"Getting ahead in the count and throwing strikes right off the bat gave me confidence," said Haskell, who threw 70 strikes in his 111 pitches.
"It's definitely exciting being the tempo-setter, especially being a home game. The guy who throws the first pitch really sets the tempo."
UC Riverside rising sophomore Abbott Haffar retired the final four Falcons in order for his second save. He is 3-0 with two saves in his last six appearances, with 14 strikeouts and a 1.84 ERA in 14.2 innings, solidifying the back end of the Knights' bullpen.
Corvallis took a 2-1 lead in the fourth on right fielder Austin Feist's (St. Martin's) 415-foot homer to center field. He leads the team with five homers and 28 RBIs in WCL play.
Second baseman Chad Stevens (Portland) capped a game-clinching four-run seventh with a three-run blast to left field, his third homer of the season and his first since June 24 at Bend.
The Knights received outstanding starting pitching from Logan Petet, Connor Redmond and Haskell in the series. They allowed just two earned runs and 14 hits in 19.1 innings (0.93 ERA), with 22 strikeouts.
Corvallis concludes the homestand at 6:30 p.m. Friday with a nonleague game against the Hayesville Hammers, a team primarily comprised of players from Chemeketa CC and Corban University.
Corvallis has added right-handed pitcher Cameron Sommer of Texas-Rio Grande Valley to start on Friday. He is a 6-foot-2, 185-pounder from Emerald Ridge High School in Kent, Wash., who played at Clark College before transferring to UTRGV.
The Knights resume WCL action at Kelowna on Saturday and Sunday. They then host Bend in a three-game series starting on Tuesday.
Thursday's crowd of 1,092 raised the season attendance to 34,326 in 24 dates, an average of 1,430 per opening.