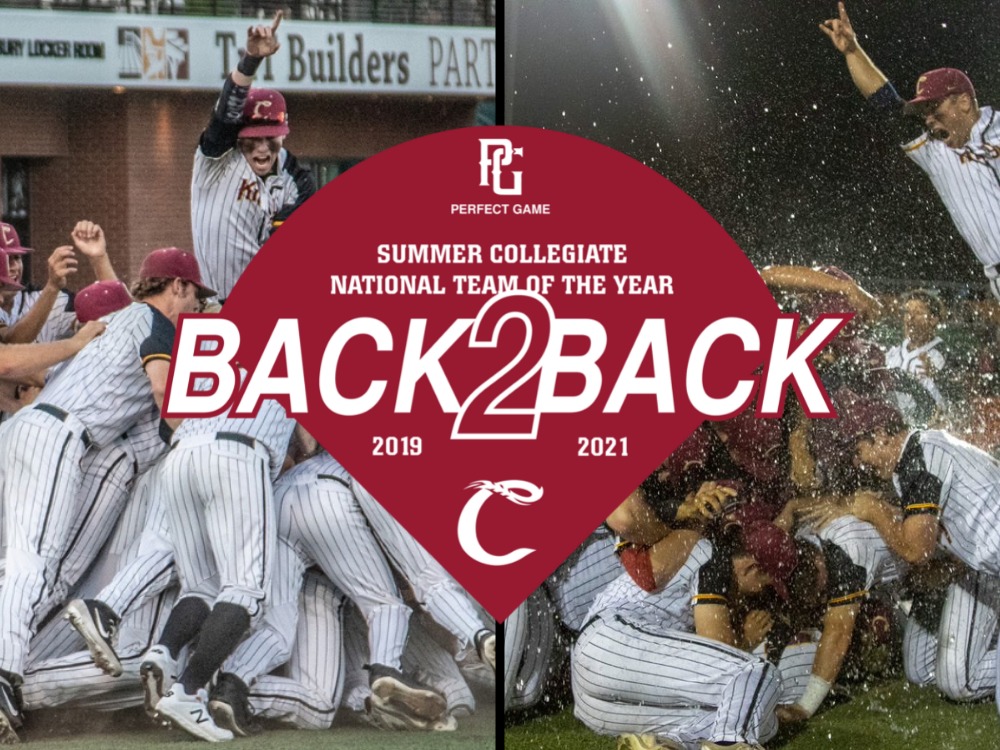 Corvallis Knights Named Perfect Game 2021 National Summer Collegiate Team of the Year
Friday, September 10, Corvallis, Ore. – For a second straight season, the West Coast League champion Corvallis Knights were named Perfect Game's National Summer Collegiate Team of the Year.
The Knights also earned Summer Collegiate Team of the Year honors in 2019, the first-ever top ranking by a West Coast League member club. Due to COVID-19 cancellations in 2020, Perfect Game did not name a Summer Collegiate Team of the Year last year.
Based in Cedar Rapids, Iowa, Perfect Game USA is the world's largest scouting service and a leading baseball event company.
"Perfect Game is a leading resource for anyone interested in amateur baseball, running top-notch events throughout the year which are followed closely by our scouts. Organized and efficient, Perfect Game is on top of their game," stated Brian Cashman, Sr. Vice President and GM of the New York Yankees.
To check out Perfect Game's Summer Collegiate Team of the Year announcement, penned by senior writer Jeff Dahn, please click here.
Corvallis won its fifth consecutive West Coast League title this past summer, its eighth WCL championship since the Pacific Northwest based circuit was established in 2005. The Knights finished the season 50-14, its second straight summer with 50 or more wins. The team went 54-14 in 2019.
Seven Corvallis Knights earned all-WCL honors including league MVP Travis Bazzana, an incoming frosh infielder at Oregon State; incoming freshman right-handed pitcher Ty Uber of Stanford; and rising sophomore outfielder Nick Vogt of UC Santa Barbara, all first-team selections and pro prospects.
Flame-throwing ace lefty sophomore-to-be Ethan Ross of San Jose State and rising fourth-year sophomore closer Nathaniel Mendoza of Cal State San Bernardino were named to the second team and University of Arizona commit first baseman Kiko Romero and incoming frosh catcher Tanner Smith of Oregon State were honorable mention all-WCL picks. Romero is set to return to Central Arizona College for his third spring with the Vaqueros before joining the Wildcats in the fall of 2022.
Head coach Brooke Knight was named WCL Coach of the Year for a record seventh time and Bazzana was the WCL's Top Prospect selection.
"We felt like 2019 was the pinnacle for the organization," said Knights Baseball Club CEO Dan Segel. "To earn this honor again is so unexpected. We are so grateful.
"It's a testament to the club's continuity, cohesiveness and chemistry from top to bottom and to our incredible partner school relationships and best-of-breed coaches. Coach Knight, master Youngjin Yoon and (assistant) Ed Knaggs have really taken our development program to another level.
"For sure, this type of recognition does not happen without our league partners. While we've been fortunate to experience a run like this, the league's competitiveness just gets better and better. WCL baseball is really good.
"Lastly, we're in a position like this thanks to visionaries like Penny & Phil Knight, former OSU head baseball coach Pat Casey and former OSU athletic director Bob DeCarolis. We are so thankful for their guidance and support. They are amazing leaders and have been instrumental in providing opportunities for so many people."
Over the past 16 WCL regular seasons, Corvallis has posted a league-best 537-257 record and .675 winning percentage. The Knights have made 14 consecutive playoff appearances, made it to the West Coast League Championship Series 12 times and recorded 13 straight 30-plus win seasons in the WCL.
"While it may sound cliche, like any successful organization, it all starts at the top. The visionary behind this organization is Dan Segel, and his relentless pursuit of excellence.  Our president, Bre Miller, under Dan's mentorship, is best-in-class and her energy and ability to lead a front office is extraordinary," said Corvallis Knights skipper Brooke Knight.
"From my perspective and my journey with our club; 'right time, right place, with the right people'.  I'm fortunate to be part of this club, a team of people that trust the heck out of each other and believe in an 'all hands-on deck' mentality.
"Winning is hard and it takes many hands. We all choose to drink the Kool-Aid and it sure tastes sweet when it all comes together."
Knight went on to say about this summer's players, "this group was full of athleticism and versatility. We had a handful of guys that could play a variety of positions, which tends to be healthy for development across the board. The depth in our bullpen really paid off. This team was hungry to finish up strong.
"And the personalities were mature and confident, especially for such a young club. It seemed like we were often scratching and clawing, and our guys responded.
"These 'comeback kids' were resilient until the very last pitch was thrown."
The team finished the season second in the WCL in total attendance and brought great joy to a community that was dearly missing baseball and affordable family entertainment. After a year away, the hometown team drew 34,200 to regular-season WCL contests for a per game average of 1,425, which included two sellouts (3,150 on July 3 and 3,038 on August 6). For the entire season, the Knights total attendance was 48,872 for a 1,357 average.
"We can't thank our fans and partners enough for hanging in there with us," said Corvallis president/GM Bre Miller. "Our community never wavered and that means a lot."
"It was such a fun summer to be at the ballpark and such a wonderful team to root for.
"We would also like to give special thanks to Oregon State Athletics and OSU Baseball for always supporting us and making us feel at home at Goss Stadium. Goss is a magical place and home of champions."