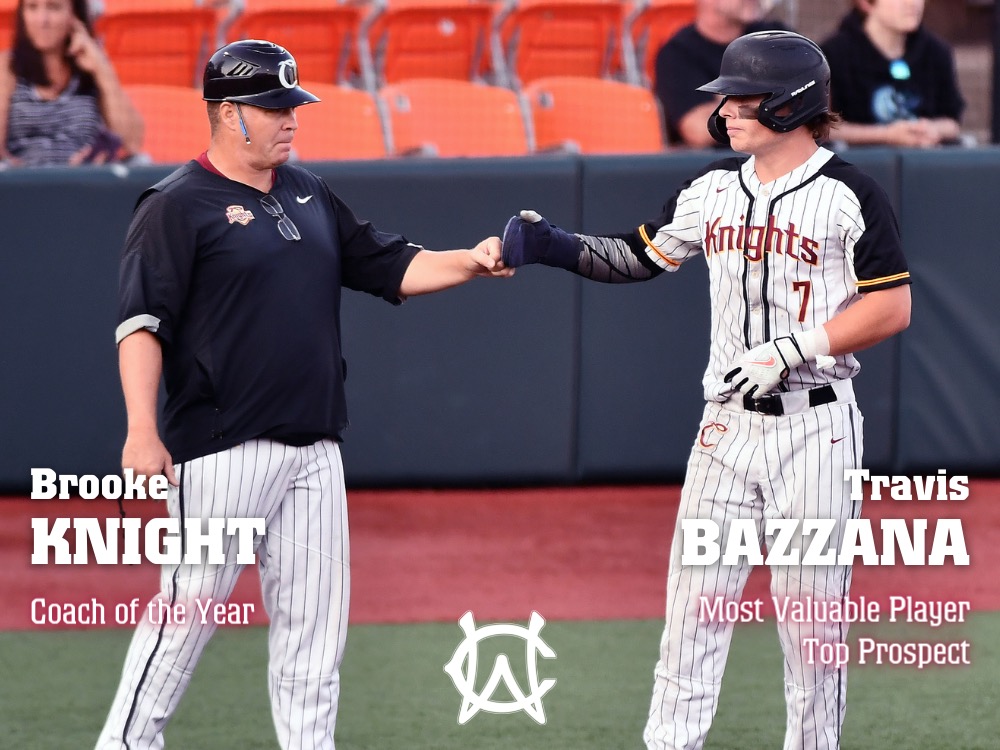 Brooke Knight Named WCL Coach of the Year; Travis Bazzana WCL Top Prospect
Tuesday, September 7, Corvallis, Ore. – The West Coast League released its Coach of the Year, Top Prospect, Executive of the Year and Jim Dietz Team Sportsmanship Award this morning.
To no one's surprise, Corvallis Knights skipper Brooke Knight was named Coach of the Year for a league record seventh time.
WCL MVP Travis Bazzana, an incoming freshman at Oregon State, earned Top Prospect honors.
"This should be a coaching staff award," said Corvallis head coach Brooke Knight. "Our assistants were stellar. While I very much appreciate the honor, Yoon's, Beau's and Tilly's work made this recognition possible."
Knight, who began his managing career in Corvallis in 2008, has led the Knights to eight West Coast League titles, five in a row. His clubs have won 30 plus WCL games for 13 consecutive seasons, made the playoffs 13 straight summers, have appeared in the West Coast League Championship Series 11 times and earned Perfect Game Summer Collegiate Team of the Year honors in 2019.
Assistant coach Younjin Yoon has been a member of Knight's staff since 2016 and has been a key part of five championship teams. Yoon starts his first season as an assistant baseball coach at Bushnell this fall (NAIA school in Eugene).
First-year assistant coaches Beau Kerns (Umpqua CC) and David Tillotson (UC Santa Barbara) did outstanding work in their rookie seasons. Kerns, this summer's pitching coach, recently accepted the head coaching position at Central Valley High School in Spokane, Wash.
Kerns' Knights staff led the WCL in strikeouts with 530 and opponents batting average at .214. Tillotson grew the club's data analytics effort, which not only helped with the staff's game planning, but further assisted with player development.
In July, former Corvallis associate head coach Ed Knaggs joined the staff for a short stay and was a big part of another championship. He also helped with recruiting this past off-season. Knaggs earned WCL Coach of the Year honors four times with the Wenatchee AppleSox.
"This coaching staff was dynamic and an absolute pleasure to be around," said Knights Baseball Club CEO Dan Segel. "Brooke does a masterful job of collaborating, motivating and promoting chemistry, development and caring. This summer might have been his best work. We really appreciate how he worked with the young coaches, and how he utilizes Yoony. We're super proud of Brooke, Yoon, Beau, David and Ed. They are really good at what they do and committed to a player first approach."
Bazzana joins former Knights shortstop Brooks Lee of Cal Poly (2019) as a WCL Top Prospect selection.
Not only was the sweet-swinging left-handed hitter from Sydney, Australia the league's MVP and Top Prospect, he captured the WCL batting crown with a new single-season record-setting average of .429.
The WCL Executive of the Year was Bellingham's GM Stephanie Morrell. The Bells also took home the Jim Dietz Team Sportsmanship Award.
To read all about the WCL's 2021 post-season honors, click here.