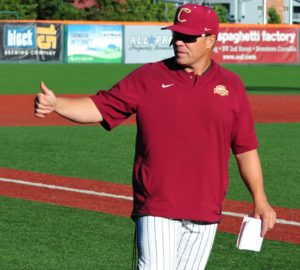 Brooke Knight
Head Coach
Throws: R | Bats: R
Experience: 13 Seasons
Hometown: Corvallis, OR
Alma Mater: Oregon State University
The most successful head coach in West Coast League history, Brooke has skippered the Knights to seven WCL championships in his 13-year tenure at the helm. He captured his first title as a rookie head coach in 2008, and added subsequent crowns in 2011, 2013, 2016, 2017, 2018 and 2019.
He also directed the Knights to seven consecutive West/South Division regular-season titles from 2008-14, and to South Division regular-season first-half titles in 2016 and 2017 and a second-half title in 2017 and 2018. The Knights have advanced to the WCL Championship Series 11 times in his 12-year tenure, and have qualified for the playoffs every season.
Brooke earned WCL Coast League Coach of the Year honors in 2008, 2009, 2011, 2013, 2017 and 2019. His 12-year record is 524-229. The Knights won the WCL's Jim Dietz Sportsmanship Award in 2008, and shared it with Wenatchee in 2016.
Brooke played college baseball at Linfield, Oregon State and at Western Oregon, and for the Knights during the summers of 1991, 1992 and 1994.
No relation to the Knight family, Brooke played professionally in the Milwaukee Brewers and Pittsburgh Pirates organizations. Brooke also played football at Linfield and OSU and played and coached baseball professionally in Australia.
Brooke coached the Perth Heat to back-to-back titles in 2011 and 2012 in the Australian Baseball League. After a season off, he returned to coach the Adelaide Bite in 2013-14 and in 2014-15. The Bite won the 2015 regular-season title before losing to Perth in the championship finals. He returned to coach the Heat for the 2019-20 season, and was an assistant coach for Boral Team Australia in 2020 during the KBO Challenge.
He also assisted legendary Corvallis Richey's Market American Legion coach Dick McClain for six seasons, and scouted in the San Diego area for the Montreal Expos (2001) and the Florida Marlins (2002-2003).
Brooke is a native of Corvallis and a graduate of Crescent Valley High School and Western Oregon. The CEO of Knight Financial Home Loans, he lives in Corvallis where his son, University of Utah and former Corvallis Knights catcher and West Coast League MVP Briley Knight, was a baseball and football standout at Crescent Valley.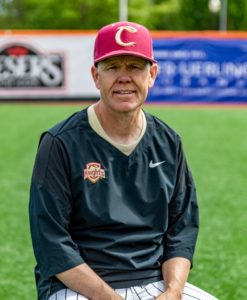 Ed Knaggs
Associate Head Coach
Throws: R | Bats: R
Experience: 4 Seasons
Hometown: Wenatchee, WA
Alma Mater: University of California Irvine
Legendary West Coast League coach Ed Knaggs joined the Knights as the team's associate head coach/pitching coach for the 2018 season, and has been Brooke Knight's right-hand man ever since.
Knaggs was the head coach of the WCL's Wenatchee AppleSox from 2001-14 and posted a winning record every season. He led Wenatchee to five WCL championships (2005, 2006, 2009, 2010, 2012) and two runner-up finishes (2008, 2013).
Knaggs also won five division championships and earned WCL Coach of the Year honors four times at Wenatchee before retiring after the 2014 season. He coached 771 total games and posted a 300-172 (.636) mark in WCL regular-season contests. Wenatchee also won the 2003 Pacific International League title, which was the precursor circuit to the current WCL, which was formed in 2005.
More than 75 AppleSox earned first or second-team all-WCL honors during Knaggs' tenure. Three earned the WCL's Most Valuable Player award. At the time of his retirement, eight AppleSox had reached the major leagues.
Knaggs played at College of the Canyons under legendary former UC Irvine coach Mike Gillespie, and at UC Irvine under Steve Hertz. He was an assistant coach at Gonzaga under Hertz for seven years before moving to Wenatchee to become the head coach at Wenatchee High School from 1991-2011.
He also assisted with the Chatham A's of the Cape Cod League for one season.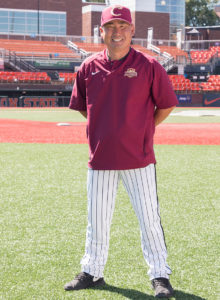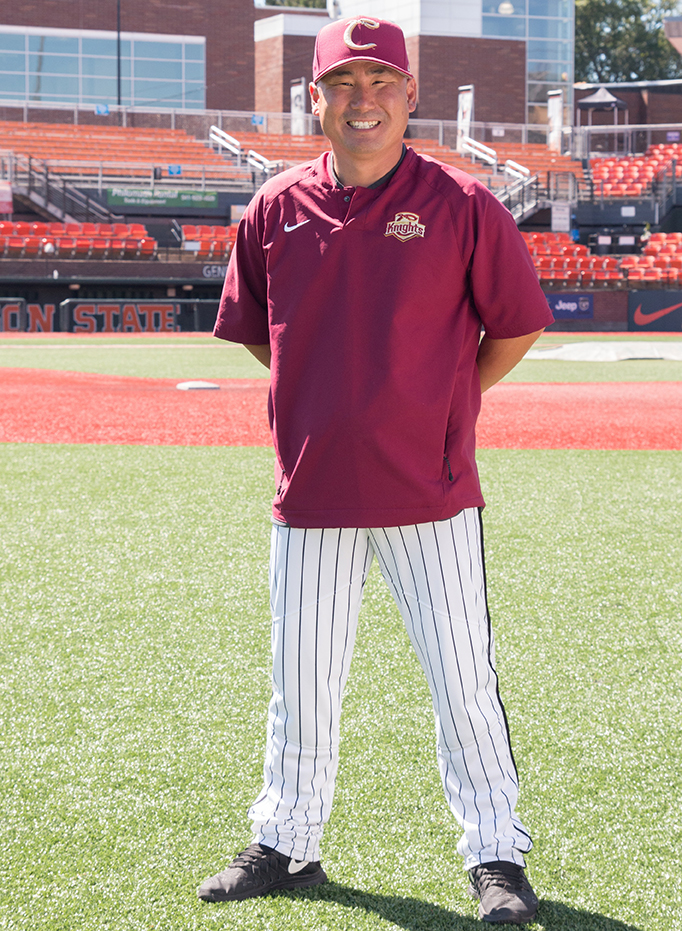 Youngjin Yoon
Assistant Coach
Throws: R | Bats: R
Experience: 5 Seasons
Hometown: Busan, South Korea
Alma Mater: Michigan State University
Assistant coach Youngjin Yoon has been with the Knights since the 2016 season.
A veteran of over 10 seasons with the Lotte Giants in South Korea's highest level of professional baseball – the Korean Baseball Organization – Yoon has worked in the United States since 2009, where he was mentored by former Riverside City College head coach Dennis Rogers, a longtime partner of the Knights.
Yoon's hybrid training philosophy merges the conventional power pitching approach used in American baseball with the precision and detail-oriented style popular in Southeast Asia.
He specializes in strength, conditioning, mental awareness, cognitive preparation, dietary habits, and skill-set development. "Master Yoon", as he's endearingly known to Knights players and fans, is an energetic and uplifting presence at the ballpark and has been the Knights first base coach since 2017.
Yoon, his wife, and two daughters live in southern California. Yoon was an assistant coach at Linn-Benton Community College in 2018 and at Cal State Bakersfield in 2019.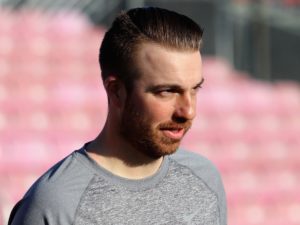 Jacob Kopra
Pitching Coach
Throws: R | Bats: R
Experience: Rookie
Hometown: Gresham, OR
Alma Mater: Corban University
Former Corban University All-American Jacob Kopra joins the Knights staff as the pitching coach for the 2021 season.
A former pitcher in the Los Angeles Angels minor-league organization, Kopra has served as the Warriors' assistant pitching coach for the past three seasons. He was the first baseball All-American in school history, and is Corban's all-time leader in season ERA (1.33), wins (10) and shutouts (3), and the career leader in wins (21), innings (309.1) and shutouts (6). He ranks second all-time in games started (48), fourth in ERA (3.02) and seventh in strikeouts (174).
Kopra is a Gresham native and starred at Barlow High School before enrolling at Corban, where he was a teammate of former Knights' standout Marc Gallegos. A four-year letterman, Kopra earned NAIA second-team All-American and Cascade Conference Pitcher of the Year honors as a senior in 2014.
Kopra and his wife, Caitlyn, live in Gresham. He graduated from Corban in 2013 with a history degree and earned his MA in education from Corban in 2017. He teaches history at Columbia Christian High School in Portland during the school year.