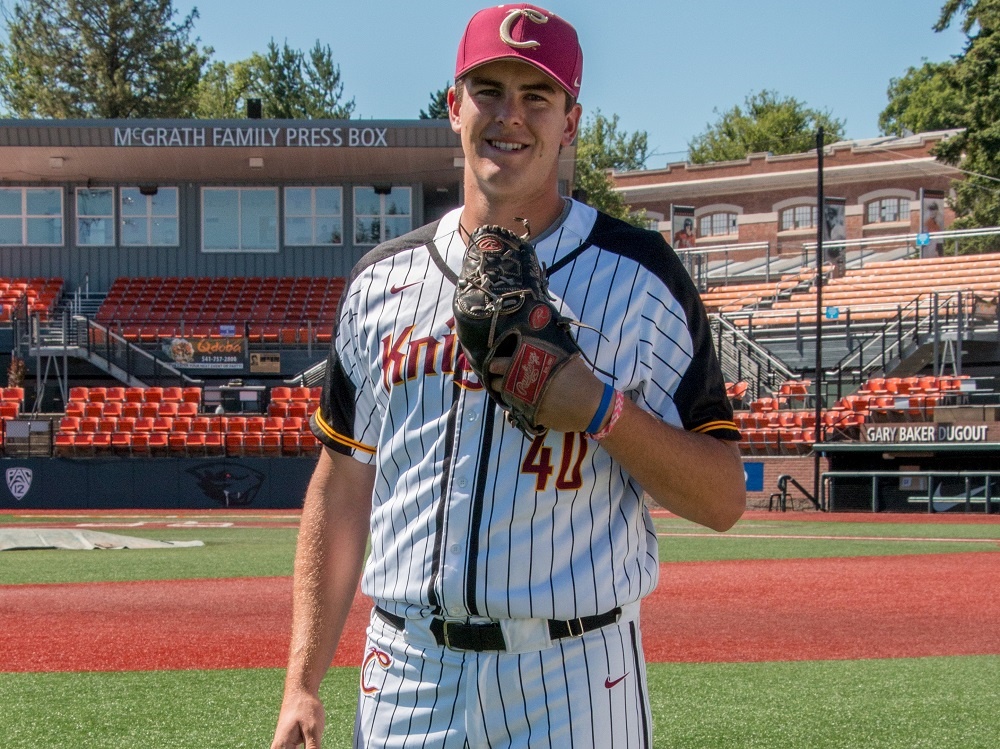 Nelson's Key Double Powers Knights Past Pippins, 6-5
YAKIMA, Wash. –  The Knights snapped a four-game losing streak with a 6-5 victory over Yakima Valley at Yakima County Stadium.
A two-out, two-run double by incoming Cal Poly freshman Darren Nelson (pictured, above) gave the Knights (31-16, 27-16, 10-6 second half) a 5-4 lead in the seventh inning. An insurance run made it 6-4 in the eighth and Jordan Qsar (Pepperdine) got the final four outs for his second save of the summer.
Nelson drove an 0-1 pitch to the wall, scoring Matt Kelly (Portland) and Zak Taylor (Oregon State) with the tying and go-ahead runs. They had reached base with singles.
Taylor Travess (Oregon), Taylor and Kelly had two hits each for the Knights, who led 3-0 early but then fell behind 4-3 before Nelson's late heroics sent them back ahead. Kelly also had an RBI; Tyler Malone (OSU), playing his first game since July 10, doubled and drove in a run.
Lefty reliever Jacob Fricke (Western Oregon) pitched 1.2 scoreless innings and got the win. Miles Glazer (UC Irvine) ended a threat by getting the final out in the seventh with the bases loaded, and he got the first two outs in the eighth. Qsar allowed a run in the ninth but got the final out on a popper to short to strand the tying run at first base.
The series resumes at 5:05 p.m. Sunday. Portland efty Jordan Horak (4-1, 2.51) will start for the Knights, opposed by righty William Adair (1-0, 2.84). It concludes at 7:05 p.m. Monday; San Diego righty Louis Crow (0-1, 5.75) goes for the Knights, opposed by Taylor Dollard (5-0, 2.38) in a matchup of right-handers.
The Knights return home on Tuesday to host the Salem Capitols of the Oregon Collegiate Baseball League in a nonconference game. They then resume WCL action against Gresham on Wednesday through Friday.