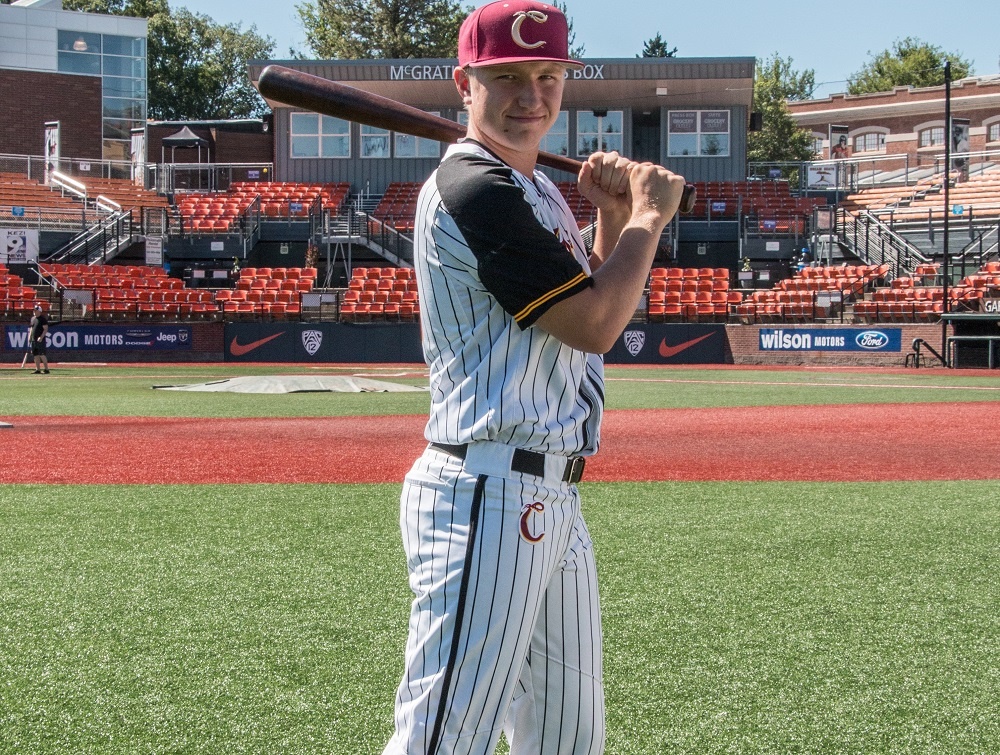 Matthews Sparks 8-5 Comeback Victory over GreyWolves
CORVALLIS, Ore. –  The Knights rallied for an 8-5 win over Gresham on to even their South Division series at a game apiece.
Corvallis (34-18, 29-18 WCL, 12-8 second half) exploded for six runs in the sixth inning to erase a 5-1 deficit. Three relievers held the GreyWolves scoreless the rest of the way and the Knights snapped a two-game WCL tailspin.
Designated hitter Gabe Matthews (Oregon) slammed a solo homer in the fifth and a two-run, go-ahead single in the sixth. It was the Knights' 39th homer, the most in the WCL.
"I was sitting on his off-speed and I made good solid contact," Matthews said. "It went a long way," clearing the fence just in front of the scoreboard.
The Knights trailed 5-0 and were hitless until Matthews blasted his third round-tripper with one out in the fifth. Taylor Travess (Oregon) and Matt Kelly (Portland) led off the decisive sixth with singles; Travess scored on a double by Jordan Qsar (Pepperdine), trimming the lead to 5-2.
Dillon Shrum (Nevada-Reno) was hit by a pitch to load the bases. Two runs scored on an infield throwing error, making it 5-4; Matthews sent the Knights ahead 6-5 with a two-run single.
A sixth run scored on a pinch-hit single by Cole Johnson (Pacific Lutheran). The Knights finished the inning with six runs on six hits after scoring just two runs in the first 14 innings of the series. Henry Cheney (Portland) added an RBI double in the eighth.
"We got a bit of momentum," Matthews said. "We got guys on and when we get guys on we get confident. We got rolling and started to string things together."
Reliever Miles Glazier (UC Irvine) went two scoreless innings and got the win. Cameron Richman (Portland) threw a scoreless eighth and Tanner Howell (Dixie State) earned his first save with a 1-2-3 ninth. Gresham had nine hits through five innings, but only one in the final four.
The series concludes at 6:40 p.m. Friday. UC Irvine righty Cole Spear (2-1, 5.22) goes for Corvallis, opposed by UC Davis lefty Chris Brown (2-0, 4.17).
The five-game homestand end at 6:40 p.m. Saturday with a nonleague game against the Oregon Collegiate Baseball League all-stars. The starting pitcher for Corvallis is undetermined.