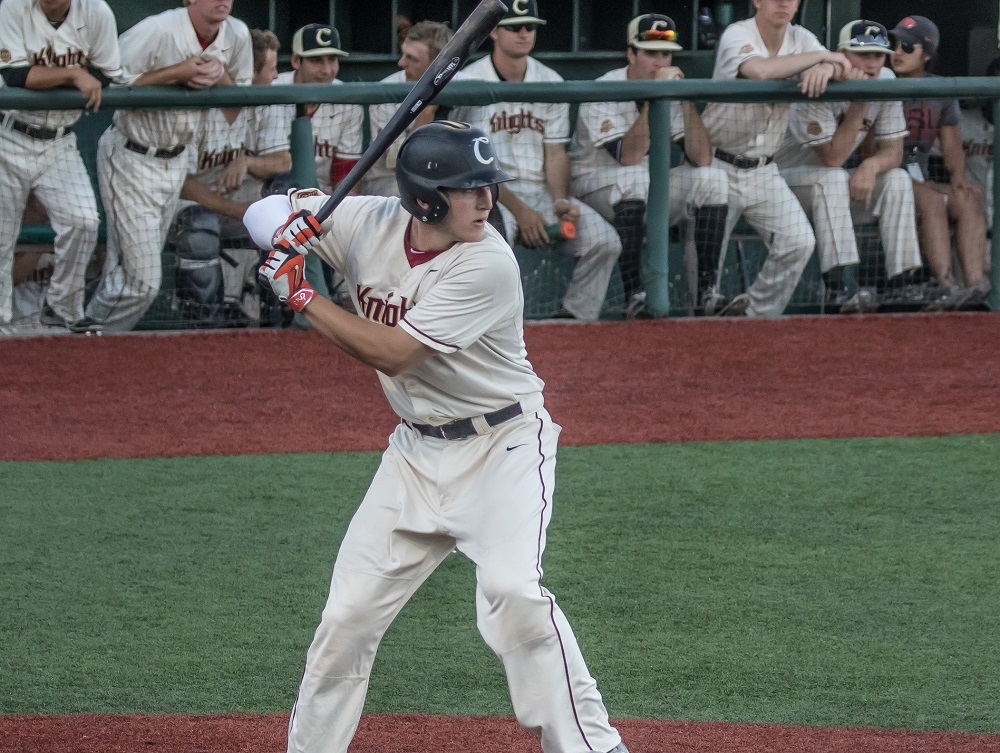 Knights Rally Late, Top Willamette Valley Brewers 7-2
CORVALLIS, Ore. –  The Knights scored seven runs in their final two at-bats on to defeated the Willamette Valley Brewers 7-2 in a nonconference game at Goss Stadium.
It was the ninth consecutive victory for the Knights (24-10 all, 3-0 second half, 20-10 WCL). They remained unbeaten in four nonconference games this summer.
Corvallis scored five times on one hit in the seventh inning to erase a 1-0 deficit. A triple by right fielder Darren Nelson (Cal Poly) was the big blow. Elliot Willey (Oregon State) also had an RBI on a sacrifice fly; the other three runs scored on wild pitches.
Troy Claunch (OSU) added an RBI in a game-clinching, two-run eighth inning.
First baseman Zak Taylor (pictured, above) of OSU reached base safely in all five plate appearances on four walks and a hit by pitch. He scored the go-ahead run on Nelson's triple.
Starter Tanner Cantwell (Treasure Valley CC) went four innings. Relievers Cole Johnson (Pacific Lutheran) and Trevor Wells (Linn-Benton CC) went two each and Cameron Richman (Portland) finished up. Wells was the winner; they combined for 10 strikeouts.
The Brewers play in the four-team Oregon Collegiate Baseball League. Their roster consists of players from Corban University and LBCC.
Corvallis resumes WCL action at 6:40 p.m. Friday in the opener of a three-game series against the Walla Walla Sweets. Tulane lefty Ross Massey is the scheduled starter for Corvallis, opposed by Cal Baptist righty Matt Amrhein (0-1, 2.45).
The Knights conclude their 10-game homestand against North Division first-half champion Kelowna on Monday, Tuesday and Wednesday.