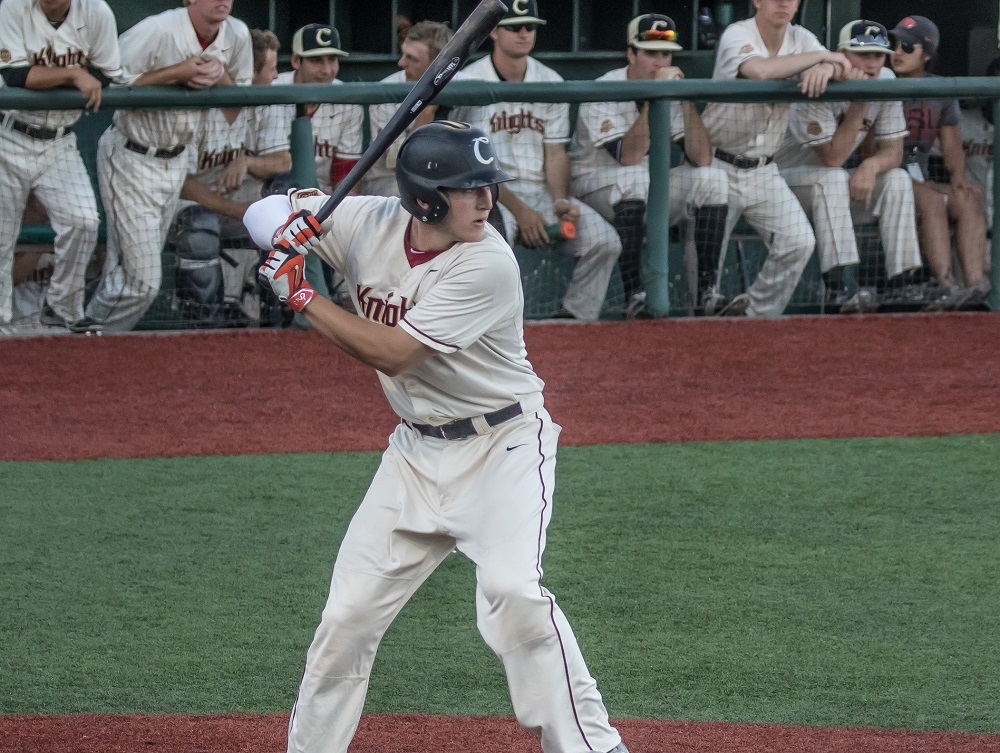 Knights Rally for 5-4 Victory Over Mid-Valley Southpaws
CORVALLIS, Ore. – The Knights rallied for three runs in their final two at-bats for a 5-4 victory over an augmented Mid-Valley Southpaws American Legion team in the nightcap of a nonleague doubleheader at Goss Stadium.
The Knights (17-10 all, 14-10 WCL) also won the opener, 6-3 over the Perth Heat Colts. Corvallis is 3-0 in nonleague games this summer.
Corvallis trailed 4-3 entering the last of the seventh in the seven-inning contest. Jordan Qsar (Pepperdine) singled and Elliot Willy (Oregon State) and Taylor Travess (Oregon) reached safely on errors on their sacrifice bunts, loading the bases.
OSU-bound pinch-hitter Troy Claunch walked, forcing home the tying run. Tanner Cantwell (Treasure Valley CC) then hit a sacrifice fly to center field to score Willy with the game-winner. Cantwell also drove in the Knights' first run in the opening inning.
OSU catcher Zak Taylor (pictured, above) started the comeback with a solo homer leading off the sixth inning that cut the deficit to 4-3.
The Southpaws scored three times in the fourth inning to take a 4-1 lead. But an RBI triple by Jack Kuzma (Cal Poly) made it 4-2 in the fifth, setting the stage for the late heroics.
Oregon-bound lefty Kolby Somers pitched three scoreless innings in his Knights' debut to earn the win. He allowed one hit and had four strikeouts.
The Southpaws imported two non-roster pitchers for the game, rising Oregon Tech junior right-hander Logan Nousen and graduated Corban lefty Daniel Aranda.
The Knights now head to Gresham for a Friday-Sunday series. The scheduled starting pitcher (in order) are Cal Poly righty Connor Redmond (0-1, 4.76), UC Irvine righty Cole Spear (1-1, 3.11), and UC Riverside righty Trenton Toplikar (0-0, 6.35).