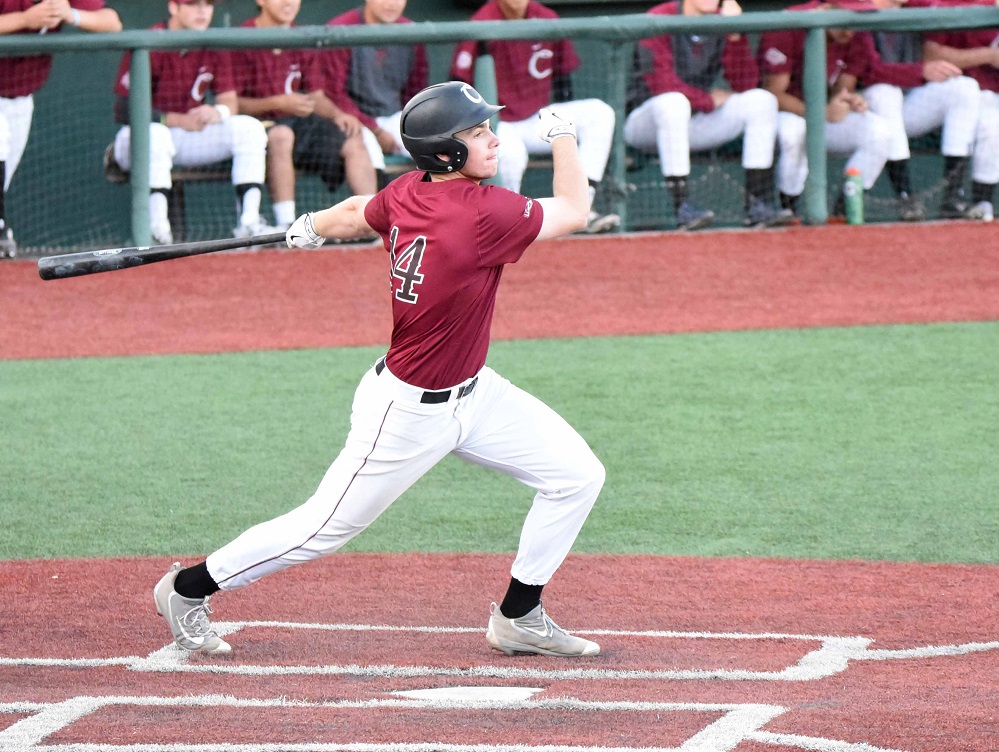 Kelly Sparks Knights to July 4 Victory Over Bend
CORVALLIS, Ore. –  Second baseman Matt Kelly (pictured, above) doubled, singled, scored three times, walked twice and drove in a run as the Knights celebrated July 4 with an 8-0 victory over Bend.
It was the seventh consecutive victory for the Knights (22-10 all, 2-0 second half, 19-10 WCL), who took the series with another lopsided win over the Elks (0-2 second half, 12-17 WCL). Corvallis won Monday night's opener, 9-1.
Kelly's summer with the Knights is mirroring his sophomore year at the University of Portland. After hitting .138 as a freshman on The Bluff, he improved that mark by 154 points and led the Pilots with a .292 average as a sophomore.
He has already surpassed his 2016 numbers with the Knights, when he batted .205, with no homers and 11 RBIs. Tuesday's performance upped his average to .313; he has 19 RBIs, tied for second on the club to rising Pepperdine senior Jordan Qsar (23).
A two-run single by Gabe Matthews (Oregon) gave the Knights a first-inning lead for the second game in a row. They scored again in the second and Elliot Willey (Oregon State) made it 6-0 with a two-run single in the third.
Starter Nick Morales (San Jose State) and relievers Kolby Somers (Oregon) and Dakota Donovan (OSU) combined on a one-hitter and the Knights' second shutout of the season.
Morales survived a shaky start and retired the final seven Elks he faced to complete four scoreless innings. He allowed one hit, struck out six, and stranded five Elks in the first two innings, when he walked three and hit a batter before finding his rhythm.
He left with a 7-0 lead but did not go the requisite five innings to earn the victory. Somers added three no-hit, scoreless innings to pick up his first win in his WCL debut; Donovan finished up.
The series concludes at 6:40 p.m. Wednesday; San Diego righty Louis Crow (0-1, 4.50) gets the ball for Corvallis.