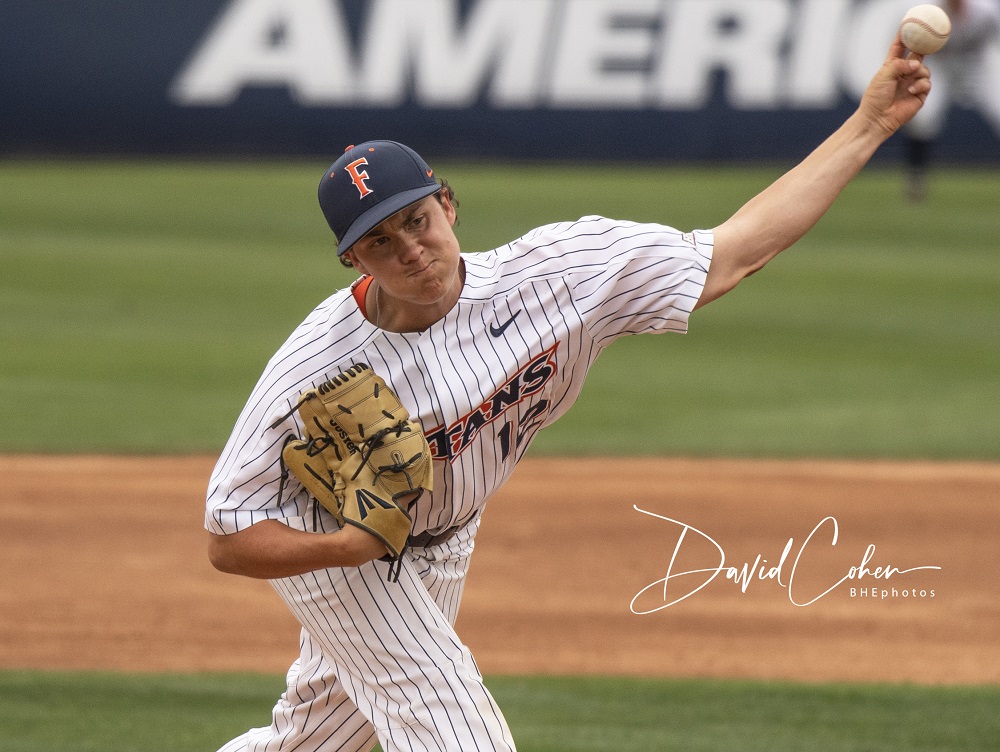 Josten Shuts Down Cowlitz, Knights Win Fireworks Night Series Opener
Southpaw Timothy Josten (pictured) threw six shutout innings to lead the Knights to a 7-3 victory over Cowlitz in their West Coast League home opener before a Fireworks Night Crowd of 2,704 at Goss Stadium.
A rising junior at Cal State Fullerton, Josten struck out six and spaced four singles in handcuffing the Black Bears to even his record at 1-1. He walked just two and threw 48 strikes in 78 pitches, and was named the Washington Park Advisors Player of the Game.
The Knights (7-4, 3-4 WCL) have now won 3 of 4 league games following an 0-3 start. They moved ahead of Cowlitz into fourth place in the South Division, four games behind undefeated (7-0) Walla Walla.
Second baseman Briley Knight (Utah) tripled, doubled, scored twice and drove in a run. Jake Holcroft (Portland) added a bases-loaded triple; every starter either scored or had a base hit.
The Knights took a 1-0 lead in the first inning on a triple by Knight and an RBI single by Andy Atwood (Texas Rio Grande). Holcroft's three-run triple keyed a four-run second that sent the Knights up 5-0 and they coasted home from there.
The series resumes at 6:30 p.m. Saturday. The scheduled starters are San Diego lefty James Sashin (0-0, 4.50) for Cowlitz, opposed by Utah right-hander David Watson (0-0, 3.85) for the Knights.
The probables for Sunday's 3 p.m. series finale are Central Arizona CC righty Mat Olsen (0-0, 6.00) for Cowlitz and Dixie State lefty Tevita Gerber (0-1, 3.85) for the Knights.
Corvallis hosts Bellingham on Tuesday, Wednesday and Thursday and closes its opening homestand against the Corvallis Gerding Builders Marketmen American Legion team on Friday. All four games begin at 6:30 p.m.
Photo credit: David Cohen.