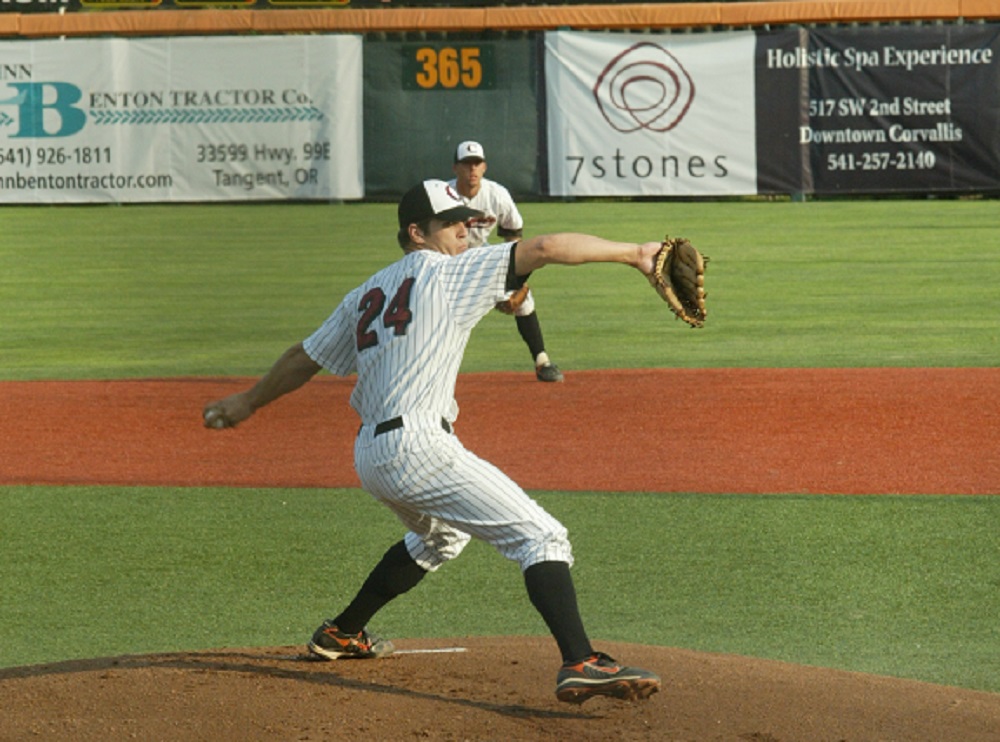 Brooks Hatch Blog: White Sox Sign Alum Josh Osich
Happy Wednesday, everyone, from the world-wide headquarters (WWHQ) of the Corvallis Knights, your 2016-2017 and 2018 West Coast League champions!
Only 77 more days until our May 29 opener on Science, Engineering & Art Day game at Goss Stadium!
————–
The Chicago White Sox have claimed left-handed reliever Josh Osich (2008) on waivers from Baltimore and have added him to their 40-man roster. He was designated for assignment by Baltimore on March 8. Josh spent the last four seasons with San Francisco, was released this spring and then was claimed by Baltimore.  He pitched two scoreless innings in two appearances for the O's.
He played at Oregon State. Josh is now the second OSU/Knights pitcher on the White Sox roster, joining fellow Beaver lefty Jace Fry (2011).
Some other Knights/MLB news:
All-star right fielder Mitch Haniger (2010) of the Seattle Mariners has signed a one-year contract with the team. He hit .285 in 157 games in 2018, with 26 homers and 93 RBIs.
Catcher Rocky Gale (2007, 2009, Dodgers); right fielder Jordan Qsar (2017, Rays) and second baseman Nick Madrigal (2005, White Sox) have been assigned to minor-league camp by their respective teams.
Pitcher Bud Norris (2005) has signed a minor-league deal with Toronto. He played for the Los Angeles Angels in 2018.
————–
Some player of the week news:
University of Portland senior right-hander Chris Clements (2015) earned West Coast Conference Pitcher of the Week honors for the second week in a row following his second-straight complete-game win, a 4-0 shutout of Northern Colorado 4-0 on March 10. Clements struck out 13, scattered six hits, and walked one to improve to a perfect 4-0 on the year. It's the first shutout by a Portland pitcher since 2015, and the 13 K's are the most for the program since Kevin Baker also fanned 13 in 2017.
Portland sophomore shortstop Chad Stevens (2017-18) was nominated for West Coast Conference Player of the Week honors but was not selected.
Oregon first baseman Gabe Mathews (2017) and Oregon State catcher Adley Rutschman (2016) were nominated for Pac-12 Player of the Week honors but were not selected.
St. Martin's lefty Aaron Shoup (2018) and Western Oregon lefty Austin Crowson (2016) were nominated for Great Northwest Conference Pitcher of the Week honors for March 4-10 but were not selected.
————–
Alum Zak Taylor (2016-18) was named a March Scholar-Athlete of the Month by Oregon State. A senior from Sherwood, Ore., Taylor is a two-time Pac-12 All-Academic honorable mention selection as a psychology major, and currently carries a 3.14 cumulative GPA.
————–
We are thrilled to announce our 2019 regular-season schedule. Next summer's slate features 32 home dates and gets started at 10 a.m. on Wednesday, May 29, with our eighth annual Science, Engineering & Art Day game at Goss Stadium.
After a nonleague series at the Humboldt Crabs, we open the West Coast League schedule at Walla Walla on June 4. We host the Haysville Hammers at Linn-Benton on June 12 in a non-league game; our WCL home opener is June 14, against the Cowlitz Black Bears.
Like last season, start times for Monday-Saturday games is 6:30 p.m. Sunday games will start at 3 pm. Fireworks games will have special start times, either 7:15 p.m. or 7:05 p.m.
The Knights 2019 home schedule features six Thursday games, six Friday games, five Saturday games, five Sunday games, one Monday game, four Tuesday games and five Wednesday games.
Reserve the best seats in the house for the 2019 season now by emailing [email protected] or by calling (541) 752-5656. Our entertainment schedule is available by clicking here.
Here's the entire 2019 schedule:
MAY: 29, Portland Sea Dogs. 31, at Humboldt Crabs.
JUNE: 1-2, at Humboldt Crabs. 4-6, at Walla Walla. 7-9, at Victoria. 12, Hayesville Hammers (@ LBCC). 14-16, Cowlitz. 18-20, Bellingham. 21, Gerding Construction. 22-24, at Yakima Valley. 25-27, Ridgefield. 28-30, Yakima Valley.
JULY: 1, Hayesville Hammers. 2-3: Portland. 4, at Portland. 5-7, at Ridgefield. 8-10, at Port Angeles. 11, Mid-Valley Southpaws. 12-14, Kelowna. 18, Chaffey Baseball. 19-21, Walla Walla. 22-23, All-Star Game, at Bend. 24, at Portland. 25, Portland. 26, at Portland. 27-29, at Bend. 30-31, Bend.
AUGUST: 1, Bend. 2-4, at Cowlitz. 6-8, at Bellingham. 9-11: Wenatchee.
————–
Some news from elsewhere in the West Coast League:
Utility specialist Dimick Wood and infielder/outfielder Patrick Caulfield will soon begin their second consecutive summer campaign with the Walla Walla Sweets. Please click here for more information, from Our Sports Central.
Freshman middle infielder Collin Burns and freshman outfielder Logan Stevens of Tulane will join the Bellingham Bells. Please click here for more information, from Our Sports Central.
The Victoria HarbourCats will have their work cut out for them before the season even starts, facing a team that finished second in Canada last season. Prior to the first-ever Alumni Classic on June 1 at Royal Athletic Park, the HarbourCats will face off against the Victoria Special Olympics team which claimed the silver medal at the 2018 nationals in Antigonish, Nova Scotia. Please click here for more information, from Our Sports Central.
History will be made in the wee hours of March 20 when the 2019 MLB season begins with the Seattle Mariners facing the Oakland Athletics in Tokyo, Japan. Marco Gonzales will toss the first pitch of the season, thus becoming the first former AppleSox pitcher to start Opening Day. He played for the AppleSox in 2010. Please click here for more information, from Our Sports Central.
————–
That's all for today. Have a great week and we will see you on March 20!