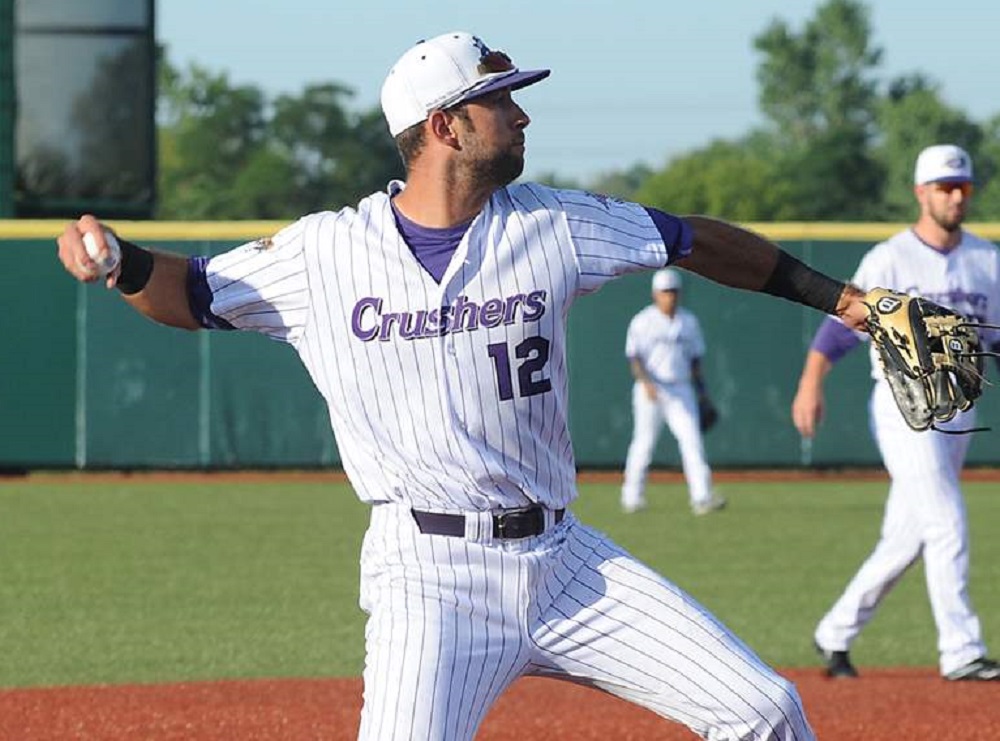 Brooks Hatch Blog: Crushers Release Alum Cody Lenahan
Happy Wednesday, everyone, from the world-wide headquarters (WWHQ) of the Corvallis Knights, your 2016-2017 and 2018 West Coast League champions!
Only 84 more days until our May 29 opener on Science, Engineering & Art Day game at Goss Stadium!
————–
The Lake Erie Crushers of the independent Frontier League have released infielder Cody Lenahan (2013) after two seasons with the club, based in Avon, Ohio. He was a second-team West Coast League all-star on our 2013 championship team.
A University of Portland product, Cody hit .252 in 72 games with the Crushers in 2018, with seven homers and 41 RBIs. He also played with the club in 2017.
Cody spent four years in independent baseball with Lake Erie (2017-18), Texas in the American Association (2016) and Rockford in the Frontier League (2015). He hit 252 in 261 career games, with 31 homers and 146 RBIs.
————–
Some player of the week news:
Senior right-hander Chris Clements (2015) was named the West Coast Conference Pitcher of the Week for Feb. 26-March 4. He went the distance to claim the complete-game win as the Pilots earned a series split at Stephen F. Austin with a 7-1 victory in the second game of a double header on May 2  in Nacogdoches, Texas. Clements allowed one run on four hits in nine innings. He struck out six, and walked just one to improve to 3-0 on the year.
Oregon State junior shortstop Beau Philip (2018) was nominated for Pacific-12 Conference Player of the Week honors but was not selected. He was 6-for-11 (.545) with two homers, a double, four RBIs and three runs in a 2-1 series win over West Virginia.
————–
Knights' 10-day signee Cooper Wohlgemuth had an impressive debut with Clackamas Community College on March 3 in Game 2 of a doubleheader at Linn-Benton.
The sophomore catcher, a transfer from George Fox, homered in his first at-bat, added two doubles and drove in two runs in a 16-3 loss to the Roadrunners. The Portland native, who played at Roosevelt High School, is looking to transfer to an Atlantic-10 Conference or Ivy League school for his final two years of eligibility.
————–
We are thrilled to announce our 2019 regular-season schedule. Next summer's slate features 32 home dates and gets started at 10 a.m. on Wednesday, May 29, with our eighth annual Science, Engineering & Art Day game at Goss Stadium.
After a nonleague series at the Humboldt Crabs, we open the West Coast League schedule at Walla Walla on June 4. We face the Haysville Hammers at Linn-Benton on June 12 in a non-league game; our WCL home opener is June 14, against the Cowlitz Black Bears.
Like last season, start times for Monday-Saturday games is 6:30 p.m. Sunday games will start at 3 pm. Fireworks games will have special start times, either 7:15 p.m. or 7:05 p.m.
The Knights 2019 home schedule features six Thursday games, six Friday games, five Saturday games, five Sunday games, one Monday game, four Tuesday games and five Wednesday games.
Reserve the best seats in the house for the 2019 season now by emailing [email protected] or by calling (541) 752-5656. Our entertainment schedule is available by clicking here.
Here's the entire 2019 schedule:
MAY: 29, Portland Sea Dogs. 31, at Humboldt Crabs.
JUNE: 1-2, at Humboldt Crabs. 4-6, at Walla Walla. 7-9, at Victoria. 12, Hayesville Hammers (@ LBCC). 14-16, Cowlitz. 18-20, Bellingham. 21, Gerding Construction. 22-24, at Yakima Valley. 25-27, Ridgefield. 28-30, Yakima Valley.
JULY: 1, Hayesville Hammers. 2-3: Portland. 4, at Portland. 5-7, at Ridgefield. 8-10, at Port Angeles. 11, Mid-Valley Southpaws. 12-14, Kelowna. 18, Chaffey Baseball. 19-21, Walla Walla. 22-23, All-Star Game, at Bend. 24, at Portland. 25, Portland. 26, at Portland. 27-29, at Bend. 30-31, Bend.
AUGUST: 1, Bend. 2-4, at Cowlitz. 6-8, at Bellingham. 9-11: Wenatchee.
————–
Some news from elsewhere in the West Coast League:
Bellingham has added Stetson sophomore catcher Danny Martin and freshman right-handed pitcher Danny Garcia for the 2019 season. Please click here for more information, from Our Sports Central.
Yakima Davis High School senior Henry Gargus, a future Stanford player, and Oregon State freshman outfielder Greg Fuchs are joining the Pippins for the 2019 season, head coach Marcus McKimmy announced. Please click here for more information, from Our Sports Central.
The Wenatchee AppleSox have finalized their complete schedule for the 2019 season. While West Coast League games were already determined in November, management still wanted to add more home games to the schedule. The 2019 AppleSox schedule features 32 home games and 27 road games. Please click here for more information, from Our Sports Central.

————–
That's all for today. Have a great week and we will see you on March 11!