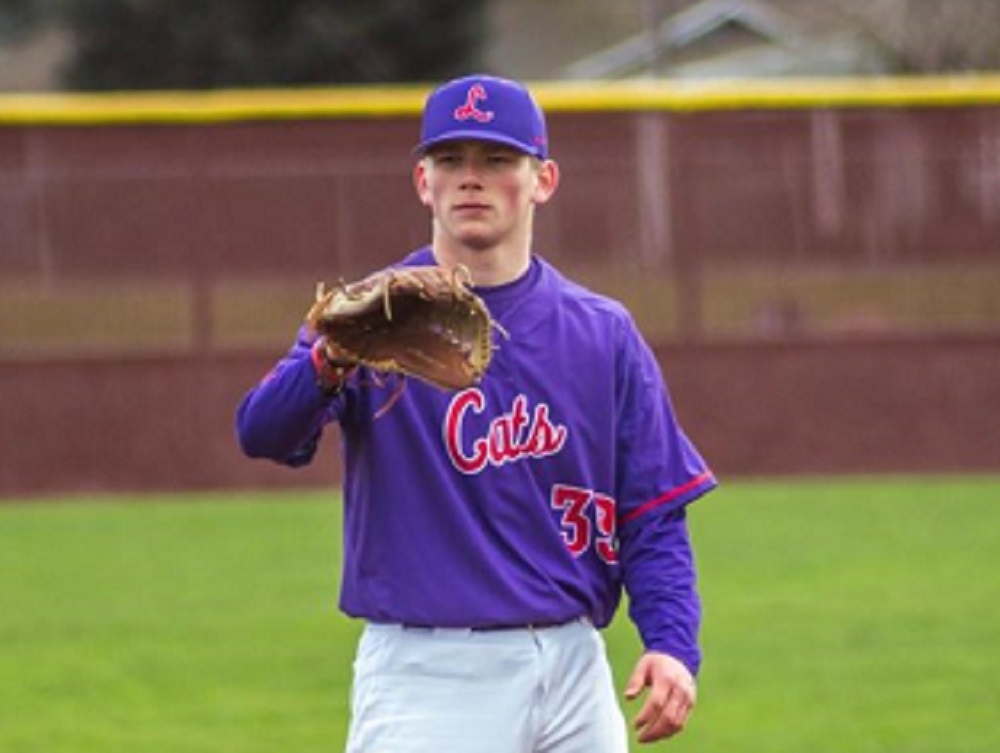 Brooks Hatch Blog: Knights Sign Linfield Lefty to 10-Day Deal
Happy Wednesday, everyone, from the world-wide headquarters (WWHQ) of the Corvallis Knights, your 2016-2017 and 2018 West Coast League champions!
Only 91 more days until our May 29 opener on Science, Engineering & Art Day game at Goss Stadium!
————–
We have signed Linfield College pitcher Colton Meyer (pictured, above) to a 10-day contract for the 2019 season. He is a 6-foot, 185-pound freshman left-hander from Silverton High School in Silverton, Ore., who is 1-1, 2.57 in three appearances with the Wildcats in 2019, with 17 strikeouts in 14 innings.
Meyer was first-team 5A all-state and was a Mid-Willamette Conference first-team all-star in 2018 as a SHS senior. He was also a first-team MWC all-star in 2017 and earned honorable-mention honors in 2016. He lettered six times in baseball, football and swimming at Silverton.
Welcome to the Knights, Colton!
————–
Some player of the week news:
Cal Poly pitcher Darren Nelson (2017) was nominated for Big West Conference Pitcher of the Week honors but was not selected. He allowed one hit and had three strikeouts in six shutout innings in a 5-3 loss to California on Feb. 24. He was not involved in the decision.
Portland pitcher Connor Knutson (2018) was nominated for West Coast Conference Pitcher of the Week honors but was not selected. He had three saves in three appearances, a 0.00 ERA and three strikeouts in three innings as the Pilots too 3 of 4 against North Dakota State and UT Rio Grande Valley in Texas.
Washington catcher Nick Kahle (2016) was nominated for Pacific-12 Conference Player of the Week honors but was not selected. He was 5-for-8 (.625) with a homer, eight RBIs and three runs in a three-game sweep of Northern Colorado.
————–
The New Jersey Jackals of the independent CanAm League placed alum Connor Hofmann (2011-12) on revocable waivers on Feb. 13. The former Oregon/University of San Francisco outfielder hit .247 (80-324) in 82 games at New Jersey in 2018, with four homers and 27 RBIs.
He has played three seasons of independent-league ball since leaving USF after the 2015 season, with New Jersey in 2018, with Traverse City and Lake Erie in the Frontier League in 2016 and 2017, and with Sussex County in the CanAm League in 2016. Best of luck to Connor, who caught the final out in our 2011 championship win over Walla Walla, in his future endeavors.
————–
We are thrilled to announce our 2019 regular-season schedule. Next summer's slate features 32 home dates and gets started at 10 a.m. on Wednesday, May 29, with our eighth annual Science, Engineering & Art Day game at Goss Stadium.
After a nonleague series at the Humboldt Crabs, we open the West Coast League schedule at Walla Walla on June 4. We host the Haysville Hammers at Linn-Benton on June 12 in a non-league game; our WCL home opener is June 14, against the Cowlitz Black Bears.
Like last season, start times for Monday-Saturday games is 6:30 p.m. Sunday games will start at 3 pm. Fireworks games will have special start times, either 7:15 p.m. or 7:05 p.m.
The Knights 2019 home schedule features six Thursday games, six Friday games, five Saturday games, five Sunday games, one Monday game, four Tuesday games and five Wednesday games.
Reserve the best seats in the house for the 2019 season now by emailing [email protected] or by calling (541) 752-5656. Our entertainment schedule is available by clicking here.
Here's the entire 2019 schedule:
MAY: 29, Portland Sea Dogs. 31, at Humboldt Crabs.
JUNE: 1-2, at Humboldt Crabs. 4-6, at Walla Walla. 7-9, at Victoria. 12, Hayesville Hammers (@ LBCC). 14-16, Cowlitz. 18-20, Bellingham. 21, Gerding Construction. 22-24, at Yakima Valley. 25-27, Ridgefield. 28-30, Yakima Valley.
JULY: 1, Hayesville Hammers. 2-3: Portland. 4, at Portland. 5-7, at Ridgefield. 8-10, at Port Angeles. 11, Mid-Valley Southpaws. 12-14, Kelowna. 18, Chaffey Baseball. 19-21, Walla Walla. 22-23, All-Star Game, at Bend. 24, at Portland. 25, Portland. 26, at Portland. 27-29, at Bend. 30-31, Bend.
AUGUST: 1, Bend. 2-4, at Cowlitz. 6-8, at Bellingham. 9-11: Wenatchee.
————–
Some news from elsewhere in the West Coast League:
————–
That's all for today. Have a great week and we will see you on March 6!