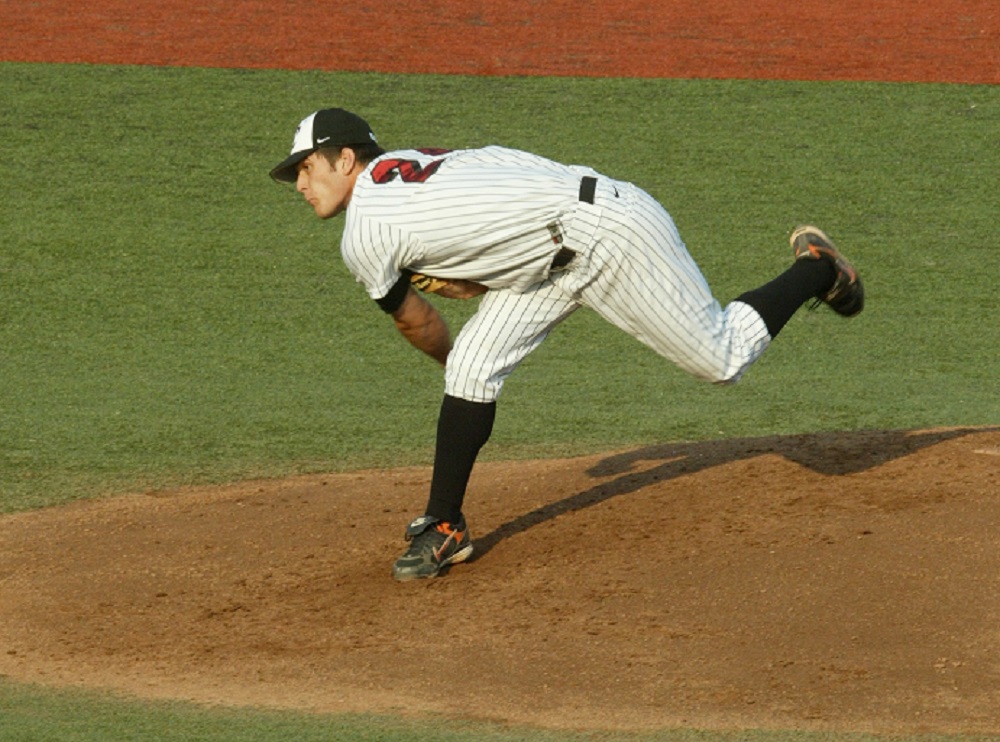 Brooks Hatch Blog: Alum Josh Osich Headed to Baltimore
Happy Wednesday, everyone, from the world-wide headquarters (WWHQ) of the Corvallis Knights, your 2016-2017 and 2018 West Coast League champions!
Only 99 more days until our May 29 opener on Science, Engineering & Art Day game at Goss Stadium!
————–
The Baltimore Orioles claimed alum Josh Osich (2008, pictured above) on waivers on Tuesday and added him to their 40-man MLB roster. He had been designated for assignment by San Francisco on Feb. 12.
The former Oregon State lefty, now 30 years of age, gives Baltimore another lefty relief option. He spent most of last season with Sacramento in the triple-A Pacific Coast League but was 0-0, 8.25 in 12 appearances with the Giants.
In his four seasons with San Francisco, Osich was 6-5, 5.01 in 160 games, with 105 strikeouts in 120.1 innings.
Best of luck to Josh in his new surroundings!
————–
Please click here to read an interesting profile on St. Martin's senior outfielder Austin Feist, a key member of our 2018 WCL champions!
————–
Some player of the week news:
Portland senior outfielder Cody Hawken (2016, 2018) was nominated for West Coast Conference Player of the Week honors for Feb. 11-17 but was not selected. He hit .400 (6-15) with two doubles, a homer, five RBIs and two steals as the Pilots took 3 of 4 in a season-opening series at Hawaii.
UP pitcher Chris Clements (2015) was nominated for West Coast Conference Pitcher of the Week honors for Feb. 11-17 but was not selected. He allowed one hit and struck out eight in six innings and got the win in a 4-0 victory over Hawaii in the series finale.
Oregon State junior catcher Adley Rutschman (2016) was nominated for Pacific-12 Conference Player of the Week honors for Feb. 11-17 but was not selected. He hit .444 (4-9) with a double, two homers, six RBIs and eight runs as the Beavers defeated New Mexico, Gonzaga and Minnesota in Surprise, Ariz.
————–
We are thrilled to announce our 2019 regular-season schedule. Next summer's slate features 32 home dates and gets started at 10 a.m. on Wednesday, May 29, with our eighth annual Science, Engineering & Art Day game at Goss Stadium.
After a nonleague series at the Humboldt Crabs, we open the West Coast League schedule at Walla Walla on June 4. We host the Haysville Hammers at Linn-Benton on June 12 in a non-league game; our WCL home opener is June 14, against the Cowlitz Black Bears.
Like last season, start times for Monday-Saturday games is 6:30 p.m. Sunday games will start at 3 pm. Fireworks games will have special start times, either 7:15 p.m. or 7:05 p.m.
The Knights 2019 home schedule features six Thursday games, six Friday games, five Saturday games, five Sunday games, one Monday game, four Tuesday games and five Wednesday games.
Reserve the best seats in the house for the 2019 season now by emailing [email protected] or by calling (541) 752-5656. Our entertainment schedule is available by clicking here.
Here's the entire 2019 schedule:
MAY: 29, Portland Sea Dogs. 31, at Humboldt Crabs.
JUNE: 1-2, at Humboldt Crabs. 4-6, at Walla Walla. 7-9, at Victoria. 12, Hayesville Hammers (@ LBCC). 14-16, Cowlitz. 18-20, Bellingham. 21, Gerding Construction. 22-24, at Yakima Valley. 25-27, Ridgefield. 28-30, Yakima Valley.
JULY: 1, Hayesville Hammers. 2-3: Portland. 4, at Portland. 5-7, at Ridgefield. 8-10, at Port Angeles. 11, Mid-Valley Southpaws. 12-14, Kelowna. 18, Chaffey Baseball. 19-21, Walla Walla. 22-23, All-Star Game, at Bend. 24, at Portland. 25, Portland. 26, at Portland. 27-29, at Bend. 30-31, Bend.
AUGUST: 1, Bend. 2-4, at Cowlitz. 6-8, at Bellingham. 9-11: Wenatchee.
————–
Some news from elsewhere in the West Coast League:
Walla Walla has a new father-son coaching-player combination. Please click here for more information, from Our Sports Central.
————–
That's all for today. Have a great week and we will see you on Feb. 27!