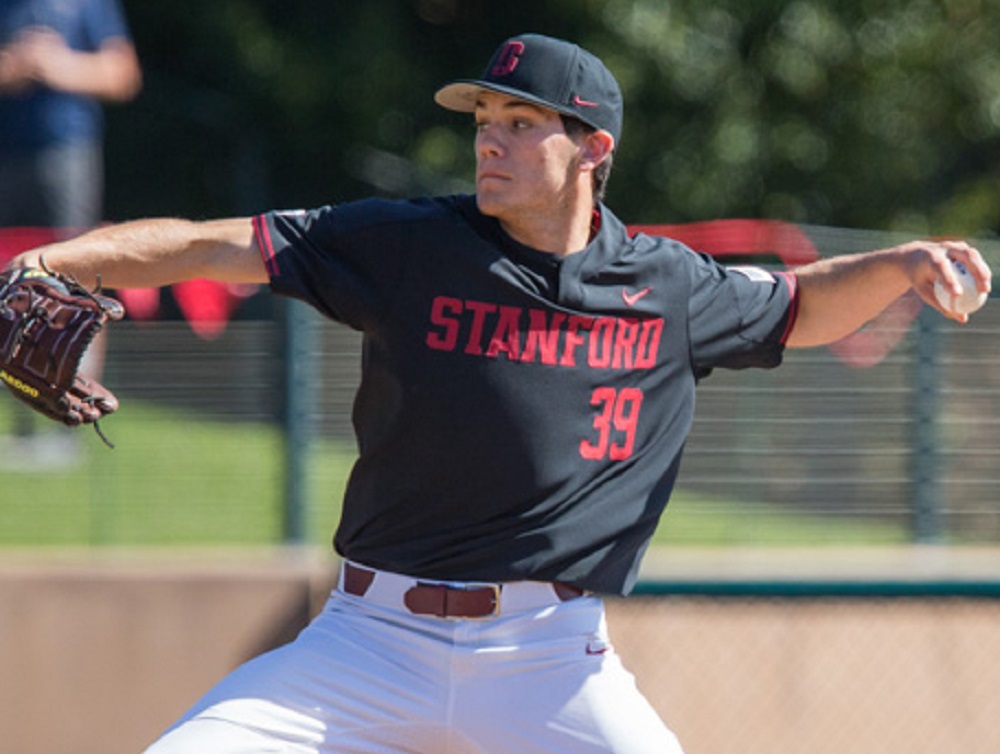 Brooks Hatch Blog: Alum Jacob Palisch On Stopper Watch List
Happy Wednesday, everyone, from the world-wide headquarters (WWHQ) of the Corvallis Knights, your 2016-2017 and 2018 West Coast League champions!
Only 106 more days until our May 29 opener on Science, Engineering & Art Day game at Goss Stadium!
————–
Alum Jacob Palisch (2018, pictured above), a sophomore left-handed pitcher at Stanford from Richardson, Texas, was named to the initial Watch List for the 15th annual National Collegiate Baseball Writers Association's Stopper of the Year Award, given to the top relief pitcher in NCAA Division I Baseball, the association announced Monday.
Palisch was 0-0, 5.40 in seven games with the Knights, with a save and 10 strikeouts in 10 innings. He was named to several freshman All-American teams after going 4-1, 1.72 in 26 games for the Cardinal in 2018, with four saves and 36 strikeouts in 47 innings.
Congrats to Jacob! Please click here for the entire preseason watch list.
————–
More honors for alum Adley Rutschman (2016), a junior catcher at Oregon State.
He has been named by USA Baseball to its preseason Golden Spikes Award watch list. It features 55 of the nation's top amateur players, from high school and college baseball.
The Golden Spikes Award Advisory Board will maintain a rolling list of players, allowing athletes to play themselves into consideration for the award throughout the season.
Amateur baseball fans will be able to vote for their favorite players at  GoldenSpikesAward.com again in 2019, starting on May 15 with the naming of the semifinalists.
The list of semifinalists will also be sent to a voting body consisting of baseball media members, select professional baseball personnel, current USA Baseball staff and 40 previous winners of the award, representing a group of more than 200 voters.
USA Baseball will announce the finalists on May 29. Fan voting will open at GoldenSpikesAward.com concurrently and will remain open through June 10. The winner will be named on Friday, June 14.
————–
We have signed Western Oregon sophomore infielder James Anderson, Willamette sophomore infielder Sean Little, and Clackamas Community College sophomore outfielder/catcher Cooper Wohlgemuth to 10-day contracts for the 2019 season.
Anderson and Little are Corvallis natives and played together at Crescent Valley High School. Wohlgemuth is a graduate of Roosevelt High in Portland who played at George Fox in 2018.
The 6-foot-1, 195-pound Anderson hit .067 (1-15) in nine games as a WOU freshman in 2018, with no homers or RBIs. He hit .250 (4-16) in seven games with the Knights as a 10-day signee in 2018, with a homer and two RBIs.
He lettered three times at CV, was team captain as a junior and senior, and was a Mid-Willamette Conference all-star and first-team 5A all-state as a senior.
Little hit .458 (11-24) in 10 games for the Bearcats in 2018, with three doubles and seven RBIs. He was supposed to play for the Knights in 2018 but was sidelined by an injury.
A 5-foot-9, 160-pound middle infielder, Little earned MWC postseason honors as a senior, junior and sophomore and was 5A all-state as a senior and junior. He was runner-up for MWC Player of the Year honors and captained the baseball and basketball teams a senior.
A 6-1, 160-pound right-hander, Wohlgemuth played in three games for GFU in 2018 but did not have an at-bat. He scored two runs. He was a four-year starting catcher at Roosevelt and earned honorable-mention all-PIL honors. He also lettered twice in basketball and swimming.
Welcome to the Knights, guys!
For our complete 2019 roster (to date), please click here!
————–
Aforementioned Oregon State catcher Adley Rutschman was named a first-team preseason All-American by the National Collegiate Baseball Writers Association (NCBWA). A junior, Adley hit .408 with a school-record 102 hits and 83 RBIs in 2018 while leading OSU to the NCAA title.
He nine home runs, 22 doubles and walked 53 times. Rutschman was named the Most Outstanding Player at the 2018 College World Series after setting a series record with 17 hits.
————–
A couple of transactions to report involving alums in the major leagues:
The San Francisco Giants have designated reliever Josh Osich (2008) for assignment to triple-A Sacramento. He will still have a shot to make the team out of spring training but he is no longer on the team's 40-man roster. Josh played at Oregon State and has spent all or part of the last four years with the Giants.
The Arizona Diamondbacks have signed alum Marc Rzepczynski (2006) to a minor-league contract and have invited the veteran lefty to spring training. Zep was 0-1, 6.97 in 23 games with Cleveland and Seattle in 2018. The UC Riverside product has appeared in 506 MLB games, almost exclusively in relief, since breaking in with Toronto in 2009.
————–
We are thrilled to announce our 2019 regular-season schedule. Next summer's slate features 32 home dates and gets started at 10 a.m. on Wednesday, May 29, with our eighth annual Science, Engineering & Art Day game at Goss Stadium.
After a nonleague series at the Humboldt Crabs, we open the West Coast League schedule at Walla Walla on June 4. We host the Haysville Hammers at Linn-Benton on June 12 in a non-league game; our WCL home opener is June 14, against the Cowlitz Black Bears.
Like last season, start times for Monday-Saturday games is 6:30 p.m. Sunday games will start at 3 pm. Fireworks games will have special start times, either 7:15 p.m. or 7:05 p.m.
The Knights 2019 home schedule features six Thursday games, six Friday games, five Saturday games, five Sunday games, one Monday game, four Tuesday games and five Wednesday games.
Reserve the best seats in the house for the 2019 season now by emailing [email protected] or by calling (541) 752-5656.
Our promotional schedule is available by clicking here.
Here's the entire 2019 schedule:
MAY: 29, Portland Sea Dogs. 31, at Humboldt Crabs.
JUNE: 1-2, at Humboldt Crabs. 4-6, at Walla Walla. 7-9, at Victoria. 12, Hayesville Hammers (@ LBCC). 14-16, Cowlitz. 18-20, Bellingham. 21, Gerding Construction. 22-24, at Yakima Valley. 25-27, Ridgefield. 28-30, Yakima Valley.
JULY: 1, Hayesville Hammers. 2-3: Portland. 4, at Portland. 5-7, at Ridgefield. 8-10, at Port Angeles. 11, Mid-Valley Southpaws. 12-14, Kelowna. 18, Chaffey Baseball. 19-21, Walla Walla. 22-23, All-Star Game, at Bend. 24, at Portland. 25, Portland. 26, at Portland. 27-29, at Bend. 30-31, Bend.
AUGUST: 1, Bend. 2-4, at Cowlitz. 6-8, at Bellingham. 9-11: Wenatchee.
————–
Some news from around the West Coast League:
————–
That's all for today. Have a great week and we will see you on Feb. 20!