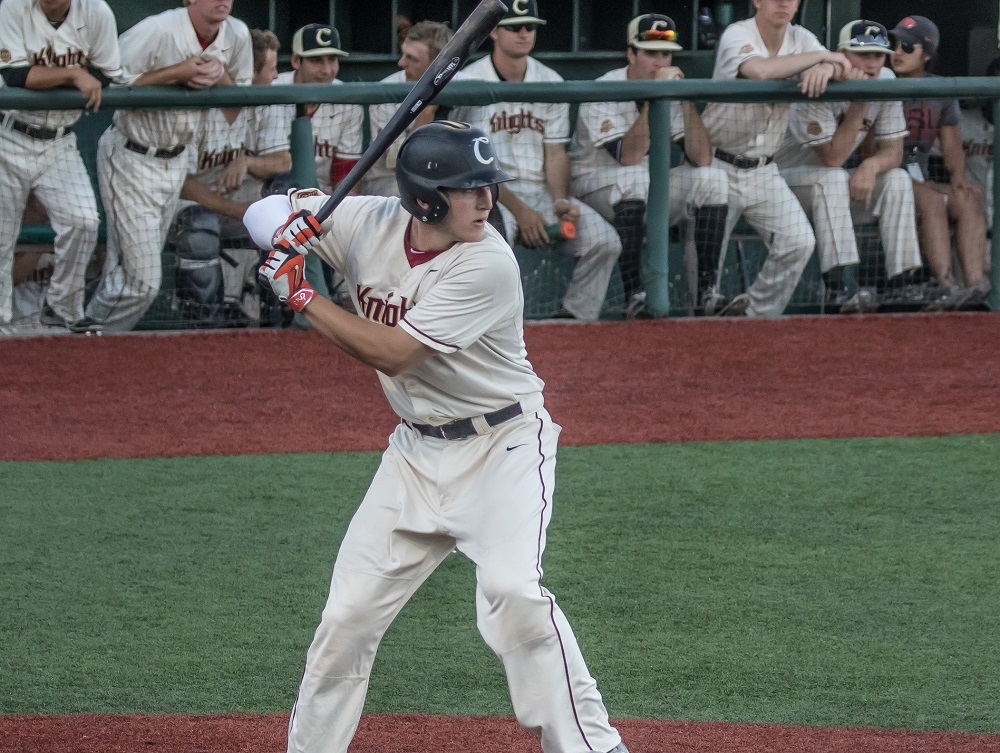 Brooks Hatch Blog: Taylor, Knights Alums Shine in Arizona
Happy Tuesday, everyone, from the world-wide headquarters (WWHQ) of the Corvallis Knights, your 2016-2017 West Coast League champions!
————–
Just got back from a weekend watching Oregon State baseball at the Pac-12/Big Ten Challenge in Surprise. It was a little cool, but there was lots of sunshine and the Beavers won all four games.
Alums Zak Taylor (2016-18, pictured above), Steven Kwan (2016), Adley Rutschman (2016), Kyle Nobach (2016) and Nick Madrigal (2015) all had strong weekends for the Beavers, who defeated Nebraska twice and Ohio State twice. Troy Claunch (2017) also played, albeit sparingly.
Unfortunately Madrigal suffered a wrist injury on Feb. 23 that will sideline him for an indefinite period. Taylor had at least one base hit in all eight games OSU played over the back-to-back weekends.
Incidentally, Claunch was one of several Beavers to take part in a read-in at Liberty Elementary School in Albany on Monday. Click here for more on that great event.
The Beavers begin home action this weekend with a nonconference series against Hartford that begins on Friday.
Incoming Knights' pitcher Eli Morse, a freshman at Portland, was nominated for West Coast Conference Pitcher of the Week honors, but was not selected. He pitched eight shutout innings in a 6-1 win over St. Joe's on Saturday, allowing seven hits and striking out eight.
Returning Knights' pitcher Darren Nelson of Cal Poly was nominated for Big West Conference Pitcher of the Week honors, but was not selected. Nelson had seven innings of one-hit, shutout ball in a win over Michigan on Sunday, with four strikeouts.
————–
Alum Chris Stewart (2001) has signed with the Atlanta Braves after spending the past four seasons with Pittsburgh. The Riverside City College alum was our 2001 MVP with the old Aloha Knights.
The Braves will be the sixth MLB club for Stewart, who has also played for the White Sox, Rangers, Yankees, Padres and Giants in a career spanning all or part of 11 seasons. An excellent defensive catcher, he has hit .230 in 449 career games, with nine homers and 87 RBIs.
In other news involving alumni catchers, the Los Angeles Dodgers have signed Alex Burg (2008) away from the Long Island Ducks of the independent Atlantic League. Alex played at Washington State and was our 2008 MVP. Please click here for more on that story.
And the Padres have released veteran Rocky Gale (2007, 2009) after a long career. The former University of Portland star made it to the majors in 2015 and 2017. Don't be surprised to see Rocky land a coaching or scouting gig somewhere.
————–
Alums Justin Calomeni (2015) and Slater Lee (2016) of Cal Poly detail their introduction to pro ball in this piece from the Cal Poly website.
————–
Our 2018 promotional schedule has been released, and it's a great one.
Fireworks are planned for June 12, July 3 and Aug. 8. The World Famous ZOOperstars! will appear on June 30. We'll also have our customary Cap Night, Cowbell Night, and many of the other promotions you've come to know and love during our 11-year run at Goss Stadium.
For more information, please click here.
————–
Our 2018 season tickets are now on sale! For more details or to order your tickets online, please click here.
Tickets may also be purchased by calling us at 541-752-5656 or by visiting our office at 4th Street and Jefferson Avenue in downtown Corvallis. See you at the ballpark in 2018!
————–
That's all for today. Have a great week, and we will see you again on Friday.