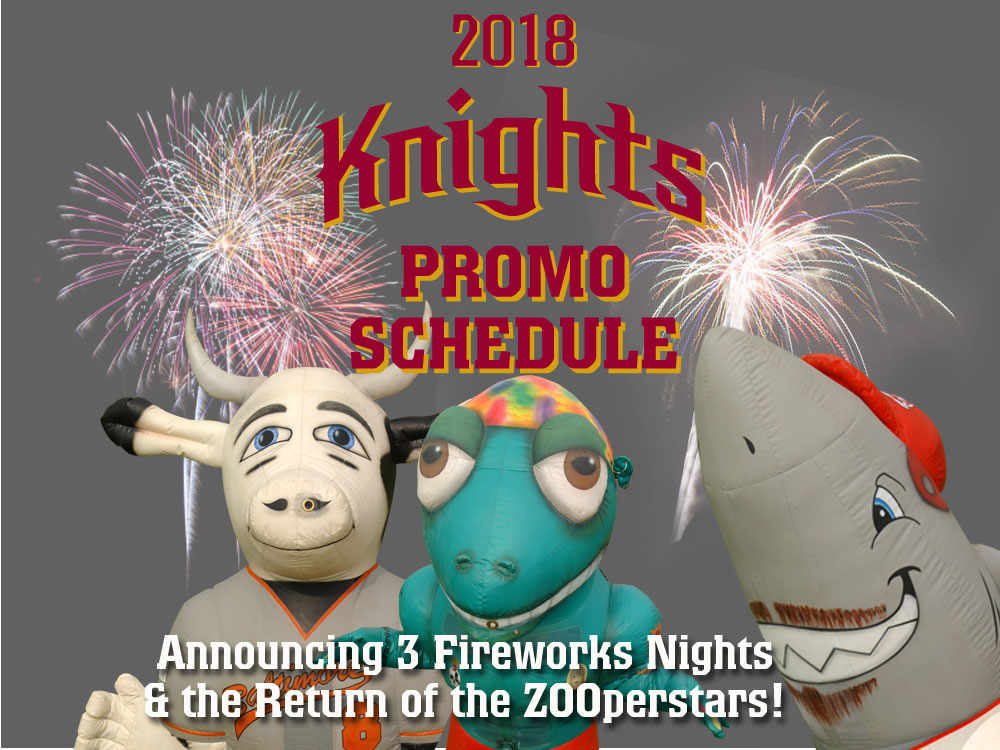 Corvallis Knights Unveil Promotional Nights for Summer 2018
The Corvallis Knights of the West Coast League unveiled their promotional lineup for the hometown team's 2018 season this Valentine's Day morning, as announced by director of ticketing & promotions Korey Kozaryn. There is a lot to love about this year's slate of Goss Stadium promotional nights, including three fireworks shows and the return of the World Famous ZOOperstars!
Arguably the Mid-Valley's very best fireworks displays are set for Opening Night on Tuesday, June 12, presented by Samaritan Health Services; on Tuesday, July 3, the team's traditional Oregon State Credit Union spectacular; and on Wednesday, August 8 at the team's regular-season finale, brought to you by Pioneer Telephone Cooperative.
"We have an exciting promo offering in place for Knights fans of all ages and interests this season. And we're absolutely thrilled to bring back the World Famous ZOOperstars!, a Corvallis favorite," said Korey Kozaryn. "We have the most amazing fans and we want to treat them to something special each and every night at Goss Stadium."
They are coming back! Those wacky, zany and hilarious ZOOperstars! are making a return appearance to OSU's Goss Stadium on Saturday, June 30.
The Knights are bringing back many of its popular promotions, including Cap Night on Friday, July 27, and several new ones such as Keep Portland Weird Night on Tuesday, June 26 as Corvallis welcomes the WCL's newest member – the Portland Pickles for the very first time.
Corvallis 2018 home schedule begins with the club's seventh annual Science, Engineering & Art Day game on Wednesday, May 30, featuring a 10 am start time to accommodate area elementary schools.
This year's robust promotional schedule also features many traditional nights like Country Cowbell Night; Youth Sports Night (first 250 fans get pouches of Big League Chew and a sheet of Knights trading cards); 107.9 FM HOPE Night; Philomath Night; Military Appreciation Night; Star Wars Night; Baseball Giveaway Night; Portland Trail Blazers Night, T-Shirt Giveaway Night and Wilson Motors Night.
Plus, $1,000 Kids Dash for Cash Night is back on the docket, as is Salute to OSU Baseball Night, which in past years has featured Andrew Susac and Brooke Knight Bobblehead giveaways. Stay tuned for a future announcement on the exciting former Beaver/Knight to be this honored this year as our featured Bobblehead.
Other new promotions set for this summer are Popsocket Giveaway Night, Grad Night, Oregon Forestry Night, Mom Appreciation Night and Mammoth HR Derby Night.
The Knights plan to appreciate Moms all summer long, culminating in the team's first Mom Appreciation Night, while Mammoth HR Derby Night aspires to break participation records as the Knights invite all its fans to swing for the fences in a pre-game home run derby for everyone.
Don't miss a single pitch or promotion this summer. Reserve the best seats in the house. Get your season tickets now!