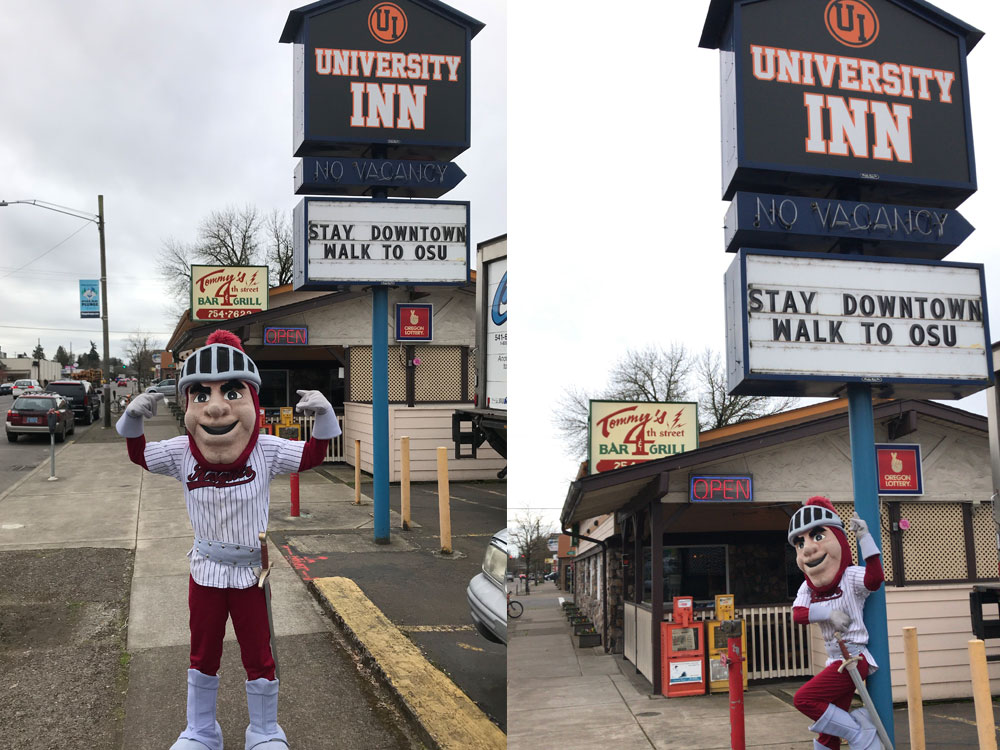 Knights, University Inn Corvallis and Best Western Corvallis Enter New Partnership
The Corvallis Knights are thrilled to announce a new partnership with the University Inn Corvallis and Best Western Corvallis for the 2018 West Coast League season.
As part of the agreement, visiting teams will now stay at the University Inn Corvallis, located on 4th Street in the heart of downtown Corvallis, within walking distance of OSU's Goss Stadium.
The locally-owned property has partnered with Tommy's 4th Street Bar & Grill, home of the best breakfast menu in Corvallis, to provide breakfast coupons for visiting teams during their stay at the adjacent University Inn Corvallis. Tommy's is also a longtime partner of the Knights.
Owners Todd & Eunice have invested in Corvallis and are dedicated to making their community a better place.
"Best Western Corvallis and the University Inn Corvallis are very excited to partner with the Corvallis Knights in 2018," said Todd. "We believe this is a great opportunity to serve the community and youth of baseball with such a great American tradition.
"We look forward to welcoming family, friends and fans in the new year."
President/general manager Bre Miller said the Knights are eager to team up with community leaders like Todd & Eunice. The Omaha Room will be rebranded as the Best Western Corvallis Omaha Room during the Knights season.
"We are very excited about partnering with Todd and Eunice and their two boys who also love the Corvallis Knights," Miller said. "We can't wait to start working together.
"We would also like to thank Holiday Inn Express for their amazing customer service and hospitality over the past 10 years hosting our visiting teams and umpires."
The Knights are the two-time defending WCL champions. They open the 2018 season on May 30th with their annual Science, Engineering & Art Day game against the Portland Sea Dogs at Goss Stadium.
Corvallis begins the WCL regular season at Kelowna on June 6. Their WCL home opener is set for June 12th vs. Wenatchee.
To make reservations at the University Inn Corvallis, please call (541) 754-4496. The University Inn Corvallis is located at 350 SW 4th Street.