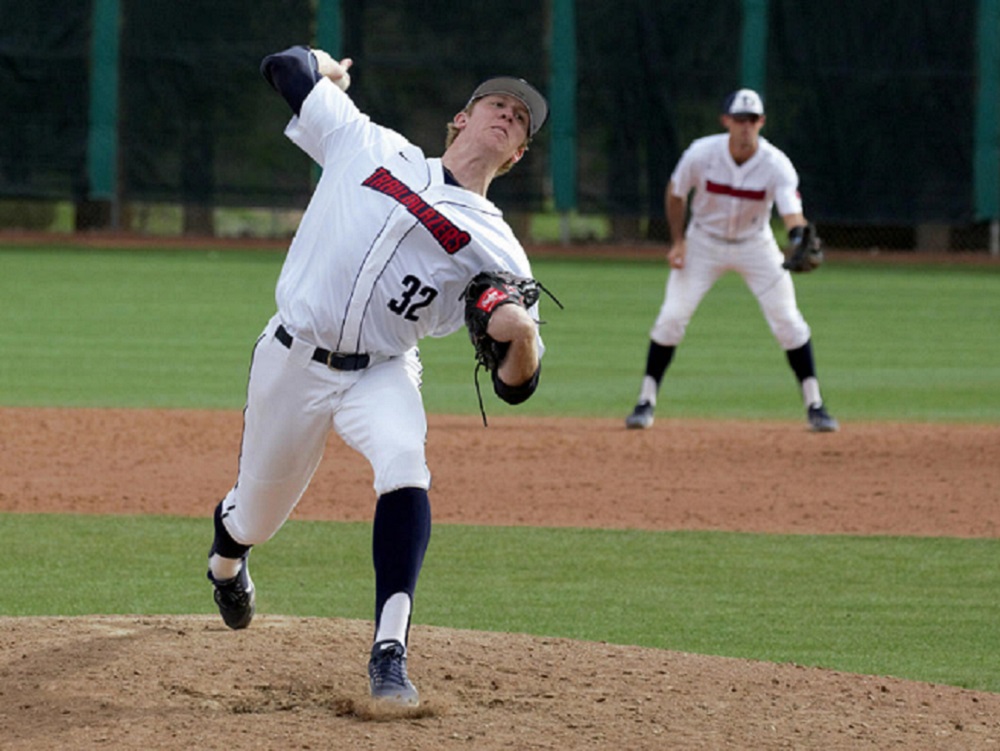 Brooks Hatch Blog: PacWest Conference Honors Alum Tanner Howell
Happy Tuesday, everyone, from the world-wide headquarters (WWHQ) of the Corvallis Knights, your 2016-2017 West Coast League champions!
————–
Alum Tanner Howell (2016-17, pictured above), a junior at Dixie State, was named the PacWest Conference Pitcher of the Week for Feb. 12-18 for saving two of DSU's three wins over Concordia.
Howell tossed a pair of scoreless innings, allowing only one hit and striking out two. He needed only seven pitches for the second save, setting down the Eagles in order on a foul out, a line out and a ground out. Howell has allowed just two earned runs in 8.2 innings pitched on the season.
Congrats to Tanner, a key member of our 2016-2017 championship pitching squads.
————–
Alum Sam Gaviglio (2009) has signed a one-year deal with the Kansas City Royals, who acquired the former Oregon State star on waivers from Seattle late in the 2017 season.
He was 1-0, 3.00 in four appearances with the Royals, with nine strikeouts in 12 innings. Overall he was 4-5, 4.36 in 16 games, with 49 strikeouts in 74.1 innings in his rookie season in MLB.
Sam was selected in the fifh round (170th overall) by the St. Louis Cardinals in 2011. He was traded to Seattle in 2015 and has played in every level of professional baseball.
————–
Our 2018 promotional schedule has been released, and it's a great one.
Fireworks are planned for June 12, July 3 and Aug. 8. The World Famous ZOOperstars! will appear on June 30. We'll also have our customary Cap Night, Cowbell Night, and many of the other promotions you've come to know and love during our 11-year run at Goss Stadium.
For more information, please click here.
————–
Our 2018 season tickets are now on sale! For more details or to order your tickets online, please click here.
Tickets may also be purchased by calling us at 541-752-5656 or by visiting our office at 4th Street and Jefferson Avenue in downtown Corvallis. See you at the ballpark in 2018!
————–
The Victoria HarbourCats, who the Knights defeated in last year's WCL Championship Series, have signed 10 more players for the 2018 season. For more on that story, from Our Sports Central, please click here.
The Walla Walla Sweets have signed three graduating high school seniors for the 2018 season. They are infielder/catcher Jack Filby (UCLA), right-handed pitcher Sean Sullivan (California), and right-handed pitcher Patrick Collins (San Francisco). Click here for more on that story, from Our Sports Central.
————–
That's all for today. Have a great week, and we will see you again next Tuesday.