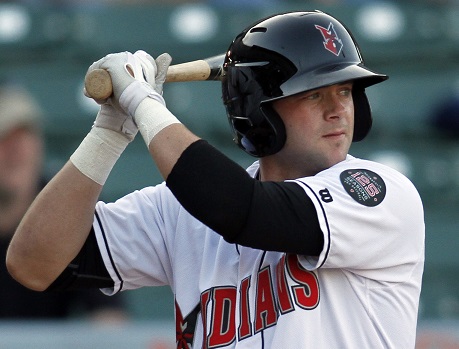 Brooks Hatch Blog: "Slider Guy" Matt Hague Signs With Mariners
Happy Friday, everyone, from the world-wide headquarters (WWHQ) of the Corvallis Knights, your 2016-2017 West Coast League champions!
————–
Good news for the "Slider Guy," former Knights' infielder Matt Hague (2005, pictured above playing for Indianapolis in 2014), the sliding player who appeared in many Knights' promotional posters, pocket schedules, etc., in our early years in Corvallis.
The former Washington/Oklahoma State player has signed with the Seattle Mariners as a free agent. He spent last year with Rochester of the triple-A International League in the Minnesota organization and hit .297 (149-502) in 136 games, with 10 homers and 65 RBIs.
Matt was the International League MVP in 2015 while playing for Buffalo, and played in Japan in 2016 before returning to the United States. He is a career .300 hitter in 1,073 career games in the minors, and has major-league experience with Pittsburgh and Toronto.
Good luck to Matt!
————–
More than 20 former Knights have appeared in the Major Leagues over the past three decades. For the first time, we are introducing a trading card collector's series featuring alums who have or who are playing in the big leagues.
For only $15, our Knights in the Bigs trading card set includes a Corvallis Knights three-ring binder to store your cards; three 9-pocket trading card pages to store individual cards; a trading card page filled with Topps baseball cards, in mint condition, of Major League players from 1988-1989; two Knights in the Bigs Collector's Series trading card sheets featuring Knights alums, and a pouch of Big League Chew Bubble Gum.
Players featured in the Knights in the Bigs Collector's Series are Brent Morel, Matt Boyd, Greg Mahle, Matt Duffy, Andrew Susac, Sam Gaviglio, Jace Fry, Matt Hague, Josh Osich, Chris Stewart, Matt Andriese, Bud Norris, Tommy Hanson, Mitch Haniger, Jimmie Sherfy, Rocky Gale, Tyler Anderson and Marc Rzepczysnki.
The Knights in the Bigs Collector's Series trading card package makes for a cool and unique holiday gift for a young boy or girl who loves baseball.
To order, please call (541) 752-5656 or visit our downtown Corvallis office at 301 SW 4th Street, Suite 100.
We are also thrilled to introduce the perfect gift for the baseball fan in your family, the Knights Holiday Home Run Package. For more information, please click here or call (541) 752-5656.
————–
We released our 2018 schedule on Nov. 13. It features 32 home dates at Goss Stadium.
We open the season with our seventh annual Science, Engineering & Art Day game against the Portland Sea Dogs at Goss Stadium at 10 a.m. Wednesday, May 30. We then hit the road for Kelowna, B.C., to open WCL play against the Falcons on June 6.
We start the WCL home schedule on Tuesday, June 12, against the Wenatchee AppleSox.
For more on the schedule, and a complete list of home games, please click here. For a story from the WCL, and a spreadsheet showing the entire league schedule, please click here.
See you at Goss!
————–
Our 2018 season tickets are now on sale! You can save $10 when you renew or purchase new tickets by Dec. 31. For more details or to order your tickets online, please click here.
Tickets may also be purchased by calling us at 541-752-5656 or by visiting our office at 4th Street and Jefferson Avenue in downtown Corvallis. See you at the ballpark in 2018!
—————
That's all for today. Have a great weekend and we will see you again on Tuesday.