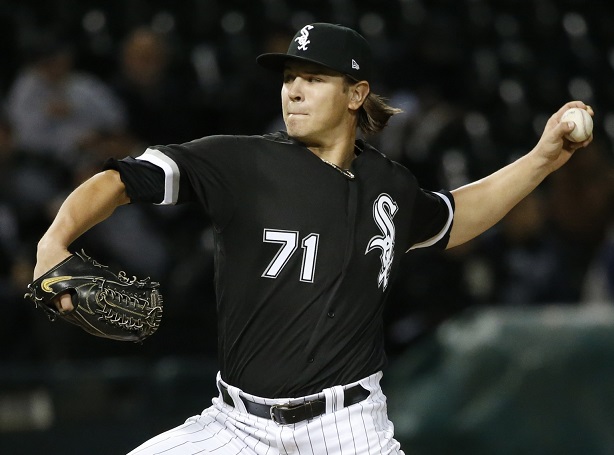 Brooks Hatch Blog: Rookies Fry, Sherfy Among 13 Knights in MLB in 2017
Happy Tuesday, everyone, from the world-wide headquarters (WWHQ) of the Corvallis Knights, your 2016-2017 West Coast League champions!
—————
Pitchers Jace Fry (pictured, above) and Jimmie Sherfy from our 2011 West Coast League championship team made their major league debuts and 11 other alums of the Corvallis or Aloha Knights played in the big leagues this past year.
For a complete roundup of how our big-league Knights did in 2017, please click here for a story from our website.
More than 200 WCL alums played in affiliated baseball this year. Please click here for more on that story.
—————
We have signed two freshmen from UC-Santa Barbara who were both selected in the 2017 Major League Baseball draft, coach Brooke Knight announced Monday.
The newest Knights are lefty pitcher Jorge Arellano, Jr. and right-handed pitcher/corner outfielder Ben Fariss. They will play their first season for the Gauchos in 2018.
Arellano is a 6-foot-2, 190-pounder from Downey High School in Downey, Calif. He was selected by Cleveland in the 36th round of the 2017 draft. He was 5-2, 2.53 in 11 games as a high school senior, with 51 strikeouts in 38.2 innings, and limited opponents to a .205 batting average. Here is some video of Jorge from Perfect Game.
Fariss is a 6-1, 190-pounder from Valencia High School in Valencia, Calif. He was selected in the 39th round of the 2017 draft by Toronto following his senior year at Valencia, where he hit .368 (35-95) in 31 games, with five homers and 33 RBIs.
He was 6-3, 3.43 in 10 games on the mound, with 36 strikeouts in 32.2 innings. Fariss earned all-region honors and was a third-team Perfect Game All-American. Here and here are some videos of Ben from Perfect Game.
The Knights are the two-time defending WCL champions. The 2018 schedule will be announced later this fall.
Welcome to the Knights!
—————
The San Francisco Giants have added pitcher Chase Johnson (2011) to their 40-man roster. A third-round draft pick in 2013, the Cal Poly products pitched at triple-A in 2017. This move prevents San Francisco from possibly losing the 25-year-old right-hander to another team in the Rule 5 draft.
—————
That's all for today. Have a great week, and we will see you on Friday.