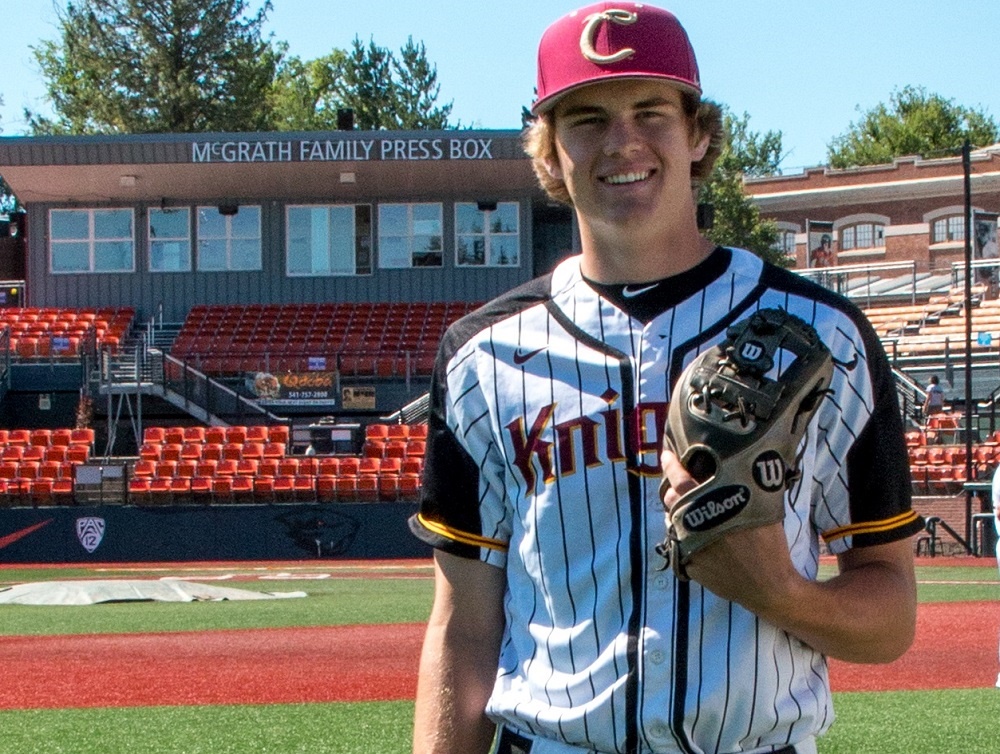 Brooks Hatch Blog: Shortstop Chad Stevens Returning for 2018 Season
Happy Friday, everyone, from the world-wide headquarters (WWHQ) of the Corvallis Knights, your 2016-2017 West Coast League champions!
—————
The Knights have signed four current/future Portland Pilots, including freshman shortstop Chad Stevens (pictured, above), a starter on the 2017 championship team.
The incoming Knights from UP are Stevens; redshirt sophomore starting center fielder Beau Brundage; freshman right-handed pitcher Eli Morse, and incoming freshman first baseman Trace Tammaro of De La Salle High School in Concord, Calif.
Stevens hit .268 (40-149) in 51 games, with no homers and 19 RBIs. He was a 40th-round selection by Seattle in the 2017 MLB draft following his senior year at Gig Harbor (Wash.) High School.
Brundage is the son of former Oregon State All-American Dave Brundage, now the manager of the Sacramento River Cats, San Francisco's affiliate in the Pacific Coast League. The younger Brundage hit .283 with 51 hits and seven steals for the Pilots in 2017. He was picked by Philadelphia (the same team that selected his father in 1986) in the 38th round of the 2015 MLB draft.
Morse pitched at Cleveland High School in Portland in 2017. He was a four-year letterman, earned all-PIL honors several times and was honorable-mention 6A all-state in 2017.
A left-handed hitter, Tammaro hit .333 (24-102) in 28 games in 2017, with four homers and 21 RBIs. He is from Clayton, Calif.
Welcome to the Knights!
—————
Outfielder/third baseman/pitcher Jordan Qsar of Pepperdine, our 2017 MVP, was named the WCL's top pro prospect by Perfect Game. Here's what website's report on Qsar:
"Sometimes two-way players are slower to find their groove in development and Qsar could be a perfect example of that. His name has been on the radar since he arrived in Malibu because of two show-stopping tools: a huge right arm and big-time lefthanded pop.
"While it has been more flashes of brilliance than sustained success at Pepperdine, Qsar put it all together this summer. He was up to 94 mph on the mound and showed the makings of a potentially plus slider. That stuff led to 12 strikeouts in just over six innings pitched. Qsar's offensive numbers were even more impressive: an outrageous 34 extra-base hits combined with a .304 batting average.
"The most exciting part is that the 6-foot-3, 195-pound Qsar is described as wiry strong right now so there could be more in the tank for him."
Left-handed pitcher Chase Kaplan of Kansas was ranked No. 7 and right-handed pitcher Louis Crow of San Diego was ranked No. 11. No individual reports were available on Kaplan or Crow.
Earlier this year Qsar was ranked No. 2, Crow No. 5 and Kaplan No. 10 by Baseball America. That trio was also recognized in D1baseball.com's top-12 prospect list.
Please click here for Perfect Game's complete WCL prospect rankings.
—————
That's all for today. Have a great weekend, and we will see you on Tuesday.