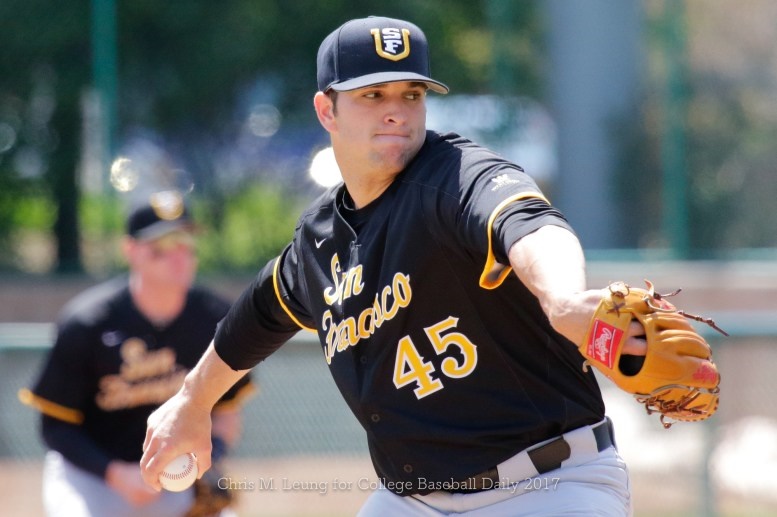 Brooks Hatch Blog: Updating our 2018 signings
Happy Tuesday, everyone, from the world-wide headquarters (WWHQ) of the Corvallis Knights, your 2016-2017 West Coast League champions!
—————
In case you missed it, we announced the first three signings for our 2018 club last week. Coming aboard are Junior right-handed pitchers Landen Bourassa and Daniel Slominski (pictured, above) of the University of San Francisco, and redshirt junior pitcher Aaron Pope of Dixie State.
Aaron is a returnee from 2016. He was ticketed to join us again last season but he sat out last spring and summer due to injury.
Welcome to the Knights!
We should have more signings to announce his week.
—————
Big night on Monday for alum Mitch Haniger (2010) of the Seattle Mariners in a 7-1 win over Oakland. The former Cal Poly star, the 2012 West Coast Conference Player of the Year, was 2-for-4 with two homers and three RBIs.
He raised his average to .277. Please click here for more on Haniger's homers.
—————
Seven of our long-time partner schools were ranked in D1baseball.com's list of the top 100 college programs in the United States.
Listed in the rankings were Oregon State (8); UC Santa Barbara (37); Oregon (46); UC Irvine (47); Pepperdine (69); San Diego (71) and Cal Poly (74). Please click here for the complete top 100.
—————
That's all for today; pretty slim pickings. Have a great weekend, and we will see you on Friday.