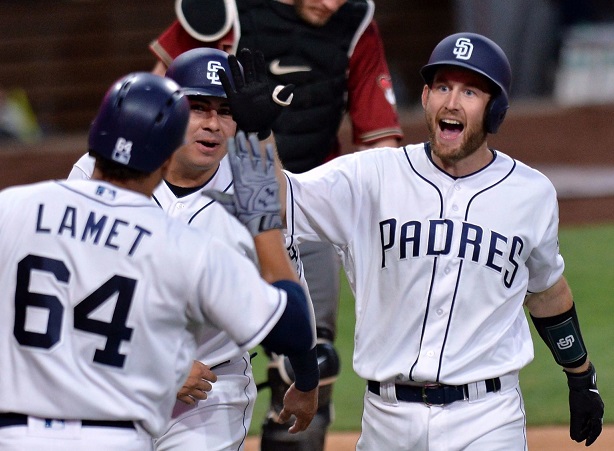 Brooks Hatch Blog: Alum Rocky Gale Hits First Major-League Homer
Happy Friday, everyone, from the world-wide headquarters (WWHQ) of the Corvallis Knights, your 2016-2017 West Coast League champions!
—————
Quite a night for alum Rocky Gale (2007, 2009) on Wednesday. The San Diego catcher hit his first major-league homer in a 13-7 loss to Arizona at Petco Park in San Diego. It was also his first extra-base hit.
Please click here for more on that story, and be sure to watching the accompanying video. You can't help but smile, just as Rocky was in the photo accompanying today's blog.
Alum Jimmie Sherfy pitched another scoreless inning for the Diamondbacks and got the win in the same game. He is 2-0 with a save in nine appearances and still has not yet allowed a run, so his ERA is a perfect 0.00.
—————
We've started to build our 2018 team. Dan Segel, the CEO of Knights Baseball Inc., said that interest and demand for roster spots has never been higher, and that we'll have some new sources for players this year, in addition to our usual longtime partner schools.
The Knights have signed junior right-handed pitchers Landen Bourassa and Daniel Slominski of the University of San Francisco, coach Brooke Knight announced.
Bourassa is a 6-foot-5, 190-pounder from Chinook High School in Lethbridge, Alberta, Canada, who pitched at Lane Community College the past two springs before signing with the Dons. He was 4-2, 2.62 in seven games in 2017, with 30 strikeouts in 34.1 innings, and 2-1, 2.29 in seven games in 2016, with a save and 15 strikeouts in 19.2 innings.
A 6-1, 225-pounder from Livermore High in Livermore, Calif., Slominski was 3-5, 4.96 in 14 games (11 starts) for USF in 2016, with 57 strikeouts in 61.2 innings. He played at the College of San Mateo in 2016 and was 1-0, 2.53, with two saves and 14 strikeouts in 10 innings.
He originally signed with Oregon State out of Livermore but missed the 2015 season because of injuries.
We have also signed redshirt junior pitcher Aaron Pope of Dixie State. Aaron was a key starter for the Knights 2016 championship club, as the lefty went 5-2 with a 2.16 ERA. He sat out last spring and summer due to injury.
Welcome to the Knights!
—————
Outfielder/third baseman/pitcher Jordan Qsar of Pepperdine was named the MVP and Top Prospect of the 2017 Knights in a vote of the coaches and Dan Segel.
He set team single-season records in home runs (14), doubles (22) and RBIs (53). His 1.027 OPS and .635 slugging percentage in WCL action led the Knights; he led the league in total bases (115), extra-base hits (34) and doubles (34).
The redshirt junior was named first-team all-WCL, represented the Knights in the 2017 WCL All-Star Game Home Run Derby and in the All-Star Game, and was rated the No. 1 prospect in the WCL by Perfect Game and No. 2 by Baseball America and D1baseball.com.
Right-hander Trenton Toplikar of UC Riverside was named the team's Top Pitcher. He emerged as the Knights' ace and won two games in the playoffs, including the decisive Game 3 of the WCL Championship Series. Both his playoff starts were seven-inning gems and his postseason ERA was 1.92.
Overall the redshirt went 4-0 with a 3.98 ERA, struck out 34 and walked only three over 40.2 innings in eight appearances, seven of which were starts.
Outfielder Emilio Alcantar of Lewis-Clark State earned Joe Segel Hustle Award honors for a second time, bookending the award he won in 2015. The three-year Knights veteran led by example; showing true grit throughout the entire season, shining most brightly during the postseason.
—————
Former Klamath Falls Gems/Medford Rogues officials Chuck and Mayra Heeman will own the Casper (Wyo.) franchise in the new Expedition League, which starts next summer.  announced the arrival of its Casper (WY) franchise. For more on that story, please click here.
—————
That's all for today. Have a great weekend, and we will see you on Tuesday.