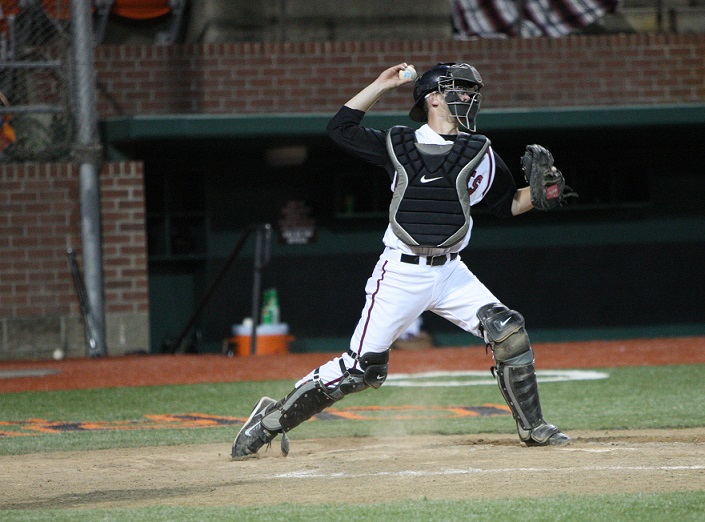 Brooks Hatch Blog: San Diego Padres Recall Alum Rocky Gale from El Paso
Happy Tuesday, everyone, from the world-wide headquarters (WWHQ) of the Corvallis Knights, your 2016-2017 West Coast League champions!
—————
More good news to report on the alumni front.
The San Diego Padres have recalled catcher Rocky Gale (2007, 2009) from triple-A El Paso of the Pacific Coast League. Shown here playing for the Knights in 2007, our first season in Corvallis, he was called up on Monday but did not play in a 4-2 win over Arizona on Monday night.
It will be the second stint in the majors for the former University of Portland standout. He appeared in 11 games for the Padres in 2015 and hit .100 (1-10), with no homers or RBIs.
Rocky spent the 2017 season with El Paso and hit .278 (95-342) in 103 games, with two homers and 37 RBIs. He's played at every level in the San Diego organization since 2010, when he was selected in the 24th round of the MLB draft.
Congrats to a very deserving player!
—————
Alum Matt Boyd, a left-handed pitcher for the Detroit Tigers who played for us in 2010 after his freshman season at Oregon State, just missed throwing a no-hitter against the Chicago White Sox on Sept. 17.
Boyd retired the first two batters in the ninth inning before Tim Anderson lined an opposite-field double to the right-field fence to break up the no-hitter. Boyd then retired the next hitter to preserve his first career shutout and his first career complete game.
—————
The Knights averaged 1,466 fans for WCL games in 2017 and ranked 198th overall in attendance in 2017 among all affiliated minor league, independent professional, and summer collegiate franchises in the U.S. and Canada. Here are the complete stats, from Ballpark Business.
—————
Bob Miller has been named head coach of the Bellingham Bells for the 2018 season. He is also the head coach of the Cuesta College program in San Luis Obispo, Calif.
Miller has been the head coach at Cuesta College since 2003. During his tenure, the Cougars made the playoffs in 13 of Miller's 15 seasons, capturing eight conference championships in that time. Miller and his staff have helped 64 players progress to the NCAA Division I level.
He replaces Greg Goetz, who managed the Bells to a 31-23 record in 2017. Goetz recently accepted a full-time assistant coaching position at the Division I level, making him ineligible to coach the Bells during the 2018 season. Please click here for more details on that story, from the WCL website.
—————
Pretty slow news day; things should start to pick up shortly as we begin to announce our signings for the 2018 season. In the meantime, have a great week, and we will see you on Friday.