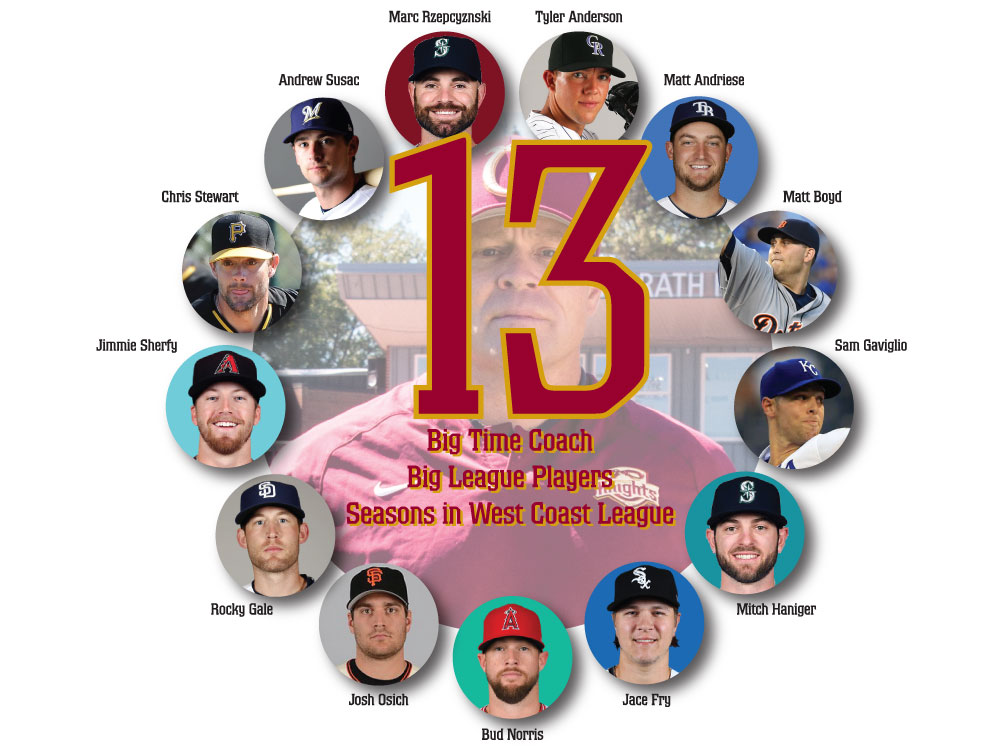 13 Proves a Magical Number for the Corvallis Knights
Who says 13 is an unlucky number? Surely not the Corvallis Knights. It's a number that proved to have great meaning in 2017, as in the club's 13th season in the West Coast League thirteen alums appeared in the big leagues this MLB regular-season, which concludes Sunday, October 1st.
For the past 10 years, the Knights have been guided by #13 – skipper Brooke Knight. In that time, Knight has worn the jersey number 13 and led his hometown Knights to 5 WCL titles and coached 10 of the 13 players that appeared in the big leagues this season.
Of the 13 alums in MLB, 9 are pitchers including rising stars Matt Boyd of Detroit (2010, Oregon State), Matt Andriese of Tampa Bay (2009, UC Riverside), Jimmie Sherfy of Arizona (2011, Oregon) and Tyler Anderson of Colorado (2009, Oregon); and veterans Bud Norris of the Los Angeles Angels (2005, Cal Poly), Marc Rzepczynski of Seattle (2006, UC Riverside) and Josh Osich of San Francisco (2008, Oregon State); and former OSU Beavers Sam Gaviglio of Kansas City (2009) and Jace Fry of the Chicago White Sox (2011).
Catchers Chris Stewart of Pittsburgh (2001, Riverside CC), Rocky Gale of San Diego (2007/2009, Portland) and Andrew Susac of Milwaukee (2009, Oregon State) along with rising star outfielder Mitch Haniger of Seattle (2010, Cal Poly) round out the lucky lot of 13.
Four-time WCL Coach of the Year Brooke Knight coached all of the above with the exception of Stewart, Norris and Rzepczynski.
Tigers southpaw Boyd finished the season 6-11 with a 5.27 ERA and nearly threw a no-hitter in his September 17 start versus the Chicago White Sox; Andriese went 5-5 with a 4.50 ERA for the Rays; and Anderson (6-6, 4.81) and Sherfy (0.00 over 11 appearances) could possibly see action in Wednesday's NL wild card game as the Rockies play at the Diamondbacks.
Haniger, who starts in right field for the Mariners, is hitting .275 with 15 home runs (as of Sept. 30).
#13 has coached twelve future big leaguers over his Knights tenure as he also managed infielder Matt Duffy of Tampa Bay (2010, Long Beach State) and Greg Mahle of the Los Angeles Angels (2012, UC Santa Barbara). Duffy, who was the NL Rookie of the Year runner-up in 2015 with the San Francisco Giants, was on the DL the entire season and Mahle pitched in the minor leagues in 2017.
In total, 20 alums have gone on to play in Major League Baseball also including 2005 WCL Pitcher of the Year – the late Tommy Hanson (Riverside CC) – and 2006 team MVP Brent Morel (Cal Poly) as well as Matt Hague (2005, Washington), Bobby Scales (1997, Michigan) and Mike Thurman (1993, Oregon State).
Hanson pitched for Atlanta and the Los Angeles Angels; Morel played third base for the Chicago White Sox, Pittsburgh Pirates and Oakland A's; Hague played first base for Toronto and Pittsburgh; Scales was a utility man for the Chicago Cubs; and Thurman pitched for Montreal and the New York Yankees.
The list of Knights in the big leagues could have been even longer if such current major leaguers who had signed with the Knights made it to Oslund Field or Goss Stadium like active pitchers Joe Kelly (UC Riverside) of the Red Sox, Jesse Chavez (Riverside CC) of the Los Angeles Angels, Tony Barnette (Arizona State) & Austin Bibens-Dirkx (Portland) of the Rangers, Chris Smith (UC Riverside) of the Athletics and Andrew Moore (Oregon State) of the Mariners; and infielder Chase Headley (Univ. of the Pacific) of the New York Yankees and catcher Carson Kelly (Oregon commit) of the Cardinals.
Former Riverside City College signees and big leaguers Matt Clark and Thomas Neal never made it to the Knights, but also played in the major leagues.