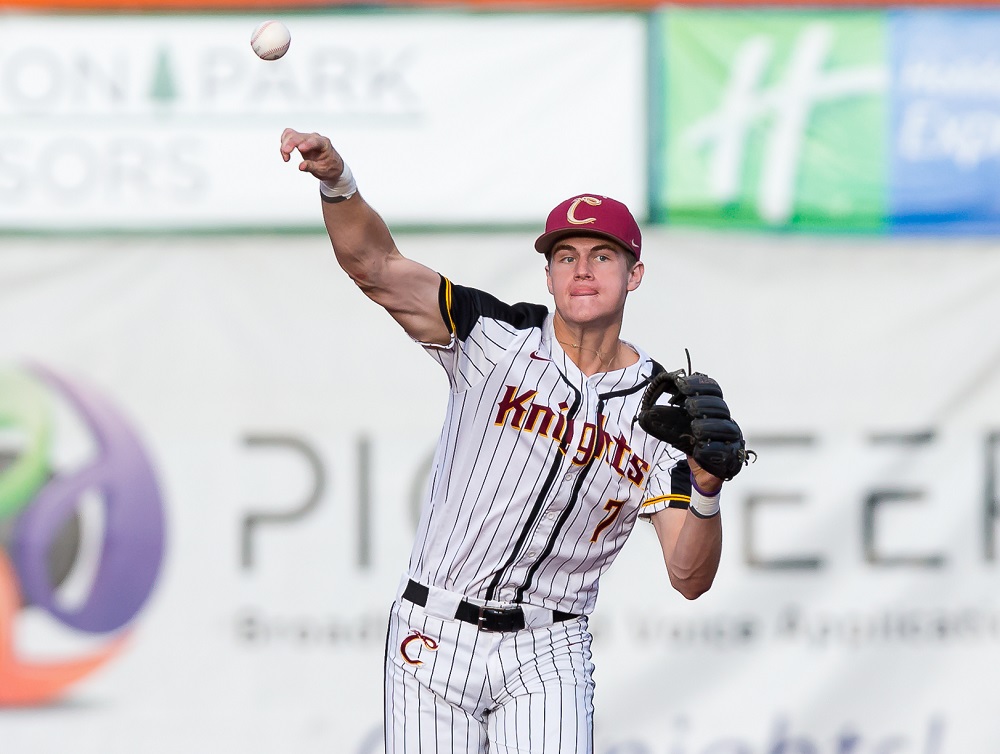 Corvallis Knights Shortstop Chad Stevens of Portland to Return in 2018
Last summer, the Portland Pilots were a big part of the Knights back-to-back championship club with two-year Knights infielder Matt Kelly leading the way topping the team in five key offensive categories: at bats (212), runs (51), hits (64), triples (3) and stolen bases (17).
Kelly, senior pitcher Jordan Horak (second-team all-WCL selection), junior reliever Cameron Richman, sophomore outfielder Henry Cheney and frosh shortstop Chad Stevens (pictured) were instrumental contributors both on the field and in the clubhouse.
Stevens, who flashed the leather and finished strong offensively last summer, is returning as part of a 2018 signing class of four Pilots.
"We are thrilled Chad is returning. He made great strides last summer and is going to be a big part of competitive Pilots and Knights teams this next baseball season," said Knights head coach Brooke Knight. "We're looking forward to having more time with Chad and to watching him continue to develop."
Joining Chad on the 2018 roster is University of Portland redshirt sophomore starting center fielder Beau Brundage, frosh right-handed pitcher Eli Morse and incoming freshman slugger Trace Tammaro of De La Salle High School (CA).
Last spring, Brundage hit .283 with 51 hits and 7 stolen bases. All three marks were the second highest on the Pilots. Beau was selected in the 38th round of the 2015 MLB draft by Philadelphia. His dad David was a star baseball player at Oregon State and is now the AAA field manager of the Sacramento River Cats, an affiliate of the San Francisco Giants.
Morse pitched last spring at Cleveland High School in Portland, and Tamarro, a left-handed hitting first baseman from Clayton, California, is set to shine this spring at De La Salle High School.
Stevens earned honorable mention all-WCL honors last summer. He played in 51 games and collected 149 at bats; hitting .268 with 9 doubles and 19 RBIs while playing stellar defense at shortstop. Chad was selected in the 40th round of the 2017 MLB draft by San Diego.
The Pilots and Knights have a long history. UP's skipper Geoff Loomis and pitching coach Connor Lambert both had long tenures with the Knights as coaches.
"We very much appreciate Geoff and Connor and admire their work," said Knights Baseball Club CEO Dan Segel. "They continue to lay the foundation for a very competitive and development-oriented program at UP. We're excited about our partnership and what the future holds for the Pilots."