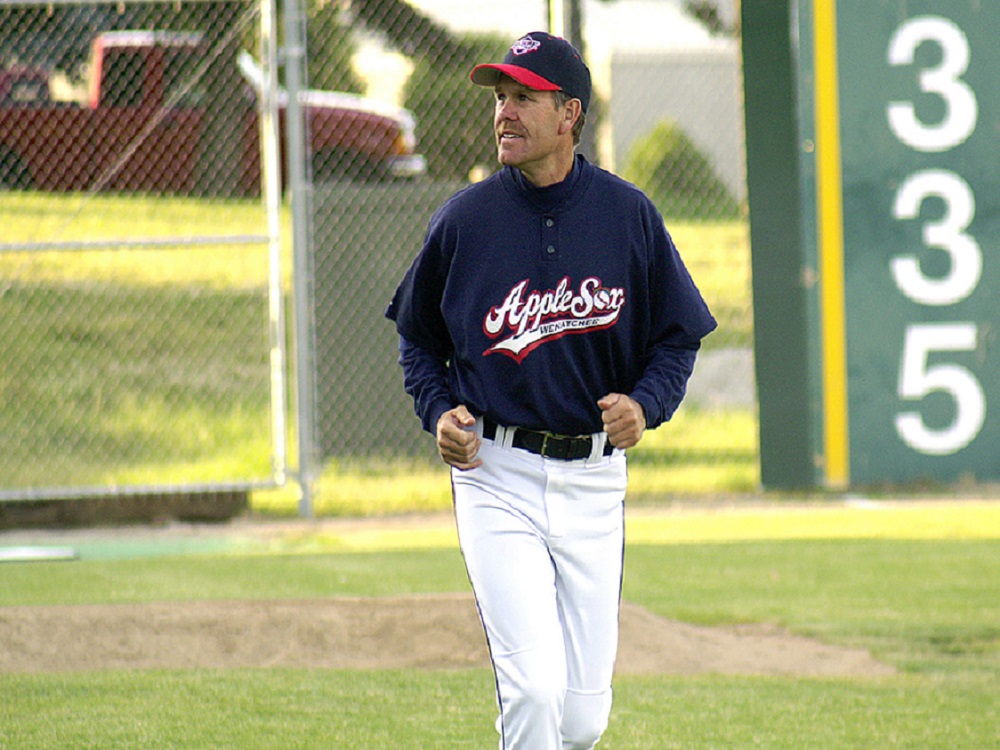 Knights Announce 2018 Coaching Lineup; Add WCL Legend Ed Knaggs to Staff
The Corvallis Knights have hired legendary West Coast League coach Ed Knaggs as their associate head coach/pitching coach for the 2018 season, coach Brooke Knight announced Monday.
Knaggs, 59, was the head coach of the WCL's Wenatchee AppleSox from 2001-14 and posted a winning record every season. He led Wenatchee to five WCL championships (2005, 2006, 2009, 2010, 2012) and two runner-up finishes (2008, 2013).
"I'm very excited to get back into coaching and could not be more excited to be part of the Knights," said Knaggs, who coached for 34 consecutive years before taking the last three seasons off after leaving the AppleSox. "I feel lucky to be part of an organization I got a chance to be around for quite a few years.
"It will be different to be in the West Coast League in a different uniform but I can't think of a better place than Corvallis to do it. I want to do everything I can to help make the experience for the players who come to Corvallis as great as possible."
Knight said he and Knaggs "had some special battles on the diamond" from 2008 and 2014, when their respective teams were the WCL's premier franchises. Corvallis and Wenatchee met in the Championship Series in 2008, 2009, 2012 and 2013; Corvallis won in 2008 and 2013, Wenatchee in 2009 and 2012.
"Throughout those competitive moments, we've always had a strong respect for one another, how games were managed, players were treated, you name it," Knight said.
Knight said Knaggs will be a tremendous addition to an already outstanding staff.
"I believe in democracy within a staff," Knight said. "I've always felt we would be stronger as a team and an organization if everyone felt they had a voice.
"Part of the decision to hire Ed was based on that principle. Add a great human being who can offer sound advice and guidance to our players, and additional wisdom to our coaching staff.
"At this point in my career, I think it is important to stay grounded and to be humble enough to look for ways to continually learn from those around me. So, I'm excited to have Ed on board.
"Our staff will always look to further develop and grow as individuals and collectively leave ego on the shelf where it belongs."
Knaggs also won five division championships and earned WCL Coach of the Year honors four times at Wenatchee before retiring after the 2014 season. He coached 771 total games and was 300-172 (.636) in WCL regular-season contests. Wenatchee also won the 2003 Pacific International League title; that circuit was the precursor to the current WCL, which was formed in 2005.
More than 75 AppleSox earned first or second-team all-WCL honors during Knaggs' tenure. Three earned the WCL's Most Valuable Player award. At the time of his retirement, eight AppleSox had reached the major leagues.
Knaggs played at College of the Canyons under UC Irvine coach Mike Gillespie, and at UC Irvine under Steve Hertz. He was an assistant coach at Gonzaga under Hertz for seven years before moving to Wenatchee to become the head coach at Wenatchee High School from 1991-2011.
He also assisted with the Chatham A's of the Cape Cod League for one season.
Knight also announced the return of assistant coaches Youngjin Yoon and Kellen Camus.
Yoon has worked with the Knights the past two seasons. A veteran of 10 seasons with the Lotte Giants in South Korea's equivalent of Major League Baseball, Yoon has worked in the United States since 2009, mentored by former RCC head coach Dennis Rogers, a longtime partner of the Knights.
"We couldn't be more pleased to have Youngjin Yoon back," Knight said. "He brings an energy to the yard that is undeniable.  When it comes to strength, conditioning, mental awareness and cognitive preparation, Yoony is second to none.
"Our guys rave about his arm-care philosophy and daily maintenance, it is advanced and way ahead of most baseball experts in this country.  He is our Jaeger 2.0.  We have some big-time players, from big time programs, and they swear up and down that their arm, their body, and their mind have never felt better."
Camus joined the Knights at midseason in 2016 when former pitching coach Connor Lambert took a full-time assistant's position at the University of Portland. Camus pitched at Washington State from 2011-14, and worked there as a grad assistant in 2014-15. He has been an assistant at Central Washington since 2016.
"Kellen did a great job stepping into an important position on short notice," Knight said. "He handled our staff well and we're looking forward to having him back for a full season."
Corvallis is the two-time defending WCL champions. The 2018 schedule will be announced later this fall.