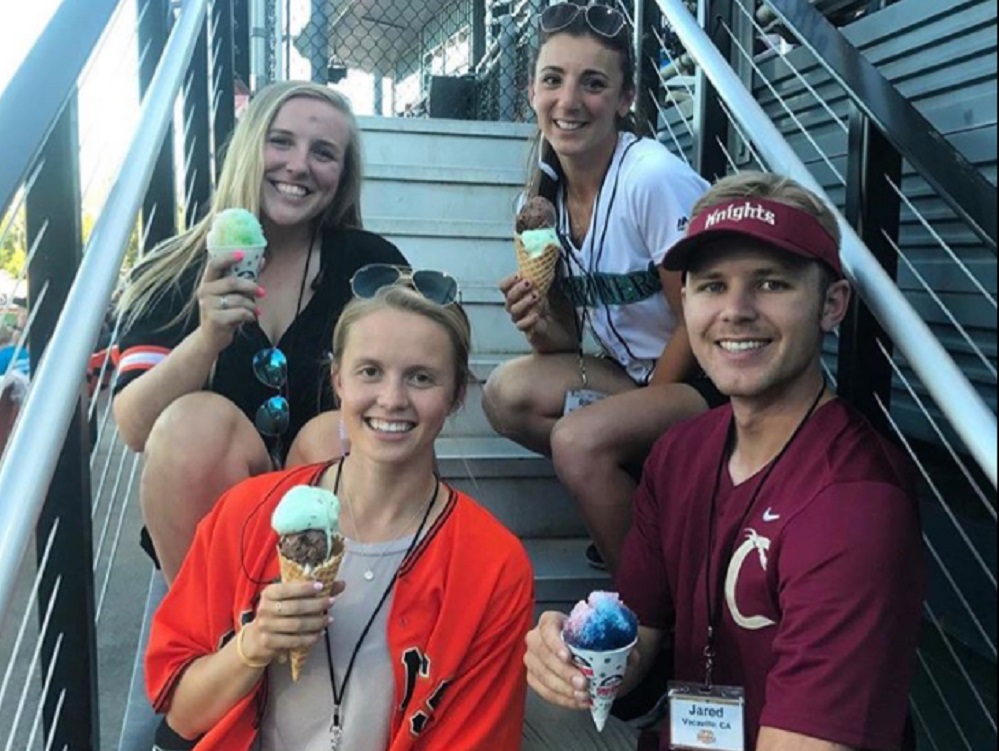 All Purpose Intern Jared Carr of OSU Named Staff Member of the Year
Oregon State graduate student Jared Carr (pictured with fellow interns Riley Gregoire, Morgan Butts and Kendra Griffin) was named the Corvallis Knights Staff Member of the Year for the 2017 season, as announced by team president Bre Miller on Wednesday, October 11.
A second-year MBA Market Research student from Vacaville, Calif., Carr's primary role was as a merchandise intern. However, he also assisted Knights Baseball Inc. CEO Dan Segel with numerous operational-related projects, and was the lead intern for the annual Daimler Oregon All-Star Series featuring the state's top senior high school baseball players in a three-game showcase at Goss Stadium.
"I don't think merchandizing was Jared's first choice but he took the opportunity to try and learn something new and did an amazing job," Bre said. "He also stepped up big-time when it came to helping the food and beverage team.
"He was first to raise his hand and volunteer to help wrap hot dogs, wash dishes, take out the trash, whatever the team needed! Jared is an intelligent young professional and we are very excited to see where he goes!"
The Staff Member of the Year Award is the highest honor in the Knights organization. Previous winners were Melissa Sullivan (2016); Anna Seydel (2015); Brooks Hatch (2014); Lil' K and Mack the Knight (2013); Jeremy Ainsworth (2012); Bre Miller (2011); Doug Blair (2010); Brian Brooks (2009); Stro Strohmeyer (2008) and Holly Jones (2007).
Korey Kozaryn earned the Bre Miller Bravery Award. A native of Hackensack, N.J., Kozaryn was the Knights game-day and promotion manager while completing her MS in Sports Administration and Coaching from Montclair State (N.J.) University. She earned her BS in Sports Administration from Lock Haven (Penn.) University.
"When we had our ticketing position open up unexpectedly Koko jumped at the opportunity to be our lead," Miller said. "She did an awesome job balancing both her ticketing role and her promotions role.
"We are ecstatic that she recently accepted our offer and is our newest full-time employee as our director of ticketing and operations."
OSU senior Samantha Cooper and Oregon junior Garret Koonce shared the Penny Knight Perseverance Award.
Cooper is a communications major from Troutdale, Ore., who expects to graduate in Dec., 2017.
"Samantha was a true delight," team COO Holly Jones said. "She went above and beyond to do whatever was necessary to help keep the food and beverage operation on-track at all times.
"She was generally one of the first staff members to arrive and one of the last to leave. We can't imagine this summer without Samantha's dedication and energy."
Koonce is a sports business major at Oregon from Dallas, Tex. He also interned with the Knights in 2016 and earned the Bre Miller Bravery Award.
"We were grateful to have Garret back for a second season," Jones said. "He stepped into a ticketing leadership position and often had to learn on the fly, but he stayed committed to the role and made sure things were handled.
"If something needed to be fixed, Garret would find a solution to address it. He has a great demeanor and I enjoyed interacting with him at the office and at the stadium."
Arthur Drown of Salem, Ore., earned the Dan Segel Determination Award. He graduated from OSU in 2017 with a BA in Digital Media Communications, with a minor in Business and Entrepreneurship.
"Arthur took this internship and went above and beyond," Miller said. "He helped launch our Kids Club into the new Shirt Circuit Junior Knights Club, working very closely with our title sponsor Shirt Circuit.
"He was one of the leads of our Stadium Operations crew and was always one of the first to arrive and last to leave. Arthur's determination to always give 150 percent and set a good example for other interns really showed. We are excited to see all that Arthur will accomplish in his professional career."
Scott Roth earned the Holly Jones Hustle Award. He is an Oregon junior from Franklin, Mass.
"Scott was a great addition to our team," Jones said. "In addition to doing a great job interacting with fans and building relationships with season-ticket holders during games, he also stepped up to help the food and beverage operation when we really needed the support.
"Scott was willing to get his hands dirty and did not feel he was above any jobs. This mindset will continue to benefit him greatly in the future."
Albany native Jennifer Beaumont earned the inaugural FAB Award, earned by food and beverage [FAB] staff who go above and beyond. She is also an Area Sales Account Executive with The Hotel Group.
"Jennifer was extraordinarily respected and liked by staff and customers, and her upbeat demeanor was a true blessing to our organization," Jones said. "She is committed to providing a great experience for fans at the ballpark.
"We are incredibly grateful that we had her as part of our team this year."
The Knights are committed to developing talent on and off the field, and we are pleased to officially announce that our 2017-18 internship application is now live. To apply or learn more, please visit our jobs page here.