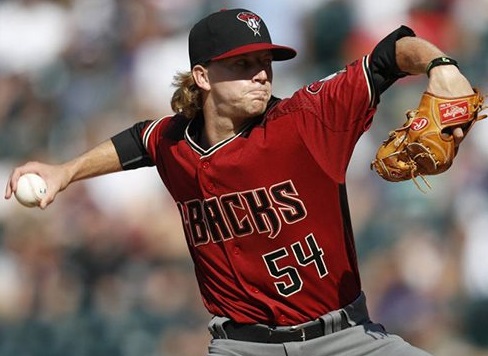 Brooks Hatch Blog: Alum Jimmie Sherfy on Arizona's Postseason Roster
Happy Friday, everyone, from the world-wide headquarters (WWHQ) of the Corvallis Knights, your 2016-2017 West Coast League champions!
—————
Pitcher Jimmie Sherfy (2011) was added to Arizona's postseason roster and was active for Wednesday's 11-8 win over Colorado in the wild-card game. The Diamondbacks now open the best-of-five NLDS at Los Angeles on Friday.
Sherfy (pictured, above) was 2-0 with a perfect 0.00 ERA in 11 games, with a save and nine strikeouts and only two walks in 10.2 innings in two stints with the Diamondbacks this season.
Sherf played at Oregon and was selected in the 10th round of the 2013 draft. He moved quickly through the Arizona organization and was promoted to the majors on Aug. 22 and then again on Sept. 2 after two solid years at Reno, Arizona's affiliate in the triple-A Pacific Coast League.
Alum Tyler Anderson (2009), a 2011 teammate of Sherfy's at Oregon, pitched an inning of relief for the Rockies and gave up two runs. He had one strikeout.
—————
We have signed three players from St. Martin's University for the 2018 season, coach Brooke Knight announced Wednesday.
The newest Knights are pitchers Aaron Shoup and Mickey Walker, and junior outfielder Austin Feist. All are juniors for the Saints, a Division II school located in Lacey, Wash.
Shoup is a 5-foot-11, 200-pound left-hander from Woodland High School in Woodland, Wash.  He went 5-3, 4.60 in 12 games in 2017, with 60 strikeouts in 76.1 innings, and was a second-team Great Northwest Athletic Conference all-star.
Walker is a 6-foot, 180-pound right-hander from McNary High School in Keizer, Ore. He was 2-8, 6.51 in 15 games, with three saves and 44 strikeouts in 47 innings. He was the GNAC Freshman of the Year and honorable-mention all-conference honors in 2016. His parents, Jerry and Lisa, own the Salem Volcanoes.
Feist is a 6-2, 195-pounder from Burns High School in Burns, Ore. He hit .306 (52-170) in 47 games in 2016, with 15 doubles, 10 stolen bases, four homers and 36 RBIs as a sophomore after earning honorable-mention all-GNAC honors as a freshman.
Welcome to the Knights!
—————
That's all for today. Have a great weekend, and we will see you on Tuesday. We'll have a major, major announcement on Monday, so make sure to check out the website that day!