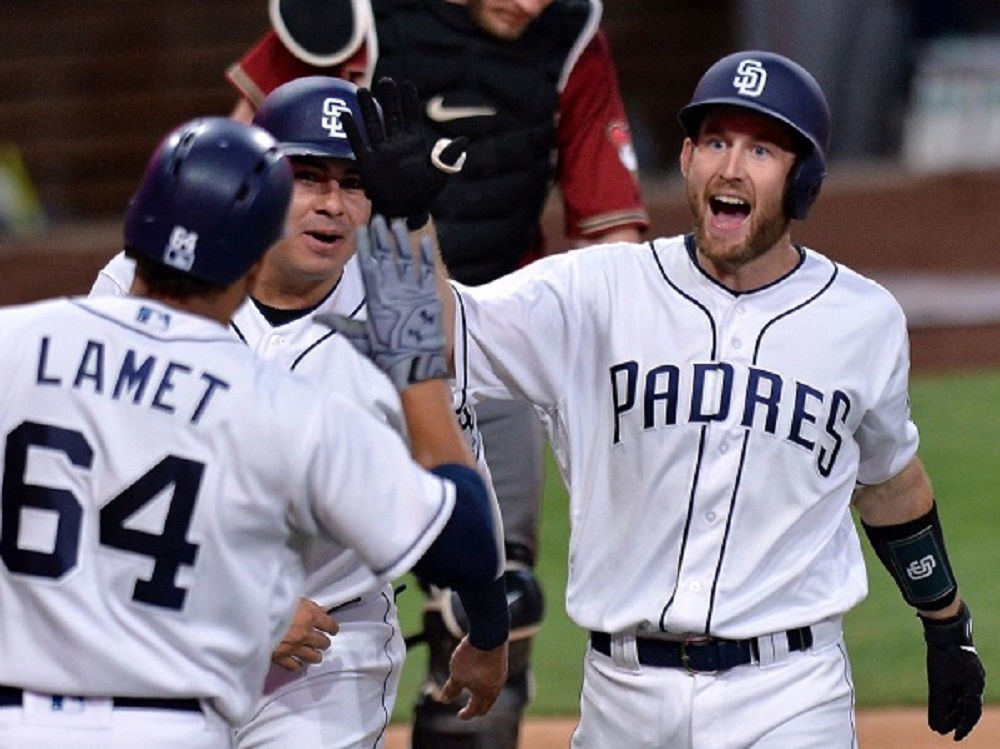 Brooks Hatch Blog: Rocky Gale, Josh Osich Recalled to MLB
Happy Wednesday, everyone, from the world-wide headquarters (WWHQ) of the Corvallis Knights, your 2016-2017 and 2018 West Coast League champions!
Only 49 more days until our May 29 opener on Science, Engineering & Art Day game at Goss Stadium!
————–
The Los Angeles Dodgers recalled catcher Rocky Gale (2007, 2009, pictured above in 2015) from Oklahoma City in the triple-A Pacific Coast League on April 10.  It is his fourth stint in MLB; the ex-Portland Pilot standout played for San Diego in 2015 and 2017 and for the Dodgers in 2018.
Knights' alum Josh Osich (2008) was recalled to the majors by the Chicago White Sox on April 12. He had been playing for Charlotte in the triple-A International League. The former Oregon State lefty has also played for the San Francisco Giants in his four-year MLB career.
There are now 10 Knights alums in MLB: Gale; Osich; Colorado pitchers Tyler Anderson (2009) and DJ Johnson (2008-09); Detroit pitcher Matt Boyd(2010); Seattle outfielder Mitch Haniger (2010); Tampa Bay infielder Matt Duffy (2010); Chicago White Sox pitcher Jace Fry (2011); Toronto pitcher Sam Gaviglio (2009), and Arizona pitcher Matt Andriese (2009).
————–
The New Jersey Jackals of the independent CanAm League have signed Connor Hofmann (2011-12). The ex-Oregon/San Francisco outfielder also played with the team in 2018 and hit .247 in 82 games, with four homers and 27 RBIs.
————–
Alum Tyler Villaroman (2017), an outfielder from San Francisco, was nominated for Big West Conference Player of the Week honors but was not selected.
————–
We're excited about our 2019 regular-season schedule. Next summer's slate features 32 home dates and gets started at 10 a.m. on Tuesday, May 28, with our eighth annual Weyerhaeuser Science, Engineering & Art Day game at Goss Stadium.
After a nonleague series at the Humboldt Crabs, we open the West Coast League schedule at Walla Walla on June 4. Our WCL home opener is June 14, against the Cowlitz Black Bears.
Like last season, start times for Monday-Saturday games is 6:30 p.m. Sunday games will start at 3 pm. Fireworks games will have special start times, either 7:15 p.m. or 7:05 p.m.
Reserve the best seats in the house for the 2019 season now by emailing [email protected] or by calling (541) 752-5656. Our entertainment schedule is available by clicking here.
Here's the entire 2019 schedule:
MAY: 28, Portland Sea Dogs. 31, at Humboldt Crabs.
JUNE: 1-2, at Humboldt Crabs. 4-6, at Walla Walla. 7-9, at Victoria. 14-16, Cowlitz. 18-20, Bellingham. 21, Gerding Construction. 22-24, at Yakima Valley. 25-27, Ridgefield. 28-30, Yakima Valley.
JULY: 1, Hayesville Hammers. 2-3: Portland. 4, at Portland. 5-7, at Ridgefield. 8-10, at Port Angeles. 11, Mid-Valley Southpaws. 12-14, Kelowna. 18, Chaffey Baseball. 19-21, Walla Walla. 22-23, All-Star Game, at Bend. 24, at Portland. 25, Portland. 26, at Portland. 27-29, at Bend. 30-31, Bend.
AUGUST: 1, Bend. 2-4, at Cowlitz. 6-8, at Bellingham. 9-11: Wenatchee.
————–
Some news from elsewhere in the West Coast League:
Wenatchee coach Kyle Krustangel announced five new additions to the AppleSox 2019 roster: three from Boise State, one from George Fox and one from Montana State University Billings. Please click here for more information, from Our Sports Central.
————–
That's all for today. Have a great week and we will see you next week!