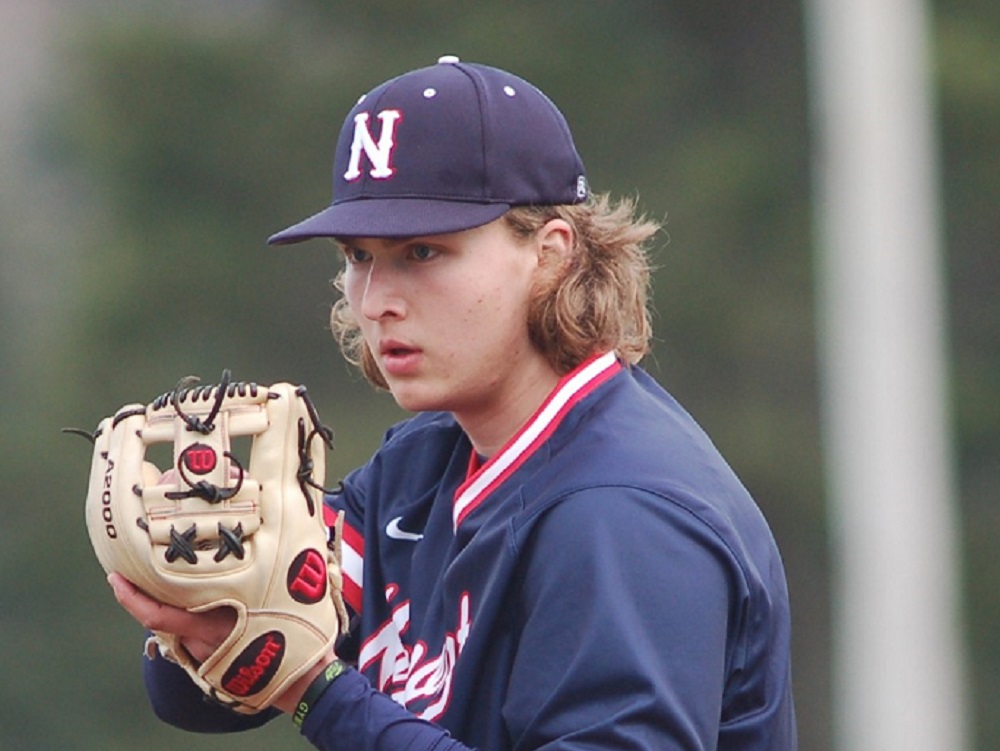 Brooks Hatch Blog: Knights Add Two Right-Handers for 2019
Happy Wednesday, everyone, from the world-wide headquarters (WWHQ) of the Corvallis Knights, your 2016-2017 and 2018 West Coast League champions!
Only 34 more days until our May 28 opener on Weyerhaeuser Science, Engineering & Art Day game at Goss Stadium!
————–
We have signed right-handed pitchers Kevin West of UC Riverside and right-hander Jacob Dobmeier (pictured, above) of nearby Newport (Ore.) High School for the upcoming season.
West is a 6-foot-3, 185-pounder from Martin Luther King High School in Riverside. He is 0-2, 11.77 in nine games this season, with 12 strikeouts in 13 innings.
He was 0-3, 5.64 in nine games in 2018, with nine strikeouts in 22.1 innings, and 0-1, 5.40 in 13 games in 2017, with 18 strikeouts in 16.2 innings. He was a three-year letterman at MLK.
A UC San Diego commit, Dobmeier is a 6-4, 220-pounder who also plays the infield. He had a 1.87 ERA in 12 pitching appearances in 2018, with 94 strikeouts in 63.2 innings. He had a 17-strikeout game vs. Stayton and 12-strikeout games against Junction City and Scappoose.
He was the 2018 Oregon West Conference co-pitcher of the year, and a first-team all-league selection. He was second-team 4A all-state in 2018 and a third-team all-state pick in 2017.
Welcome to the Knights, guys.
————–
Just a heads-up: Our annual Weyerhaeuser Science, Engineering & Art Day at Goss Stadium has been moved up a day to May 28.
We made the change because it's possible Oregon State will host an NCAA Regional that may include BYU. BYU will not compete on Sundays and the NCAA accommodates the Cougars in their scheduling.
That would require moving the regional up a day to May 29-June 1, bumping SEA Day. So, with OSU and BYU both having banner years, we are getting ahead of things and moving the date so that SEA Day does not get cancelled.
————–
The Arizona Diamondbacks recalled right-handed pitcher Jimmie Sherfy (2011) from Reno in the triple-A Pacific Coast League on April 21, but sent him back down on April 22 when they activated an injured player.
Jimmie, who played at Oregon, did not pitch on Sunday. He is 0-1, 3.38 in five games at Reno, with three saves and nine strikeouts in 5.1 innings.
He is 2-0, 1.00 in 26 lifetime MLB games in previous stints with Arizona in 2017-2018, with a save and 26 strikeouts in 27 innings.
Eleven Knights are/have been on MLB rosters this season: Sherfy; Los Angeles Dodgers catcher Rocky Gale; Chicago White Sox pitcher Josh Osich; Colorado pitchers Tyler Anderson (2009) and DJ Johnson (2008-09); Detroit pitcher Matt Boyd(2010); Seattle outfielder Mitch Haniger (2010); Tampa Bay infielder Matt Duffy (2010); Chicago White Sox pitcher Jace Fry (2011); Toronto pitcher Sam Gaviglio (2009), and Arizona pitcher Matt Andriese (2009).
For a complete listing of Knights in affiliated baseball, please click here.
————–
Senior outfielder Cody Hawken (2016, 2018) of the University of Portland was named the West Coast Conference Player of the Week for April 15-21.
He hit .417 (5-for-12) with a home run, two doubles, a team-high eight RBIs, and two runs scored during a three-game series at San Diego. On April 20, Hawken hit a grand slam and two doubles to finish 3-for-5 with seven RBIs.
Hawken was also flawless in the field recording 10 putouts, and he stole a base. During the April 18 series opener, Hawken was hit by a pitch, which gives him 44 HBPs in his career, matching the program's all-time career record.
Teammate Chris Clements (2015) was nominated for Pitcher of the Week, but was not selected. Please click here for more details.
————–
Alum Beau Philip (2018), the starting shortstop at Oregon State, was named to the 51-player Brooks Wallace Award watch list. It goes to the nation's top shortstop.
The Sacramento native was a first-team all-WCL selection in 2018. He is batting .306 with nine doubles, three home runs and 28 RBIs for OSU, with three errors in 31 games.
————–
We are thrilled to announce our 2019 regular-season schedule. Next summer's slate features 32 home dates and gets started at 10 a.m. on Tuesday, May 28, with our eighth annual Weyerhaeuser Science, Engineering & Art Day game at Goss Stadium.
After a nonleague series at the Humboldt Crabs, we open the West Coast League schedule at Walla Walla on June 4. Our WCL home opener is June 14, against the Cowlitz Black Bears.
Like last season, start times for Monday-Saturday games is 6:30 p.m. Sunday games will start at 3 pm. Fireworks games will have special start times, either 7:15 p.m. or 7:05 p.m.
The Knights 2019 home schedule features six Thursday games, six Friday games, five Saturday games, five Sunday games, one Monday game, four Tuesday games and five Wednesday games.
Reserve the best seats in the house for the 2019 season now by emailing [email protected] or by calling (541) 752-5656. Our entertainment schedule is available by clicking here.
Here's the entire 2019 schedule:
MAY: 28, Portland Sea Dogs. 31, at Humboldt Crabs.
JUNE: 1-2, at Humboldt Crabs. 4-6, at Walla Walla. 7-9, at Victoria. 14-16, Cowlitz. 18-20, Bellingham. 21, Gerding Construction. 22-24, at Yakima Valley. 25-27, Ridgefield. 28-30, Yakima Valley.
JULY: 1, Hayesville Hammers. 2-3: Portland. 4, at Portland. 5-7, at Ridgefield. 8-10, at Port Angeles. 11, Mid-Valley Southpaws. 12-14, Kelowna. 18, Chaffey Baseball. 19-21, Walla Walla. 22-23, All-Star Game, at Bend. 24, at Portland. 25, Portland. 26, at Portland. 27-29, at Bend. 30-31, Bend.
AUGUST: 1, Bend. 2-4, at Cowlitz. 6-8, at Bellingham. 9-11: Wenatchee.
————–
Some news from elsewhere in the West Coast League:
The Bellingham Bells have hired Nate Anderson, a Western Washington University graduate, as their Sales and Marketing Coordinator, effective immediately. Please click here for more information, from Our Sports Central.
The Yakima Valley Pippins will get a jump start on their regular-season opener with an exhibition game on June 2 against the Seattle Studs at Yakima County Stadium. The game, billed as "Sunday Funday with the Pippins," will start at 6:05 p.m., with gates opening at 5:15 p.m. Please click here for more information, from Our Sports Central.
————–
That's all for today. Have a great week and we will see you next week!