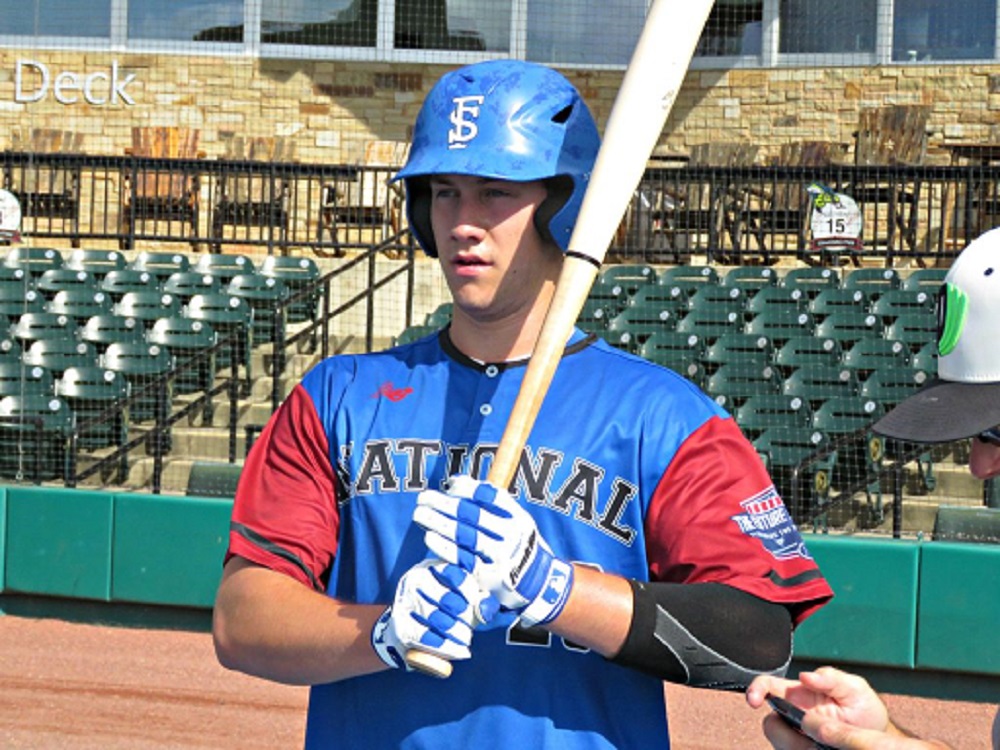 Brooks Hatch Blog: OSU's Andrew Walling Joins Knights for 2019
Happy Wednesday, everyone, from the world-wide headquarters (WWHQ) of the Corvallis Knights, your 2016-2017 and 2018 West Coast League champions!
Only 20 more days until our May 28 opener on Weyerhaeuser Science, Engineering & Art Day game at Goss Stadium!
————–
We have signed freshman pitcher/infielder Andrew Walling (pictured, above) of Oregon State for the 2019 season. Walling is a 6-foot-2, 205-pound lefty from Longview, Wash., who starred at R.A. Long High School.
He will join OSU teammates Elliot Willy, Matthew Gretler and Jake Harvey on the Knights this summer.
He is 0-0 with a 0.00 ERA in six appearances for the Beavers heading into this weekend's series at Oregon. He has three strikeouts in 6.2 innings and has limited opposing batters to a .105 batting average.
He was a position player for the Cowlitz Black Bears in 2018 and hit .200 (9-45) in 14 games after recovering from arm surgery. He did not pitch last summer.
Walling was a four-year letterwinner in high school and earned all-conference honors his final three seasons. He was ranked as the No. 2 recruit in the state of Washington his senior year.
Welcome to the Knights, Andrew!
————–
We have signed University of San Francisco catcher Chase Hodkinson for the 2019 season. Hodkinson is a 5-foot-10, 170-pound junior switch-hitter from Melbourne, Australia.
He played at the Vermont Secondary School in Australia and at Lower Columbia College in Longview, Wash., before enrolling at USF. He is hitting .318 (14-44) in 27 games for the Dons this season, with no homers and seven RBIs.
Hodkinson will be the second Australian on the 2019 roster, joining Perth native Brodie Vassalakis of Grand Canyon University.
Hodkinson hit a combined .286 (46-161) in 61 games at Lower Columbia in 2017 and 2018, with no homers and 33 RBIs. He was a second-team West Region all-star in 2017.
Welcome to the club, Chase!
————–
Oregon State junior catcher Adley Rutschman, a 2016 Knights' alum was named the national player of the month for April by the National Collegiate Baseball Writers Association on May 6.
Adley hit .455 in 18 games in April, with five doubles, seven home runs and 23 RBIs, thus enhancing his chances to be the No. 1 selection in the 2019 MLB draft.
Adley reached base in 17 of 18 April games, and had at least one hit in 16 games. He did not have an error and was 3-for-3 in throwing out runners trying steal a base.
He was also named Pacific-12 Conference Player of the Week for games from April 1-7, and nominated for the honor several other times.
Adley is hitting .429 with 16 home runs and 53 RBIs, and has set an OSU single-season record with 59 walks. He leads the nation in on-base percentage (.579) heading into this weekend's series at Oregon.
————–
Just a heads-up: Our annual Weyerhaeuser Science, Engineering & Art Day at Goss Stadium has been moved up a day to May 28.
We made the change because it's possible Oregon State will host an NCAA Regional that may include BYU. BYU will not compete on Sundays and the NCAA accommodates the Cougars in their scheduling.
That would require moving the regional up a day to May 29-June 1, bumping SEA Day. So, with OSU and BYU both having banner years, we are getting ahead of things and moving the date so that SEA Day does not get cancelled.
And make sure to save the date for our first Nectar Creek Fan Faire celebration, set for 5:30-9:30 p.m. on Thursday, June 13. We will turn Goss Stadium into a 13th century castle with the help from the Shrewsbury Renaissance Faire!
Come shop the concourse with Shrewsbury Renaissance Faire vendors, drink mead and enjoy a game of rounders on the field. Players will be available for autographs and there will be live music! This will be a fun event to kick off our 13th season in Corvallis.
Full concessions will be available. Jugglers, belly dancers, fiddlers and more! See you there.
————–
The Colorado Rockies promoted alum pitcher DJ Johnson (2008-09) back to the majors on May 4. He opened the season with the team but was sent to their affiliate in the triple-A Pacific Coast League, on April 28.
Colorado sent alum Tyler Anderson (2009), a lefty pitcher from Oregon, down to Albuquerque to make room for Johnson. Anderson was 0-3, 11.76 in five games.
Eleven Knights are/have been on MLB rosters this season: Johnson; Anderson; Arizona righty Jimmie Sherfy (2011); Los Angeles Dodgers catcher Rocky Gale; Chicago White Sox pitcher Josh Osich; Detroit pitcher Matt Boyd(2010); Seattle outfielder Mitch Haniger (2010); Tampa Bay infielder Matt Duffy (2010); Chicago White Sox pitcher Jace Fry (2011); Toronto pitcher Sam Gaviglio (2009), and Arizona pitcher Matt Andriese (2009).
————–
We are thrilled to announce our 2019 regular-season schedule. The slate features 32 home dates and gets started at 10 a.m. on Tuesday, May 28, with our eighth annual Weyerhaeuser Science, Engineering & Art Day game at Goss Stadium.
After a nonleague series at the Humboldt Crabs, we open the West Coast League schedule at Walla Walla on June 4. Our WCL home opener is June 14, against the Cowlitz Black Bears.
Like last season, start times for Monday-Saturday games is 6:30 p.m. Sunday games will start at 3 pm. Fireworks games will have special start times, either 7:15 p.m. or 7:05 p.m.
The Knights 2019 home schedule features six Thursday games, six Friday games, five Saturday games, five Sunday games, one Monday game, four Tuesday games and five Wednesday games.
Reserve the best seats in the house for the 2019 season now by emailing [email protected] or by calling (541) 752-5656. Our entertainment schedule is available by clicking here.
Here's the entire 2019 schedule:
MAY: 28, Portland Sea Dogs. 31, at Humboldt Crabs.
JUNE: 1-2, at Humboldt Crabs. 4-6, at Walla Walla. 7-9, at Victoria. 14-16, Cowlitz. 18-20, Bellingham. 21, Gerding Construction. 22-24, at Yakima Valley. 25-27, Ridgefield. 28-30, Yakima Valley.
JULY: 1, Hayesville Hammers. 2-3: Portland. 4, at Portland. 5-7, at Ridgefield. 8-10, at Port Angeles. 11, Mid-Valley Southpaws. 12-14, Kelowna. 18, Chaffey Baseball. 19-21, Walla Walla. 22-23, All-Star Game, at Bend. 24, at Portland. 25, Portland. 26, at Portland. 27-29, at Bend. 30-31, Bend.
AUGUST: 1, Bend. 2-4, at Cowlitz. 6-8, at Bellingham. 9-11: Wenatchee.
————–
Some news from elsewhere in the West Coast League:
The Bellingham Bells have announced the addition of two more players to the team's 2019 roster. Will Smith, a sophomore right-hander from Seattle University, returns to the Bells after toeing the Joe Martin Field rubber a season ago. Joining him will be Jake Terao, a redshirt freshman catcher from Bellevue College. Please click here for more information, from Our Sports Central.
Pitcher Griffin Canning made his MLB debut for the Los Angeles Angels on May 1, thus becoming the 12th former member of the Wenatchee AppleSox to appear in an MLB game. Canning, a member of the 2014 AppleSox, tossed six strong innings in the Angels' 4-3 win over the Toronto Blue Jays. Please click here for more information, from Our Sports Central.
————–
That's all for today. Have a great week and we will see you next week!