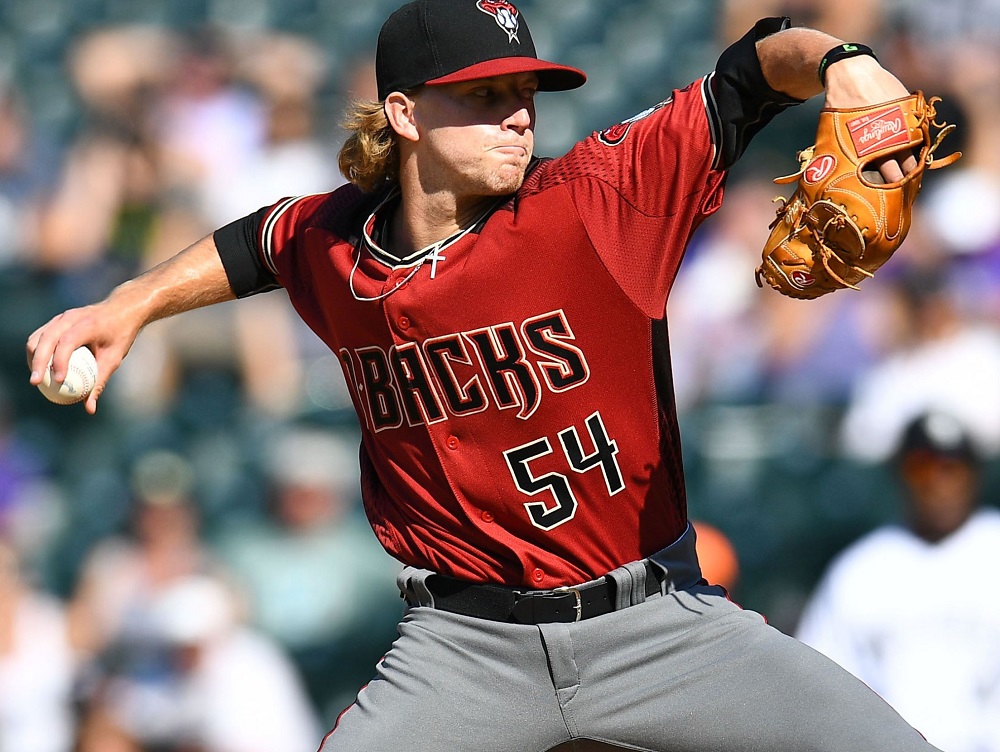 Brooks Hatch Blog: Diamondbacks Recall Reliever Jimmie Sherfy
Happy Wednesday, everyone, from the world-wide headquarters (WWHQ) of the Corvallis Knights, your 2016-2017 and 2018 West Coast League champions!
Only 13 more days until our May 28 opener on Weyerhaeuser Science, Engineering & Art Day game at Goss Stadium!
————–
The Arizona Diamondbacks recalled right-handed pitcher Jimmie Sherfy (2011) was their Reno triple-A affiliate on Monday. It's the second time this season Sherfy has been promoted from the Pacific Coast League farm team.
He was 0-1, 1.32 in 13 games at Reno, with seven saves and 22 strikeouts in 13.2 innings. He pitched two scoreless innings for Arizona in a 9-3 win over Pittsburgh on Monday, striking out five.
Jimmie has been outstanding in parts of three seasons with the Diamondbacks. He is 2-0 with a 0.93 ERA in 27 games, with a save and 31 strikeouts in 29 innings.
Eleven Knights are/have been on MLB rosters this season: Sherfy; Los Angeles Dodgers catcher Rocky Gale; Chicago White Sox pitcher Josh Osich; Colorado pitchers Tyler Anderson (2009) and DJ Johnson (2008-09); Detroit pitcher Matt Boyd(2010); Seattle outfielder Mitch Haniger (2010); Tampa Bay infielder Matt Duffy (2010); Chicago White Sox pitcher Jace Fry (2011); Toronto pitcher Sam Gaviglio (2009), and Arizona pitcher Matt Andriese (2009).
————–
Alum Nick Torres (2012) is now playing for Puebla in the Mexican league, the equivalent of triple-A. He homered in a 3-for-5 game against Durango on Tuesday to up his average to .323 (40-124) in 32 games, with 10 homers and 33 RBIs. The Cal Poly product spent five years in the San Diego and Texas organizations after being selected by the Padres in the fourth round of the 2014 MLB draft.
————–
Left-handed pitcher Austin Crowson (2016) of Western Oregon was named a first-team Great Northwest Conference all-star. St. Martin's outfielder Austin Feist (2018) earned honorable mention.
————–
Oregon State shortstop Beau Philip (2018) and Washington catcher Nick Kahle (2016) were nominated for Pacific-12 Conference Player of the Week honors but were not selected.
————–
Just a heads-up: Our annual Weyerhaeuser Science, Engineering & Art Day at Goss Stadium has been moved up a day to Tuesday, May 28.
We made the change because it's possible Oregon State will host an NCAA Regional that may include BYU. The Cougars do not compete on Sundays and the NCAA accommodates them in their scheduling.
That would require moving the regional up a day to May 29-June 1, bumping SEA Day. So, with OSU and BYU both having banner years, we are getting ahead of things and moving the date so that SEA Day does not get cancelled.
And make sure to save the date for our first Nectar Creek Fan Faire celebration, set for 5:30-9:30 p.m. on Thursday, June 13. We will turn Goss Stadium into a 13th century castle with the help from the Shrewsbury Renaissance Faire!
Come shop the concourse with Shrewsbury Renaissance Faire vendors, drink mead and enjoy a game of rounders on the field. Players will be available for autographs and there will be live music! This will be a fun event to kick off our 13th season in Corvallis.
Full concessions will be available. Jugglers, belly dancers, fiddlers and more! See you there.
————–
We are thrilled to announce our 2019 regular-season schedule. The slate features 32 home dates and gets started at 10 a.m. on Tuesday, May 28, with our eighth annual Weyerhaeuser Science, Engineering & Art Day game at Goss Stadium.
After a nonleague series at the Humboldt Crabs, we open the West Coast League schedule at Walla Walla on June 4. Our WCL home opener is June 14, against the Cowlitz Black Bears.
Like last season, start times for Monday-Saturday games is 6:30 p.m. Sunday games will start at 3 pm. Fireworks games will have special start times, either 7:15 p.m. or 7:05 p.m.
The Knights 2019 home schedule features six Thursday games, six Friday games, five Saturday games, five Sunday games, one Monday game, four Tuesday games and five Wednesday games.
Reserve the best seats in the house for the 2019 season now by emailing [email protected] or by calling (541) 752-5656. Our entertainment schedule is available by clicking here.
Here's the entire 2019 schedule:
MAY: 28, Portland Sea Dogs. 31, at Humboldt Crabs.
JUNE: 1-2, at Humboldt Crabs. 4-6, at Walla Walla. 7-9, at Victoria. 14-16, Cowlitz. 18-20, Bellingham. 21, Gerding Construction. 22-24, at Yakima Valley. 25-27, Ridgefield. 28-30, Yakima Valley.
JULY: 1, Hayesville Hammers. 2-3: Portland. 4, at Portland. 5-7, at Ridgefield. 8-10, at Port Angeles. 11, Mid-Valley Southpaws. 12-14, Kelowna. 18, Chaffey Baseball. 19-21, Walla Walla. 22-23, All-Star Game, at Bend. 24, at Portland. 25, Portland. 26, at Portland. 27-29, at Bend. 30-31, Bend.
AUGUST: 1, Bend. 2-4, at Cowlitz. 6-8, at Bellingham. 9-11: Wenatchee.
————–
Some news from elsewhere in the West Coast League:
Cutting-edge technology will be implemented at five more West Coast League stadiums this summer with the league's announcement of an expanded agreement with TrackMan. The company's 3D Doppler radar system, which is used by all 30 Major League Baseball teams, precisely measures the location, trajectory and spin rate of hit and pitched baseballs. The data provided by TrackMan's system serves as an additional tool to assist in player development and evaluation by objectively measuring on-field performance. Please click here for more information, from the WCL website.
————–
That's all for today. Have a great week and we will see you next week!