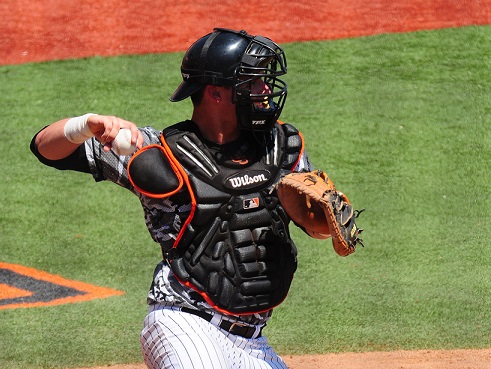 Brooks Hatch Blog: Orioles Assign Andrew Susac to Triple-A Norfolk
Happy Tuesday, everyone, from the world-wide headquarters (WWHQ) of the Corvallis Knights, your 2016-2017 West Coast League champions!
————–
The Baltimore Orioles have assigned catcher Andrew Susac (pictured with the Knights in 2009) to Norfolk, their franchise in the triple-A International League. They acquired the former Oregon State star in the offseason from the Milwaukee Brewers.
He hit .462 (6-13) in 14 spring-training games, with a homer and four RBIs. However a staph infection sidelined him early in camp and Baltimore chose to go with prospect Chance Sisco as its No. 2 catcher.
"Andrew's got a track record," Baltimore manager Buck Showalter told the Baltimore Sun newspaper. "He's been challenged some staying on the field and he's been good here other than that infection he had earlier.
"So I think once we get our arms around where he is … It's just a short look, all things considered. I want him to get some reps and catch nine innings and have a better feel if what we're seeing here is reality."
Susac hit .083 (1-12) in eight games with Milwaukee and a combined .213 in 58 games at triple-A and single-A in an injury-filled 2017 season. He has seven homers and 35 RBIs in 104 career MLB games with San Francisco and Milwaukee.
————–
We have hired Grace Burroughs as our new Director of Food & Beverage. Grace will be responsible for delivering a rewarding food & beverage experience this season via our four concession outlets.
"Food and beverage is such a key part of the overall fan experience," Knights' president/GM Bre Miller said. "We've been getting better each season in terms of our offerings and service. Now we feel like we're in a really good position to get even better by filling this key role with Grace.
"She's the right-fit we've been looking for and will work tirelessly and with great energy to give our fans a reason to keep coming back for more."
Burroughs comes to the Knights after working the past four years for Eurest Dining Services both in Corvallis and Palo Alto, Calif., as a catering manager and sous chef. She currently lives in Alsea.
For more details, please click here.
————–
Our 2018 season tickets are now on sale! For more details or to order your tickets online, please click here. Tickets may also be purchased by calling us at 541-752-5656 or by visiting our office at 4th Street and Jefferson Avenue in downtown Corvallis. See you at the ballpark in 2018!
We also have three fireworks nights and tons of other promotions planned for this summer. Our entire promotional schedule is also available, by clicking here.
————–
The Bellingham Bells have signed catcher Cole Joy of Long Beach State and infielder Will McGillis of Southern Mississippi for the 2018 season. Please click here for more details, from Our Sports Central.
————–
That's all for today. Have a great week, and we will see you on Friday.