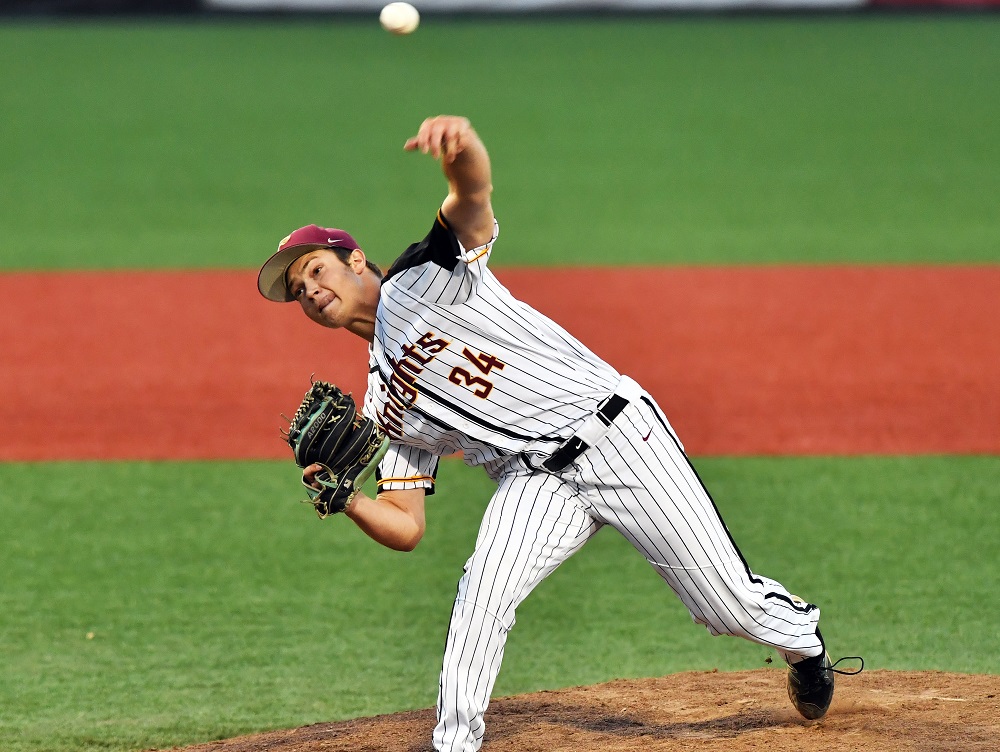 Brooks Hatch Blog: Oregon LHP Kolby Somers Returning in 2018
Happy Tuesday, everyone, from the world-wide headquarters (WWHQ) of the Corvallis Knights, your 2016-2017 West Coast League champions!
—————
University of Oregon freshman pitcher Kolby Somers (pictured, above) will return to the Knights  for the 2018 season, coach Brooke Knight announced Monday.
Kolby is a 6-foot-1, 205-pound lefty from Century High School in Hillsboro who was selected by Seattle in the 38th round of the 2017 MLB draft. He was 3-1, 2.95 in nine games with the Knights in 2017, with a save and 17 strikeouts in 18.1 innings.
He was especially effective in the playoffs, with a win, a save, three strikeouts and a 0.00 ERA in 4.2 innings over two appearances. He was a first-team 6A all-state selection and played in the Oregon All-Star Series in 2017 before joining the Knights.
We have also signed corner infielder Cameron Haskell, a University of Arizona junior who played at Palomar College in 2017.
Haskell led Palomar with a .357 (60-168) average and a team-high seven homers and 48 RBIs in 42 games. He played at UC Riverside in 2016 and hit .288 (15-52) in 21 games, with no homers and three RBIs.
He is a 6-foot-4, 200-pound left-handed hitter from Chaparral High School in Temecula, Calif. He was a first-team Southwestern League all-star and earned honorable mention on the Perfect Game California Region team as a high school senior.
Welcome to the Knights!
—————
We are celebrating our five WCL Championships with 50 percent off all merchandise, excluding the 2017 WCL championship shirts. The offer is valid at our office, located on Jefferson Avenue in downtown Corvallis, or via phone orders.
The sale lasts through Oct. 31. Please click here to check our our inventory. Don't miss out!
—————
We are now hiring our 2018 interns. The positions will begin in January and run through August. Available positions include:
Community events and youth programs
Box office operations and ticket sales
Marketing strategy and advertising operations
Promotions, in-game entertainment and social media
Partnership marketing and account management
Digital content and video production
Stadium DJ, videoboard operator and digital content creation
Hospitality and concessions operations
Stadium operations and Kid Zone management
Merchandise operations and sales
Statistician and press box leader
Please click here for more information on our intern program.
—————
That's all for today. Have a great week, and we will see you on Friday.