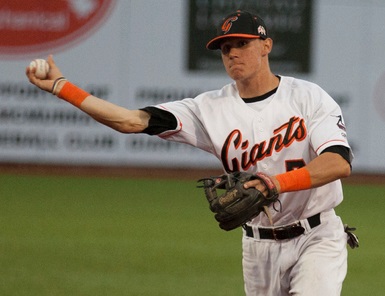 Brooks Hatch Blog: Knights sign Crescent Valley HS Grad Corey Conklin for 2018
Happy Friday, everyone, from the world-wide headquarters (WWHQ) of the Corvallis Knights, your 2016-2017 West Coast League champions!
—————
We have signed Crescent Valley High School graduate Corey Conklin (pictured, above) for the 2018 season, head coach Brooke Knight announced Friday.
The 6-fooot-2, 185-pounder is a redshirt junior infielder at Eastern Kentucky, an Ohio Valley Conference school located in Richmond, Ky. He played at Lower Columbia College in Longview, Wash., the past two seasons.
Conklin hit .276 (40-145) in 45 games, with no homers, 20 RBIs and eight steals in 10 attempts in 2017, when he earned second-team Western Region all-NWAC honors. LCC went 40-10 and captured the Northwest Athletic Conference championship.
He hit .180 (25-139) in 47 games as a freshman in 2016, with no homers, 10 RBIs and 10 steals in 13 attempts.
Conklin played for Fort McMurray (Alberta) Giants in the Western Major Baseball League last summer. He hit .208 (25-120) in 37 games, with no homers and 10 RBIs.
He was a 5A all-state player, a Mid-Willamette Conference all-star, and a member of the South team at the Oregon All-Star Series as a CV senior in 2014, when he hit .477 with two home runs, 16 doubles and 43 RBIs. He was also all-conference as a junior.
Corvallis is the two-time defending WCL champions. The 2018 schedule will be announced later this fall.
Welcome to the Knights!
—————
We are celebrating our five WCL Championships with 50 percent off all merchandise, excluding the 2017 WCL championship shirts. The offer is valid at our office, located on Jefferson Avenue in downtown Corvallis, or via phone orders.
Please click here for inventory. The sale lasts through Oct. 31. Don't miss out!
—————
We are now hiring our 2018 interns. The positions will begin in January and run through August. Available positions include:
Community events and youth programs
Box office operations and ticket sales
Marketing strategy and advertising operations
Promotions, in-game entertainment and social media
Partnership marketing and account management
Digital content and video production
Stadium DJ, videoboard operator and digital content creation
Hospitality and concessions operations
Stadium operations and Kid Zone management
Merchandise operations and sales
Statistician and press box leader
Please click here for more information on internships.
—————
The Yakima Valley Pippins have re-signed Conner White, a right-handed pitcher from the University of Portland who earned All-Star and All-West Coast League recognition in 2017, for the 2018 season.
The Woodinville, Wash., native led the WCL with 11 saves during the regular season. In 22 appearances, White struck out 32 and walked 14 in 24 innings pitched, allowing just 14 hits and compiling a 1.13 ERA. Please click here for more on that story.
—————
That's all for today. Have a great weekend, and we will see you on Tuesday.