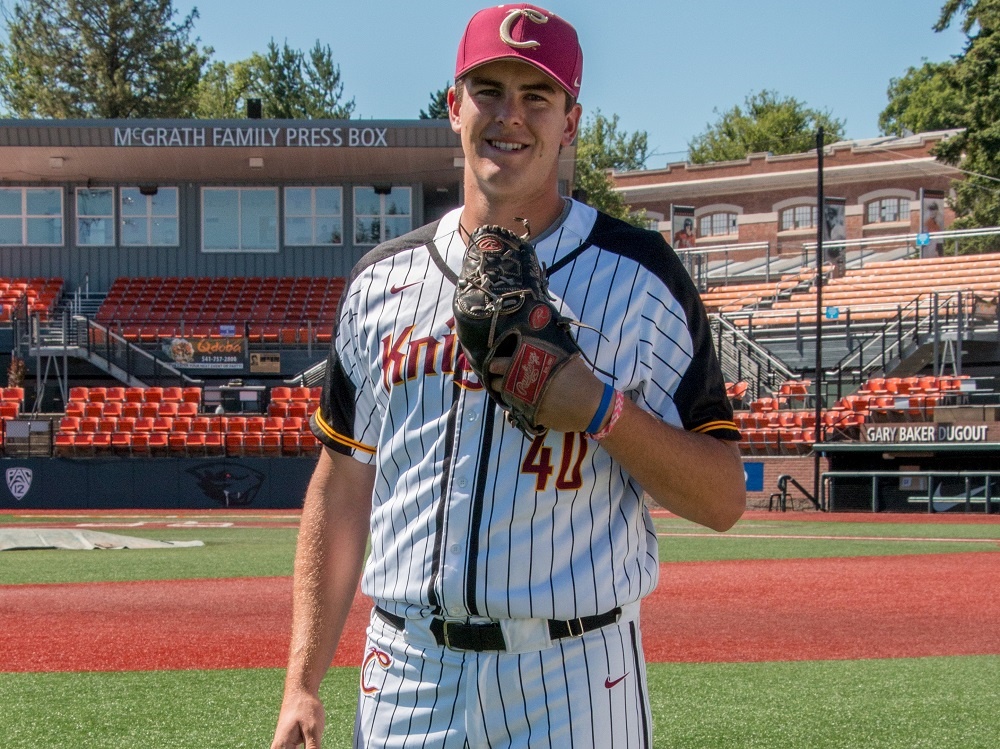 Brooks Hatch Blog: Cal Poly's Redmond, Nelson returning in 2018
Happy Friday, everyone, from the world-wide headquarters (WWHQ) of the Corvallis Knights, your 2016-2017 West Coast League champions!
—————
We have signed three players from Cal Poly for the 2018 West Coast League season, coach Brooke Knight announced Wednesday.
The newest Knights are freshman pitcher Darren Nelson (pictured, above) and sophomore pitcher Connor Redmond, returnees from the 2017 WCL championship team, and freshman outfielder Cole Cabrera.
Nelson is a 6-foot-8, 240-pounder from Granite Bay High School in Granite Bay, Calif.  He was 2-1, 1.25 in 11 appearances in 2017, with 27 strikeouts in 21.2 innings. He also played outfield and hit .318 (21-66) in 23 games, with no homers and eight RBIs.
Redmond is a 6-3, 185-pound righty from Danville, Calif., who attended De La Salle HS. He was an honorable-mention WCL all-star in 2016 after going 1-2 with a 3.44 ERA in seven games, with 23 strikeouts in 34 innings.
Cabrera is a 5-11, 165-pounder from Punahou HS in Honolulu. He was selected by Tampa Bay in the 37th round of the 2017 MLB draft after earning Perfect Game honorable-mention All-American honors.
Welcome to the Knights!
—————
The Port Angeles Lefties have hired 12-year Skagit Valley College assistant coach Darren Westergard as their new head coach, Lefties' owner Matt Acker announced Thursday.
Westergard graduated from Centralia (Wash.) High School in 1992, went to Western Oregon and played professionally in the Tampa Bay Rays organization.
His first head coaching job was with the Bellingham Bells before they played in the West Coast League. He has also been a head coach for the Anchorage Pilots in the Alaska League.
For more on that story, please click here.
He will be at least the second new coach in the WCL in 2018. Bellingham hired Bob Miller of Cuesta College in September to succeed 2017 skipper Greg Goetz.
—————
That's all for today. Have a great weekend, and we will see you on Tuesday.