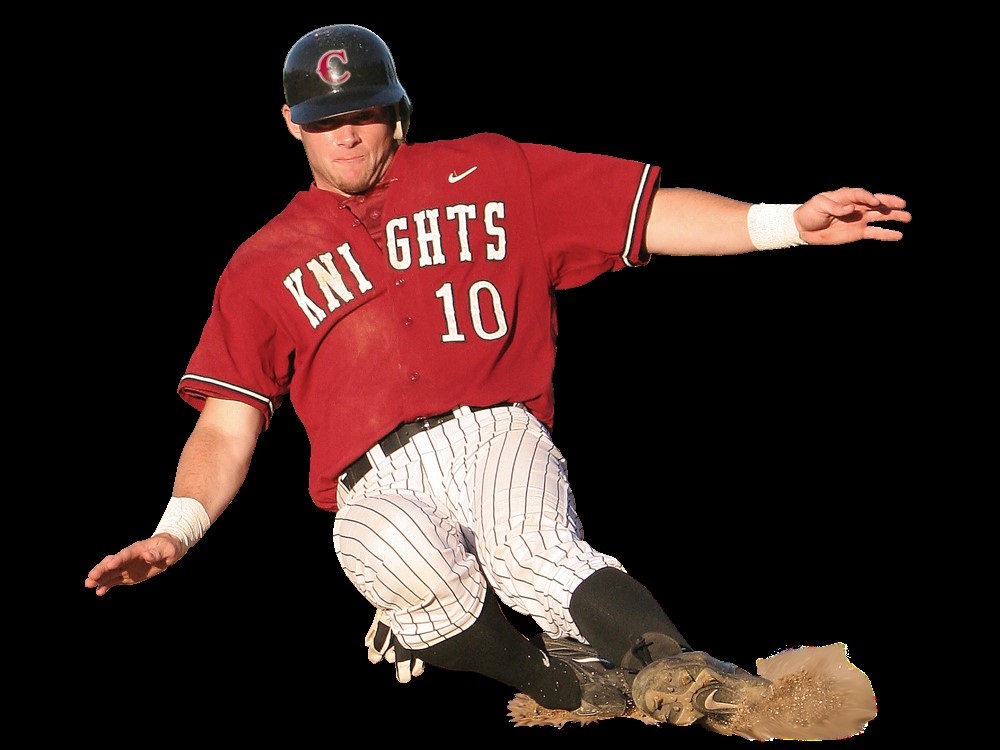 Brooks Hatch Blog: Matt "Slider Guy" Hague Joins Jays' Organization
Happy Wednesday, everyone, from the world-wide headquarters (WWHQ) of the Corvallis Knights, your 2016, 2017, 2018 and 2019 West Coast League champions!
————–
The Toronto Blue Jays have named former Aloha Knights' infielder Matt Hague (2006, pictured above) as the swing consultant and hitting coach for their Dunedin franchise in the Class A Florida State league.
Matt played at Washington and at Oklahoma State, and in MLB with Pittsburgh and Toronto. He also had a long minor-league career and was the MVP of the International League in 2014 while playing in Buffalo.
In Knights' circles Matt was known as "Slider Guy," as he was the player depicted sliding into third base in much of our early promotional material following our move to Corvallis from Gresham before the 2007 season.
Congrats to Matt.
————–
We have signed four Oregon State players for the 2020 season.
The newest Knights are freshman pitcher/outfielder Kai Murphy, who played for the Knights briefly in 2019; sophomore outfielder Wade Meckler; sophomore outfielder Greg Fuchs, and freshman pitcher A.J. Lattery. Please click here for more details on that story.
————–
Alum Matt Duffy (2010), a six-year major-league veteran, has signed a minor-league deal with the Texas Rangers for the 2020 season. Matt hit .252 in 46 games with Tampa Bay in 2019, with a homer and 12 RBIs.
Matt has also played for San Francisco and Tampa Bay. He is a lifetime .282 hitter in 452 major-league games, with 22 homers and 169 RBIs.
He was originally drafted by San Francisco in 2012 following his junior year at Long Beach State. For more information on Matt's signing, please click here.
————–
Alum Andrew Susac (2009) has signed a minor-league contract with the Pittsburgh Pirates, who have invited him to spring training. The former Oregon State catcher played for triple-A Omaha in the Kansas City organization in 2019 and hit .234 in 26 games, with four homers and 15 RBIs.
He was originally drafted by San Francisco in the second round in 2012. He has played with the Giants, Brewers and Orioles in MLB.
Also, Tampa Bay has invited alum Dalton Kelly (2014) to spring training. The UC Santa Barbara alum played first base/DH at double-A Montgomery and Triple-A Durham in 2019. He was a 38th-round selection by the Mariners in the 2015 draft.
————–
Our 2020 schedule has now been finalized. We will open the home season against the Portland Sea Dogs on June 2 on Weyerhaeuser Science, Engineering and Art Day. For the complete schedule, please click here.
The Knights set a franchise record for total attendance in 2019 by drawing 59,357 fans to Goss Stadium in 36 regular-season and playoff games. We averaged 1,721 fans per regular-season game, and 1,071 fans for the four playoff games.
Thanks to the best fans in the West Coast League.
The WCL All-Star Game is scheduled for July 20 at Paul Thomas Sr. Field in Wenatchee. New AppleSox head coach Ian Sanderson and staff will coach the North Division's team and the 2019 West Coast League champion Corvallis Knights coaching staff led by Brooke Knight will coach the South Division. For more details, please click here.
————–
Some news from elsewhere in the West Coast League:
Infielder Justin Folz and left-handed pitcher Brayde Hirai will return to the Walla Walla Sweets this summer. It is the first announced signings for manager Jeff Cirillo, who will begin his first season with the Sweets this summer. Please click here for more details on that story,  from Our Sports Central.
The Bellingham Bells are excited to announce the addition of three UCLA Bruin commits to the 2020 roster. Right-handed pitchers Max Rajcic and Kenji Pallares and outfielder Jake Vogel will all graduate high school this spring and then join the Bells for the 2020 campaign. Please click here for more details on that story,  from Our Sports Central.
————–
That's all for today. See you soon!