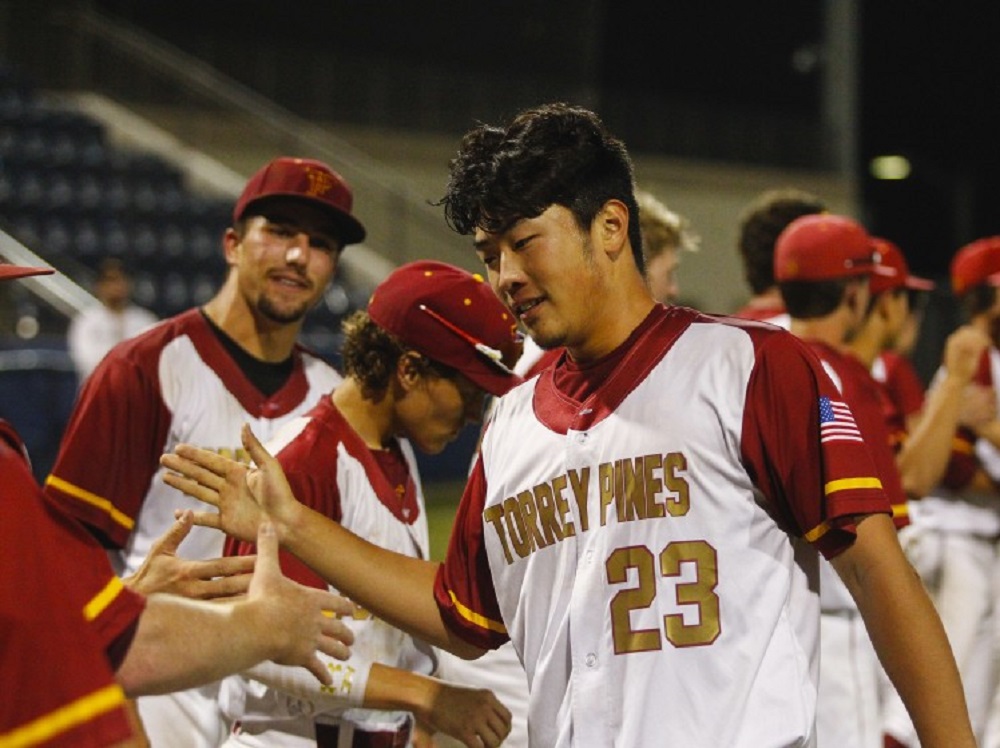 Brooks Hatch Blog: Knights Sign Future Torero Kevin Sim
Happy Wednesday, everyone, from the world-wide headquarters (WWHQ) of the Corvallis Knights, your 2016, 2017, 2018 and 2019 West Coast League champions!
————–
We have signed future University of San Diego third baseman Kevin Sim (pictured, above), a 6-foot-2, 205-pounder from San Diego who is presently a senior at Torrey Pines High School. He throws and bats right-handed.
Sim hit .271 in 33 games at TPHS in 2019, with 23 RBIs and a .403 on-base percentage. He is a .287 career hitter in three seasons, with nine homers, 16 doubles, 61 RBIs.
He was ranked as the No. 48 prospect in the country by Perfect Game. He played in the Perfect Game All-American Classic at Petco Park in San Diego and in the Under Armour All-American Game at Wrigley Field last summer.
His father, Jong-soo Shim, was a standout in the professional Korea Baseball Organization. Nicknamed "Hercules," Shim hit .287 with 328 home runs and 1,029 RBIs in 15 seasons.
Shim hit 31 homers with 110 RBIs for Dusan in 1998. Playing for Hyundai, he had 46 homers with 119 RBIs in 2002 and 53 homers and 142 RBIs in 2003.
He was invited to spring training by the Seattle Mariners in 2003 and hit .308 (4-13) with a homer and three RBIs. However, players from the KBO must play nine years in that league before they can request free agency and Shim's petitions for an early release were denied.
After injuries curtailed is pro career, Shim moved his family to the United States was Kevin was seven years old.
Welcome to the Knights, Kevin.
————–
Knights coach Brooke Knight, the manager of the Perth Heat in the Australian Baseball League, has been added to the Boral Team Australia coaching staff for the Feb. 16-18 series against the Doosan Bears of the Korean Baseball Organization. He will coach third base. For more on that story, please click here.
————–
We have also signed an Oregon Duck for the 2020 season. Freshman outfielder Sebastian Orduno will join us in June. He is a 5-foot-11, 195-pounder from San Pedro, Calif., who played at St. John Bosco High School. He bats and throws left-handed.
Orduno missed his senior year of high school with an injury. As a junior, he hit .312, with a 4.55 on-base percentage, and earned first-team Trinity League all-star honors. He also pitched and had a 0.93 ERA and 22 strikeouts in 15 innings.
He hit .326 and was honorable-mention all-league as a sophomore. Orduno was a Perfect Game preseason Underclass All-American High Honorable Mention selection in 2017 and 2018.
Welcome to the Knights, Sebastian.
————–
Alum Chris Rabago (2011-12), a catcher, has been invited to spring training by the Colorado Rockies. Our two-time Joe Segel Award winner spent the 2019 season at double-A Hartford and at triple-A Albuquerque.
————–
Our 2020 schedule has now been finalized. We will open the home season against the Portland Sea Dogs on June 2 on Weyerhaeuser Science, Engineering and Art Day. For the complete schedule, please click here.
The Knights set a franchise record for total attendance in 2019 by drawing 59,357 fans to Goss Stadium in 36 regular-season and playoff games. We averaged 1,721 fans per regular-season game, and 1,071 fans for the four playoff games.
Thanks to the best fans in the West Coast League.
The WCL All-Star Game is scheduled for July 20 at Paul Thomas Sr. Field in Wenatchee. New AppleSox head coach Ian Sanderson and staff will coach the North Division's team and the 2019 West Coast League champion Corvallis Knights coaching staff led by Brooke Knight will coach the South Division. For more details, please click here.
————–
Some news from elsewhere in the West Coast League:
The Walla Walla Sweets announced that Jordan Stubbings and Caleb Farmer of Colorado Mesa will return to the team this summer. Please click here for more details on that story, from Our Sports Central.
Oklahoma State right-handed pitchers Ryan Bogusz and Wyatt Cheney will join the Bellingham Bells this summer. Please click here for more on that story, from Our Sports Central.
A new pact further solidifies the West Coast League's commitment to safe pitching practices. The WCL has been approved at full compliance level by Pitch Smart for the 2020 season. The Pitch Smart program is a joint initiative between Major League Baseball and USA Baseball that provides guidelines and best pitching practices to help reduce the risk of arm injuries in players. For more details, please click here.
————–
 That's all for today. See you soon!