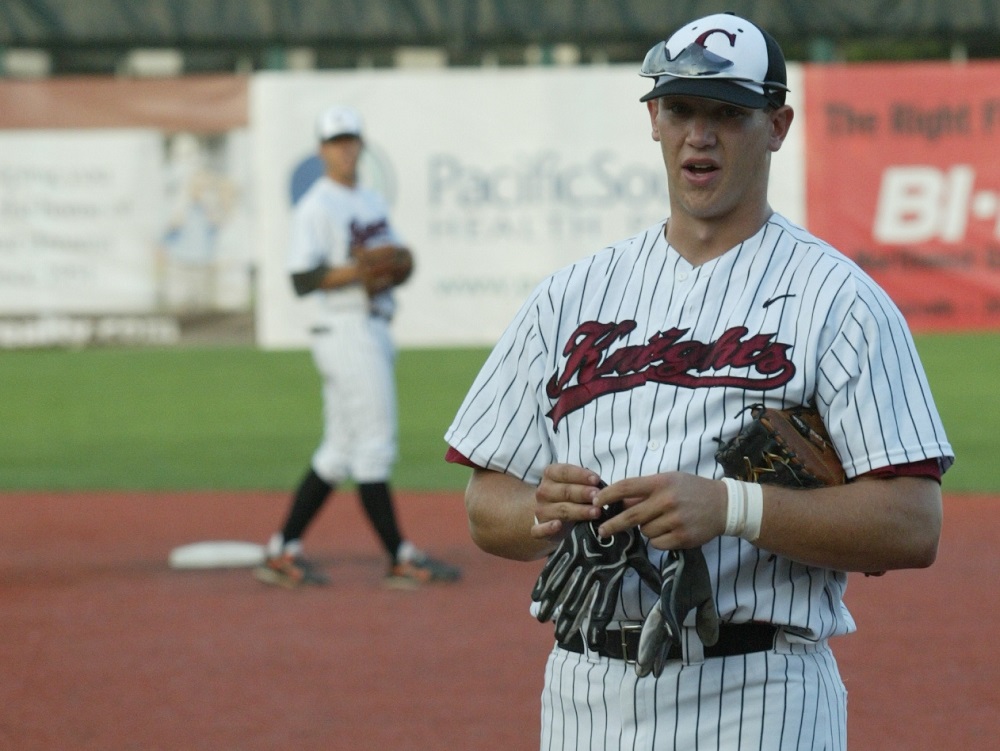 Brooks Hatch Blog: Knights Three-Peat; Dean Green to Sioux City
Happy Friday, everyone, from the world-wide headquarters (WWHQ) of the Corvallis Knights, your 2016, 2017 and 2018 West Coast League champions!
————–
We became the first team in West Coast League history to three-peat by defeating Kelowna 5-1 on Thursday night before a Goss Stadium crowd of 1,286 to sweep the WCL Championship Series.
We got standout pitching from starter Connor Redmond (Cal Poly) and closer Abbott Haffar (UC Riverside) to capture our sixth overall WCL crown. The right-handers held Kelowna to four hits, retired the final seven Falcons in order, and combined for 12 strikeouts.
The most successful franchise in WCL history, the Knights are now 6-3 in the finals under head coach Brooke Knight and 6-4 overall. They also won in 2008, 2011, 2013, 2016 and 2017; they lost in the Championship Series in 2007, 2009, 2012 and 2014.
Please click here for more on the championship game from our website, and click here for a nice story by Bob Lundeberg of the Corvallis Gazette-Times.
————–
Thursday's crowd of 1,286 upped the season's final total to 48,622 in 33 events, an average of 1,473 per opening.
We will welcome our 500,000th fan at some point next season. The Knights have drawn 467,789 fans since moving to Corvallis for the 2007 season.
————–
Some news from our Knights in the professional baseball:
The Sioux City Explorers of the independent American Association have signed alum Dean Green (pictured above, 2008), a former Oklahoma State/Barry University star.
Green played in Japan with the Toyko Yakult Swallows in 2017 and had played with the New Jersey Jackals in the Can-Am League and briefly with Tijuana in the Mexican League this year after being released from a long career in the Detroit organization following the 2016 season.
Green hit .355 (77-217) in 55 games with the Jackals, with 13 homers and 43 RBIs.
————–
Richmond (AA Eastern, Giants) pitcher Chase Johnson (2013) allowed three runs in five innings and got the victory in a 6-3 with over Bowie on Thursday night to earn Corvallis Knights Minor League Player of the Day honors. He played at Cal Poly.
Honorable mention goes to:
Salem-Keizer pitcher Ryan Walker (2015) pitched two scoreless innings and earned his second save in a 7-4 win over Boise. He played at Washington State.
————–
That's all for today. Have a great weekend, and we'll see you back here on Tuesday.