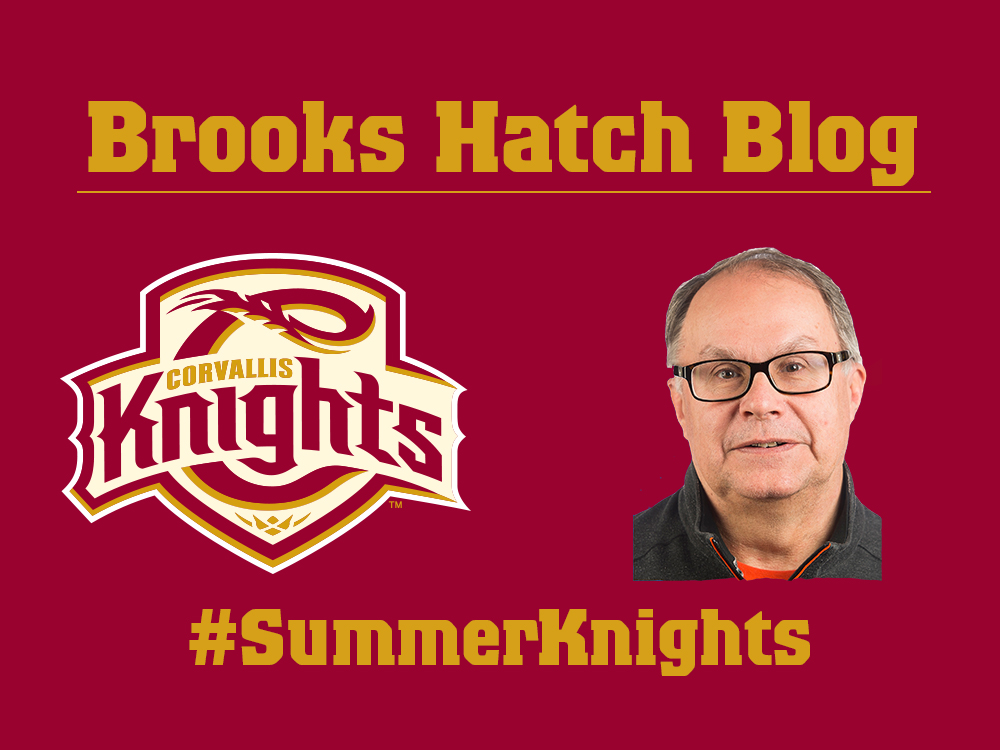 Knights Open WCL Championship Series Tonight at Kelowna
Happy Tuesday, everyone, from the world-wide headquarters (WWHQ) of the Corvallis Knights, your 2016-2017 West Coast League champions!
————–
We open the WCL Championship Series tonight with Game 1 at Kelowna, starting at 6:30 p.m. at Elks Stadium. Wednesday is a travel day; Game 2 is set for 6:30 p.m. Thursday at Goss Stadium; Game 3 (if necessary) would be at 6:30 p.m. Friday, also at Goss Stadium.
The Knights went 6-0 vs. Kelowna in the regular season, outscoring the Falcons 47-23. We won at Kelowna on opening night, swept the Falcons at home on July 23-26, then won two in Kelowna on July 28-29.
The Knights have never played the Falcons in the playoffs. We advanced to the finals for the third year in a row by sweeping top-seeded ortland 3-2 and 4-1 in the South Division playoffs on Aug. 10-11.
Kelowna earned the second berth in the best-of-3 finals by defeating Bellingham 7-6 on Aug. 12 at Joe Martin Field in Bellingham in the rubber game of the North Division playoff series.
Kelowna won the opener on Aug. 10; Bellingham forced Game 3 by winning 4-3 in 12 innings on Aug. 11.
The Knights (42-20-1) are seeking their sixth WCL championship; we also won in 2008, 2011, 2013, 2016 and 2017. We lost the Championship Series in 2007, 2009, 2012 and 2014.
The Falcons last appeared in the WCLCS in 2015 vs. the Bend Elks, when they lost in two straight games. This is Kelowna's second appearance in the WCLCS.
Please click here for more on the WCL Championship Series, from reporter Jesse Sowa of the Corvallis Gazette-Times. It's a good read.
————–
Attendance for the Aug. 10 playoff game against Portland was 1,086. Our total attendance this year stands at 47,336 for 31 dates, an average of 1,480 per opening.
For a look at total WCL attendance (league games only), please click here. For total attendance throughout summer college baseball (league games only), please click here and click here.
See you at Goss on Thursday!
————–
Some news from our Knights in the minor leagues:
The New York Mets have promoted right-handed Stephen Nogosek (2013) to Binghamton of the Class AA Eastern League. The former Oregon Duck was at St. Lucie in the high-A Florida State League.
The Tampa Bay Rays have promoted alum Jordan Qsar (2017) to short-season Hudson Valley of the New York-Pennsylvania League, from Princeton in the rookie-level Appalachian League. He played at Pepperdine and was our 2017 MVP.
Lefty Greg Mahle, our 2012 MVP, is now with Mobile in the double-A Southern League after spending some time with Salt Lake in the triple-A Pacific Coast League. They are affiliates of the Los Angeles Angels.
Please click here for a complete list of our Knights in the Pros.
————–
Round Rock (AAA Pacific Coast, Rangers) outfielder Nick Torres (2012) was 2-for-4 with a run in a 6-5 loss to Nashville on Monday night to earn Corvallis Knights Minor League Player of the Day honors. He played at Cal Poly. After a horrendous start that had him hitting .059, Nick is 7-for-18 (.389) in his last five games and has raised his average to .226.
Honorable mention goes to:
Albuquerque (AAA Pacific Coast, Rockies) closer D.J. Johnson (2008-09) pitched a scoreless inning in a 5-2 loss to Tacoma. He played at Mt. Hood CC.
Salem-Keizer pitcher Jake Wong (2016) started and had three scoreless innings in an eventual 3-1 loss to Vancouver. He had four strikeouts, allowed one hit, and got a no-decision. He played at Grand Canyon. Alum Trenton Toplikar (2017) got the loss but all three runs were unearned.
————–
That's all for today. See you at the ballpark on Thursday night, and back here on Friday.